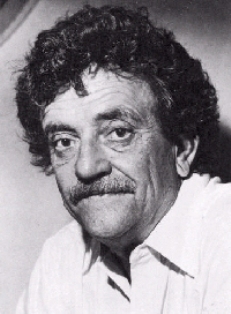 Kurt Vonnegut
Born:
November 11, 1922 in Indiana
Died:
April 11, 2007 in Manhattan
Pen Name:
None
Connection to Illinois
: *Vonnegut attended the University of Chicago as a graduate student in anthropology and also worked as a police reporter at the ''City News Bureau'' of Chicago
Biography
: Kurt Vonnegut, Jr. is an American novelist, satirist, and most recently, graphic artist. He was recognized as New York State Author for 2001-2003.He was born in Indianapolis, the setting for many of his novels. He attended Cornell University from 1941 to 1943, where he served as an opinions section editor for the student newspaper, the Cornell Daily Sun. Vonnegut trained as a chemist and worked as a journalist before joining the U.S. Army and serving in World War II. He is a combat infantry veteran and holds a Purple Heart.After the war, he attended the University of Chicago as a graduate student in anthropology and also worked as a police reporter at the City News Bureau of Chicago. He left Chicago to work in Schenectady, New York, in public relations for General Electric. He attributed his unadorned writing style to his reporting work.His experiences as an advance scout in the Battle of the Bulge, and in particular his witnessing of the bombing of Dresden, Germany, while a prisoner of war, would inform much of his work. This event would also form the core of his most famous work, Slaughterhouse-Five, the book that would make him a millionaire. This acerbic 200-page book is what most people mean when they describe a work as 'Vonnegutian' in scope.Vonnegut is a self-proclaimed humanist and socialist (influenced by the style of Indiana's own Eugene V. Debs) and has recently done a print advertisement for the American Civil Liberties Union. He is also a notable world federalist.From 1970 to 2000, Vonnegut lived in an East Side Manhattan brownstone, with his wife, the renowned photographer Jill Krementz. On January 31, 2000, a fire destroyed the top story of his home. Vonnegut suffered smoke inhalation and was hospitalized in critical condition for four days. He survived, but his personal archives were destroyed, and after leaving the hospital he retired to Northampton, Massachusetts. He taught an advanced writing class at Smith College for a period in 2000.
---
Awards
:
Primary Literary Genre(s):
Fiction
www.vonnegutweb.com/index.html :
http://www.vonnegutweb.com/index.html
Wikipedia:
http://en.wikipedia.org/wiki/Kurt_Vonnegut
Kurt Vonnegut on WorldCat :
http://www.worldcat.org/search?q=kurt+vonnegut
---
Selected Titles
A man without a country
ISBN: 0525510133 OCLC: 991593630 In a collection of brief autobiographical essays, the renowned novelist offers his views on art, politics, and everyday life in America. A Man Without a Country is Kurt Vonnegut's hilariously funny and razor-sharp look at life If I die-God forbid-I would like to go to heaven to ask somebody in charge up there, Hey, what was the good news and what was the bad news?), art (To practice any art, no matter how well or badly, is a way to make your soul grow. So do it.), politics (I asked former Yankees pitcher Jim Bouton what he thought of our great victory over Iraq and he said, Mohammed Ali versus Mr. Rogers.), and the condition of the soul of America today (What has happened to us?). Gleaned from short essays and speeches composed over the last five years and plentifully illustrated with artwork by the author in full color throughout, A Man Without a Country gives us Vonnegut both speaking out with indignation and writing tenderly to his fellow Americans, sometimes joking, at other times hopeless, always searching.
Armageddon in retrospect
ISBN: 9780099524083 OCLC: 310154519 Vintage Classic, London : 2009.
Armageddon in retrospect :
ISBN: 0399155082 OCLC: 183266934 G.P. Putnam's Sons, New York : ©2008. Twelve previously unpublished writings on war and peace include such pieces as an essay on the destruction of Dresden, a story about the first-meal fantasies of three soldiers, and a meditation on the impossibility of shielding children from the temptations of violence.
Bagombo snuff box :
ISBN: 9780795318719 OCLC: 807095552 Berkley Books, New York : ©2000. Here, Kurt Vonnegut's final short story collection--Bagombo Snuff Box (1999)--we have combined early and rather more obscure stories which had not appeared earlier. Drawn largely from the 1950s and the slick magazine markets which Vonnegut had from the beginning of his career in the postwar period demonstrated an uncanny ability to sell, these stories show clearly that Vonnegut found his central themes early on as a writer. More, he had been able to place stories in great consumer magazines like Colliers (that his good friend and college classmate Knox Burger was editing Colliers during this time was perhaps no small factor in Vonnegut's success). There were only a handful of science fiction writers of Vonnegut's generation who were able to sell in such a broad manner outside of the genre during the '50s, but it was this success that allowed Vonnegut the consistent denial that he was not a science fiction writer at all. Vonnegut's themes--folly, hypocrisy, misunderstanding--cycle through these stories although with perhaps somewhat less bitterness than what had come before. Even through the screen or scrim of magazine taboos, Vonnegut's voice is singular, infused by disaffection and wit. Most of Vonnegut's characters stagger through the plot full of misapprehension, cowardice, and self-delusion. In Thanasphere, the achievement of space travel becomes a means of communicating with the dead (and for that reason the project is abandoned). In Mnemonics, a forgetful protagonist is given a drug that prompts him to remember everything with the exception of an unrequited crush. This late collection of Vonnegut's work clearly shows the unifying themes of his work, which were present from the very outset, among them, his very despair.
Bagombo snuff box :
ISBN: 0425174468 OCLC: 40683538 G.P. Putnam's Sons, New York : ©1999. Twenty-three stories early in the writer's career. They range from Thanasphere, on an astronaut who hears the voices of the dead, to Runaways, in which teenage lovers learn you cannot live on love alone.
Bluebeard /
ISBN: 038533351X OCLC: 15859716 An autobiography of Rabo Karabekian, an abstract expressionist artist, who acquired the largest collection of abstract expressionist paintings in private hands.
Bluebeard :
ISBN: 9781511323642 OCLC: 913895562 Meet Rabo Karabekian, a moderately successful surrealist painter with the dregs of unresolved pain and the consequences of brutality. Loosely based on the legend of Bluebeard. the novel follows Karabekian through the last events in his life, which are heavy with women, painting, artistic ambition, artistic fraudulence, and as of yet unknown consequence.
Breakfast of champions, or, Goodbye blue Monday! /
ISBN: 0385334206 OCLC: 524241 Delacorte Press/Seymour Lawrence, [New York] : 1973. Aging science fiction writer Kilgore Trout, finds to his horror that a Midwest car dealer is taking his fiction as truth. The result is murderously funny satire as Vonnegut looks at war, sex, racism, success, politics, and pollution in America and reminds us how to see the truth.
Canary in a cat house /
ISBN: 0899667570 OCLC: 27304738 Buccaneer Books, Cutchogue, N.Y. : ©1976. Vonnegut's first collection of short stories, includes 12 wickedly funny stories told as only Vonnegut can.
Cat's Cradle (SparkNotes Literature Guide).
ISBN: 9781411474314 OCLC: 889863118 Literature Guides Created by Harvard students for students everywhere, SparkNotes is a new breed of study guide: smarter, better, faster. Geared to what today's students need to know, SparkNotes provides: chapter-by-chapter analysis explanations of key themes, motifs, and symbols a review quiz and essay topics Lively and accessible, these guides are perfect for late-night studying and writing papers.
Cat's cradle /
ISBN: 038533348X OCLC: 40067116 Delta Trade Paperbacks, New York, N.Y. : 1998, ©1963. From the Publisher: Cat's Cradle is Vonnegut's satirical commentary on modern man and his madness. An apocalyptic tale of this planet's ultimate fate, it features a midget as the protagonist; a complete, original theology created by a calypso singer; and a vision of the future that is at once blackly fatalistic and hilariously funny.
Deadeye Dick
ISBN: 9781511323680 OCLC: 913895554 Kurt Vonnegut's funny, chillingly satirical look at the death of innocence. Amid a true Vonnegutian host of horrors - a double murder, a fatal dose of radioactivity, a decapitation, an annihilation of a city by a neutron bomb - Rudy Waltz, Deadeye Dick, takes listeners on a zany search for absolution and happiness.
Deadeye Dick /
ISBN: 0385334176 OCLC: 8629582 Delacorte Press/Seymour Lawrence, New York, N.Y. : ©1982. A young man from a peculiar family background inadvertently shoots a pregnant woman while playing with a rifle. This catastrophe has an irrevocable effect upon his life. Rudy Waltz, a.k.a. Deadeye Dick, tells the story of his life as a middle-aged man expatriate in Haiti. In addition to the other catastrophes of his life, his hometown back in the U.S. is virtually destroyed by a neutron bomb. At the ending of the book, it appears that Rudy, while he may not have fully come to terms with his actions, has at least come to live with them.
Fates Worse Than Death.
ISBN: 9781511323703 OCLC: 928132095 Audible Studios on Brilliance audio 2016.
Galápagos :
ISBN: 0385333870 OCLC: 11866009 Delacorte Press/Seymour Lawrence, New York, N.Y. : ©1985. Observed by a ghost of the Vietnam War for one million years, the descendants of survivors of a cruise to the Galapagos Archipielago prove Darwin's theory of evolution.
Galapagos
ISBN: 9780440339083 OCLC: 467965652 Dial, New York : ©1985. Observed by a ghost of the Vietnam War for one million years, the descendants of survivors of a cruise to the Galapagos Archipielago prove Darwin's Theory of Evolution. The ghost of a shipbuilder tells the story of an ill-fated cruise to the Galapagos Islands.
God bless you, Mr. Rosewater :
ISBN: 0385333471 OCLC: 506628 Delacorte Press, New York : ©1965. A lawyer schemes to gain control of a large fortune by having the present claimant declared insane.
God bless you, Mr. Rosewater, or, Pearls before swine
ISBN: 9780795319075 OCLC: 803366915 Dial Press Trade Paperbacks, New York : 2006. A lawyer schemes to gain control of a large fortune by having the present claimant declared insane.
Hocus Pocus
ISBN: 9781446498033 OCLC: 846983382 RosettaBooks, New York, N.Y. : 2011, ©1990. Eugene Debs Hartke (named after the famous early 20th century Socialist working class leader) describes an odyssey from college professor to prison inmate to prison warden back again to prisoner in another of Vonnegut's bitter satirical explorations of how and where (and why) the American dream begins to die. Employing his characteristic narrative device--a retrospective diary in which the protagonist retraces his life at its end, a desperate and disconnected series of events here in Hocus Pocus show Vonnegut with his mask off and his rhetorical devices unshielded. Debs (and Vonnegut) see academia just as imprisoning as the corrupt penal system and they regard politics as the furnishing and marketing of lies. Debs, already disillusioned by circumstance, quickly tracks his way toward resignation and then fury. As warden and prisoner, Debs (and the reader) come to understand that the roles are interchangeable; as a professor jailed for radical statements in the classroom reported by a reactionary student, he comes to see the folly of all regulation. The hocus pocus of the novel's title does not describe only the jolting reversals and seemingly motiveless circumstance which attend Debs' disillusion and suffering, but also describe the political, social, and economic system of a country built upon can't, and upon the franchising of lies. At 68, Vonnegut had not only abandoned the sentiment and cracked optimism manifest in Slaughterhouse-Five, he had abandoned any belief in the system or faith for its recovery. This novel is another in a long series of farewells to the farmland funeral rites of childhood.
Hocus pocus /
ISBN: 0425161293 OCLC: 21333332 Putnam's, New York : ©1990. A small, exclusive college in upstate New York is nestled along the frozen shores of Lake Mohiga ... and directly across from a maximum-security prison. The two institutions manage to coexist peacefully, until 10,000 prisoners break out and head directly for the college.
Jailbird :
ISBN: 0385333900 OCLC: 4933840 Harvard, the New Deal, the Holocaust, World War II, Watergate, two prison terms, and a giant conglomerate ... This wry tale follows bumbling bureaucrat Walter F. Starbuck, who tries to live by the Sermon on the Mount, from Harvard to the Nixon White House to the penitentiary as Watergate's least known co-conspirator. Shall the meek inherit the earth? Perhaps on a short-term basis.
Jailbird.
ISBN: 1407086952 OCLC: 1004569833
Kurt Vonnegut, Jr. reads Slaughterhouse-five.
ISBN: 1559949252 OCLC: 30984701 Harper Audio, New York : [1994], ℗1973.
Mother night /
ISBN: 0385334141 OCLC: 604840 Delacorte Press, New York : ©1966. Mother Night is a daring challenge to our moral sense. American Howard W. Campbell, Jr., a spy during World War II, is now on trial in Israel as a Nazi war criminal. But is he really guilty? Truth and justice are blurred in this brilliant satire rife with true gallows humor. Vonnegut turns black and white into a chilling shade of gray with a verdict that will haunt us all.
Mother Night.
ISBN: 9780099819301 OCLC: 26545866 Vintage, 1992.
Palm Sunday :
ISBN: 9780385334266 OCLC: 41613522 Delta, New York : 1999, ©1981. Vonnegut writes with beguiling wit and poignant wisdom about his favorite comedians, country music, a dead friend, a dead marriage, and other aspects of his journey through life.
Player piano
ISBN: 9780795311970 OCLC: 846983458 RosettaBooks, New York, N.Y. : 2010, ©1952. Player Piano (1952), Vonnegut's first novel, embeds and foreshadows themes which are to be parsed and dramatized by academians for centuries to come. His future society--a marginal extrapolation, Vonnegut wrote, of the situation he observed as an employee of General Electric in which machines were replacing people increasingly and without any regard for their fate--is mechanistic and cruel, indifferent to human consequence, almost in a state of merriment as human wreckage accumulates. Paul Proteus, the novel's protagonist, is an engineer at Ilium Works and first observes with horror and then struggles to reverse the displacement of human labor by machines. Ilium Works and Paul's struggles are a deliberately cartoon version of labor's historic and escalating struggle to give dignity and purpose to workers. The novel embodies all of Vonenegut's concerns and what he takes to be the great dilemma of the technologically overpowered century: the spiritual needs of the population in no way serve the economies of technology and post-technology. Vonnegut overlies this grotesque comedy over tragedy, disguising his novel in the trappings of goofiness. Not published--at Vonnegut's insistence--as science fiction, the novel was nonetheless recognized and praised by the science fiction community which understood it far better than a more general readership, a dilemma which Vonnegut resentfully faced throughout his career. Bernard Wolfe's dystopian Limbo and Player Pianowere published in the same year to roughly similar receptions; two outsiders had apotheosized technophobia as forcefully as any writer within the field. Throughout his career, Vonnegut was forced to struggle with his ambivalence about science fiction and his own equivocal relationship with its readers.
Player piano /
ISBN: 0385333781 OCLC: 618922 Delacorte Press, New York : ©1952. Vonnegut's first novel, an unforgiving portrait of an automated and totalitarian future, was published in 1952. A human revolt against the machines which control life was arranged by the machines themselves to prove the futility of such resistance. Visionary and unrelenting, this is felt by some critics to be Vonnegut's best and most original novel.
Slapstick, or, Lonesome no more
ISBN: 9781784870980 OCLC: 958611102 Manhattan has become the Island of Death. The former President of the United States stands barefoot in a purple toga around a cooking fire in the lobby of the Empire State Building. He is Dr Wilbur Daffodil-II Swain and Slapstick or Lonesome No More! is his story - one of monstrous twins, orgies, revenge, golf, utopian schemes, and very little tooth brushing. In this post-apocalyptic black comedy - dedicated to Laurel and Hardy - Vonnegut is at his most hilarious, grotesque, and personal.
Slapstick, or, Lonesome no more! :
ISBN: 0385334230 OCLC: 2421498 This hilarious, wickedly irreverent farce presents an apocalyptic vision seen through the eyes of the current King of Manhattan (and former President of the United States).
Slaughterhouse-five :
ISBN: 0385333846 OCLC: 4276 Delacorte Press, [New York] : [1969] Billy Pilgrim serves as a chaplain's assistant in the Second World War, is captured by the Germans, and survives the fire bombing of Dresden to contemplate the human condition.
Slaughterhouse-five ; The sirens of Titan ; Player-piano ; Cat's cradle ; Breakfast of champions ; Mother night
ISBN: 0905712471 OCLC: 6287302 Octopus/Heinemann, New York : 1980. Contains six novels, originally published separately: Breakfast of Champions, The Sirens of Titan (nominated, 1960 Hugo Award), Cat's Cradle (nominated, 1964 Hugo Award), Player Piano (also published in paperback under the title, Utopia 14) (nominated, 1953 International Fantasy Award), Mother Night, Slaughterhouse-Five (nominated, 1969 Nebula Award, 1970 Hugo Award; filmed).
The sirens of Titan /
ISBN: 0385333498 OCLC: 373570 The richest and most depraved man on Earth takes a wild space journey to distant worlds, learning about the purpose of human life along the way.
Timequake
ISBN: 9781427277817 OCLC: 933565293 According to Kurt Vonnegut's alter ego, the old science fiction writer Kilgore Trout, a global timequake will occur on February 13, 2001, at 2:27 p.m. It will be the moment when the universe suffers a crisis of conscience. Should it go on expanding indefinitely, or collapse and make another great big bang? For its own cosmic reasons, it decides to back up a decade to 1991, giving the world a 10 year case of deja vu, making everybody and everything do exactly what they'd done during the past decade, for good or ill, a second time. As a character in, and a brilliant chronicler of, this bizarre event, Kurt Vonnegut casts his wicked wit and his unique perspective on life as he's lived it and observed it, for more than seventy years.
Timequake /
ISBN: 0425164349 OCLC: 36824733 G.P. Putnam's, New York : ©1997. A timequake throws the universe backwards and everyone has to relive the years 1991 to 2001, including the hero, a science fiction writer. By and large, people are not pleased by the development.
Wampeters, foma & granfalloons.
ISBN: 9780795343148 OCLC: 953714875 RosettaBooks : [United States] : 2014. This collection of Kurt Vonnegut's most rare and unexamined essays, speeches, fiction, and interviews offers fascinating insight into the mind of the iconic science fiction author and intellectual. With cutting wit, fierce conviction, and surprising empathy, Vonnegut explores a diverse range of topics including society, politics, sex, literature, and mortality. Fans who believe they've read all of Vonnegut's work will be delighted to find the author speaking frankly about timely and relevant new topics-with an amusing yet insightful style that's instantly recognizable.
Welcome to the monkey house :
ISBN: 9780812993608 OCLC: 869801250 A collection of twenty-five short works by the American author written between 1950 and 1968 and originally printed in a wide range of publications including The Atlantic Monthly, Esquire, and Ladies' Home Journal.
Welcome to the monkey house :
ISBN: 0385333501 OCLC: 180978 Delacorte Press, New York : 1968. Tender stories of love, incisive essays on human greed and misery, and imaginative tales of futuristic happenings reveal Vonnegut's versatility and vision.