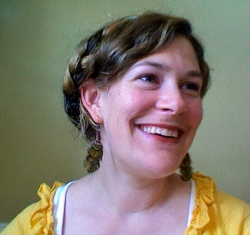 Arielle Greenberg
Born:
1972 in Columbus, Ohio
Pen Name:
None
Connection to Illinois
: Greenberg is an associate professor at Columbia College Chicago. She also lives in Evanston, Illinois.
Biography
: Arielle started undergraduate school as an English major at Binghamton University. She later transferred to Purchase College. She attended graduate school, to pursue an MFA in poetry at Syracuse University. She taught there for three years. Then, she was a lecturer in English at Bentley College outside of Boston.
---
Awards
:
Email:
ariellecg@yahoo.com
Website:
http://www.ariellegreenberg.net
Arielle Greenberg on WorldCat :
http://www.worldcat.org/search?q=arielle+greenberg
---
Selected Titles
Given :
ISBN: 0972348719 OCLC: 50511453 Verse Press, Amherst, MA : ©2002.
My Kafka century /
ISBN: 0976569221 OCLC: 62077210 Action Books, Tuscaloosa, Ala. : ©2005.
Youth subcultures :
ISBN: 0321241940 OCLC: 71004655 Pearson Longman, New York : ©2007. "Youth Subcultures: Exploring Underground America, by Arielle Greenberg, uses a cultural studies lens to explore contemporary American youth subcultures, such as skateboarding, punk, Goth, and raves, in a brief, flexible, and inexpensive reader." "Features: High-interest readings on American youth subcultures offer students the opportunity to be content experts right from the start of the semester and approach their research through personal life experiences. The variety of writing genres allows for a wide array of potential writing strategies that includes oral histories, academic research, and memoirs. In each chapter, essays by college students as well as professional journalists provide students with realistic models for their own writing. Post-reading "Notebook" questions provide discussion and writing opportunities. "Suggestions for Further Reading" offer launching points for research. An alternate "Rhetorical Contents" accommodates multiple teaching approaches for maximum instructor flexibility. Book jacket."--Jacket.