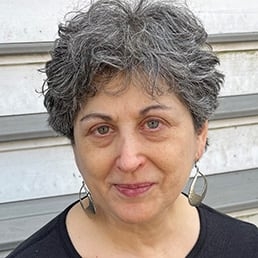 Sandi Wisenberg
Born:
1955 in Houston, Texas
Pen Name:
S.L. Wisenberg
Connection to Illinois
: Wisenberg lives near Wrigley Field in Chicago. She has taught at Northwestern Illinois University in DeKalb, Ragdale in Lake Forest, School of the Art Institute of Chicago and DePaul and Roosevelt both in Chicago. She has published graphic art in the Chicago Tribune and Crain's Chicago Business.
Biography
: Wisenberg was born and raised in Houston, but has lived much of her adult life in Chicago. She is a writer, teacher, editor and writing coach. She is also the creative nonfiction editor of Another Chicago Magazine and co-director of Northwestern's MA/MFA in Creative Writing program. She also teaches at the University of Chicago's Graham School of General Studies, in the certificate program for creative writing.
---
Awards
:
The Wandering Womb: Essays in Search of Home Juniper Prize for Creative NonFiction
Primary Literary Genre(s):
Non-Fiction
Primary Audience(s):
Adult readers
E-Mail:
slwisenberg@sbcglobal.net
Facebook:
http://www.facebook.com/search/?post_form_id=19179fef77e69c5d6b10b4e0b2bf9820&q=Gretchen+Frances+Wilson+&init=quick&sid=0.46402497688262917#!/profile.php?id=1164713096&ref=search=sandi+wisenberg
LinkedIn:
https://www.linkedin.com/in/sandi-wisenberg-aka-cancer-bitch-21b4295/
Twitter:
https://twitter.com/slwisenberg?lang=en
Web:
http://slwisenberg.blogspot.com
---
Selected Titles
Holocaust Girls
ISBN: 0803298668 OCLC: U of Nebraska Press 2006-12-01 Personal observations by an American Jewish woman writer about comtemporary and historical events.
The Adventures of Cancer Bitch
ISBN: 1587298023 OCLC: University of Iowa Press 2009-03-16 Wisenberg may have lost a breast, but she retained her humor, outrage, and skepticism toward common wisdom and most institutions. While following the prescribed protocols at the place she called Fancy Hospital, Wisenberg is unsparing in her descriptions of the fumblings of new doctors, her own awkward announcement to her students, and the mounds of unrecyclable plastic left at a survivors' walk. Combining the personal with the political, she shares her research on the money spent on pink ribbons instead of preventing pollution, and the disparity in medical care between the insured and the uninsured. When chemotherapy made her bald, she decorated her head with henna swirls in front and an antiwar protest in back. During treatment, she also recorded the dailiness of life in Chicago as she rode the L, taught while one-breasted, and attended High Holiday services and a Passover seder. Wisenberg's writing has been compared to a mix of Leon Wieseltier and Fran Lebowitz, and in this book, she has Wieseltier's erudition and Lebowitz's self-deprecating cleverness: "If anybody ever offers you the choice between suffering and depression, take the suffering. And I don't mean physical suffering. I mean emotional suffering. I am hereby endorsing psychic suffering over depression." From The Adventures of Cancer Bitch: I found that when you invite people to a pre-mastectomy party, they show up. Even those with small children. The kids were so young that they didn't notice that most of the food had nipples. . . . I talked to everyone—about what I'm not sure. Probably about my surgery. Everyone told me how well I looked. I felt giddy. I was going to go under, but not yet; I was going to be cut, but not yet; I was going to be bald, but not yet. As my friend who had bladder cancer says: The thing about cancer is you feel great until they start treating you for it.
The Sweetheart is in
ISBN: 0810151243 OCLC: Northwestern University Press 2001 A collection of lyrical short stories introduces characters who struggle with their Jewishness, spousal relationships, and political entanglements. A first collection. Simultaneous.
The Wandering Womb: Essays in Search of Home
ISBN: 1625347359 OCLC: University of Massachusetts Press 2023 Even as a fourth-generation Jewish Texan, S. L. Wisenberg has always felt the ghost of Europe dogging her steps, making her feel uneasy in her body and in the world. At age six, she's sure that she hears Nazis at her bedroom window and knows that after they take her away, she'll die without her asthma meds. In her late twenties, she infiltrates sorority rush at her alma mater, curious about whether she'll get a bid now. Later in life, she makes her first and only trip to the mikvah while healing from a breast biopsy (benign this time), prompting an exploration of misogyny, shame, and woman-fear in rabbinical tradition. With wit, verve, blood, scars, and a solid dose of self-deprecation, Wisenberg wanders across the expanse of continents and combs through history books and family records in her search for home and meaning. Her travels take her from Selma, Alabama, where her Eastern European Jewish ancestors once settled, to Vienna, where she tours Freud's home and figures out what women really want, and she visits Auschwitz, which—disappointingly—leaves no emotional mark.