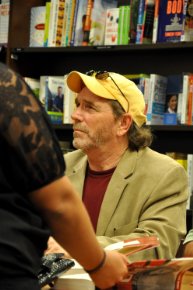 Danny Broderick
Born:
Pen Name:
None
Connection to Illinois
: Danny lives in Lake Zurich, Illinois.
Biography
: Danny Broderick is a graduate of The John Marshall Law School and Southern Illinois University. He was a practicing criminal defense attorney who founded the firm of The Law Offices of Daniel J. Broderick. During his twenty years of private practice, Mr. Broderick represented thousands of persons charged with felony and misdemeanor crimes. He is the proud father of two sons, Jack and Patrick.
---
Awards
:
Primary Literary Genre(s):
Fiction; Non-Fiction
Primary Audience(s):
Adult readers
Email:
dannybroderick@yahoo.com
Facebook:
http://www.facebook.com/games?notif_t=app_request#!/profile.php?id=1076767798=danny+broderick
Danny Broderick on WorldCat :
http://www.worldcat.org/search?q=danny+broderick
---
Selected Titles
John Wayne Gacy :
ISBN: 9781632203632 OCLC: 921190783 This new edition ... which contains updated material about the case that has come to light since the book's original publication, recounts the gruesome killings and the famous trial that shocked a nation--Page 4 of cover.
When money talks, Buford Tucker listens /
ISBN: 1439204640 OCLC: 272299019 BookSurge, [North Charleston, S.C.] : ©2008. Anna Buckingham Khan, a beautiful, wealthy woman, is dead from a fatal car crash. The police determine that it was an accident, but her brother, Arthur Buckingham, does not accept that it was. He enlists the help of two old friends, a former attorney and a former investigative reporter, to help determine if foul play is involved. When Money Talks is a thrilling and powerful look into the world of big money and high level, secret, government surveillance, which exposes current issues in a way that is not often discussed. It is a story that will make it impossible for readers to regard a telephone call or an email message in quite the same way ever again.