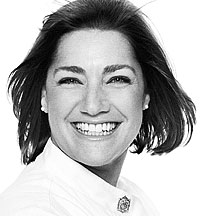 Gale Gand
Born:
Pen Name:
None
Connection to Illinois
: Gale is a partner in the Chicago restaurant Tru.
Biography
: Gale Gand is a nationally acclaimed pastry chef, restaurateur, cookbook author, television personality, root beer maker, and mom. She is the James Beard Award-winning executive pastry chef and partner of the acclaimed restaurant ''Tru'' in Chicago. Known across the country as the host of ''Sweet Dreams'', which was the Food Network's first daily show devoted entirely to baking. Gand also has her own root beer company and line of bakeware.
---
Awards
:
Primary Literary Genre(s):
Other
Primary Audience(s):
Adult readers
Email:
galegand@galegand.com
Website:
http://galegand.com/
Gale Gand on WorldCat :
http://www.worldcat.org/search?q=gale+gand
---
Selected Titles
Butter, sugar, flour, eggs /
ISBN: 0609604201 OCLC: 40734866 C. Potter, New York : ©1999. Chapter by chapter the authors explain each basic ingredient and each flavor's " personality " and follow up with some fabulous recipes.
Chocolate & vanilla /
ISBN: 0307238520 OCLC: 63195953 Clarkson Potter/Publishers, New York : ©2006. "Chocoholics and vanilla lovers may never see eye to eye, but with award-winning pastry chef Gale Gand's new flip book of 60 truly tempting recipes--half featuring chocolate, the other half featuring vanilla--pleasing both sides has never been more simple--or more delicious. 16-page color photo insert."--BOOK JACKET.
Gale Gand's brunch! :
ISBN: 0307406989 OCLC: 236339068 Clarkson Potter/Publishers, New York : ©2009. Every weekend is worth celebrating when you can relax over a good brunch.
Gale Gand's just a bite :
ISBN: 0609608258 OCLC: 46419975 Clarkson Potter, New York : ©2001. The Food Network star offers more than 125 recipes for miniature dessert treats, from ginger cookies to very red velvet cupcakes.
Gale Gand's short + sweet :
ISBN: 1400047331 OCLC: 51898895 Clarkson Potter/Publishers, New York : ©2004. Contains quick and easy recipes for various dessert treats!