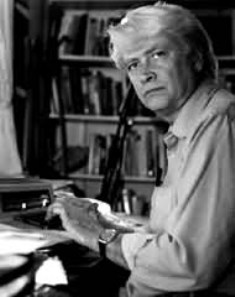 John Champlin Gardner
Born:
July 21, 1933 in Batavia, New York
Died:
September 13, 1982
Pen Name:
John Gardner
Connection to Illinois
: John Gardner was on the faculty of Southern Illinois University at Carbondale from 1965 to 1974.
Biography
: John Gardner was a well-known and controversial American novelist, critc and university professor, best known for his novel ''Grendel'', a retelling of the Beowulf myth. His books frequently reflect his backgound in medieval literature.
---
Awards
:
Primary Audience(s):
Adult readers; Children; Children
Wikipedia:
http://en.wikipedia.org/wiki/John_Gardner_%28novelist%29
John Champlin Gardner on WorldCat :
http://www.worldcat.org/search?q=john+champlin+gardner
---
Selected Titles
A child's bestiary /
ISBN: 0394834836 OCLC: 2837597 Knopf : New York : ©1977. A collection of humorous verses about animals, friendly or otherwise.
Dragon, dragon and other tales /
ISBN: 0553150677 OCLC: 427178452 Bantam, New York : 1978, ©1975. Four fairy tales featuring a dragon, a giant, a cunning mule, and a little chimney-girl.
Dragon, dragon, and other tales /
ISBN: 039493122X OCLC: 1288267 Four fairy tales featuring a dragon, a giant, a cunning mule, and a little chimney-girl.
Grendel
ISBN: 0679723110 OCLC: 161732 The first and most terrifying monster in English literature, from the great early epic Beowulf, tells his own side of the story.
Jason and Medeia
ISBN: 0394483170 OCLC: 675971 Knopf; [distributed by Random House] New York, 1973. A modern retelling of the ancient Greek myth depicting the love of Jason, the hero who claimed the kingdom of Iolcus, and the princess of Caechis, Medeia.
Mickelsson's ghosts :
ISBN: 0394504682 OCLC: 7976018 The critically acclaimed final masterwork of John Gardner: an American novel haunted with macabre and cerebral elements. The final novel by Gardner, Mickelsson's Ghosts, originally published in 1982 just months before his untimely death in a motorcycle accident, is a tour de force. The protagonist Peter Mickelsson, a former star philosophy professor at Brown, relocates to Binghamton University. On the verge of bankruptcy, separated from his wife, in questionable mental health, and drinking heavily, Mickelsson decides to buy a country house in northeastern Pennsylvania. What he encounters there are impassioned and shameless love affairs (one of which results in a regrettable pregnancy), a Mormon extremist cult, small town mythologies, the robbery of a robber, multiple murders, the ghosts of an incestuous family, Plato, and our hero's own possible insanity.
Nickel mountain :
ISBN: 0345292944 OCLC: 3823741 Ballantine Books, New York : 1975, ©1973.
Oktoberlicht :
ISBN: 3498024299 OCLC: 611086021 Rowohlt, Reinbek bei Hamburg : 1980.
On moral fiction
ISBN: 0465052266 OCLC: 3631236 Basic Books, New York : ©1978. Argues that great moral fiction has open-mindedly tested human values in an attempt to discover what best promotes human fulfillment and that current fiction fails to do so and, thus, undermines our experience of literature and our faith in ourselves.
The construction of the Wakefield cycle.
ISBN: 0809306654 OCLC: 866498 Southern Illinois University Press Carbondale, [1974]
The life & times of Chaucer
ISBN: 0394493176 OCLC: 2020539 A biography of the medieval English author who wrote The Canterbury Tales, Troilus and Criseyde, The Legend of Good Women, and other works.
The sunlight dialogues
ISBN: 039447144X OCLC: 333602 Knopf ; [distributed by Random House], New York : 1972. A stolid, law-and-order policeman in western N.Y. state encounters a mad hippie who paints the word LOVE on the street, escapes from jail, helps another prisoner escape, and, in the process, murders a policeman. The hunt is on....
The wreckage of Agathon
ISBN: 0345224728 OCLC: 270147655 Ballantine Books, New York : [1972]