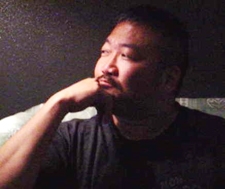 Dwight Okita
Born:
August 26, 1958 in Chicago, Illinois
Pen Name:
None
Connection to Illinois
: Dwight was born in and still resides in Chicago.
Biography
: Dwight Okita is a contemporary poet. He was educated at the University of Illinois Chicago Circle. Okita has also written plays.To see Sally Parson's review of Okita's book ''The Prospect of My Arrival'' in the ''Windy City Times'', go to: [http://bit.ly/qKqfhl http://bit.ly/qKqfhl]
---
Awards
:
Illinois Arts Council Fellowship, 1988, for Achievement in Poetry
Primary Audience(s):
Adult readers
Email:
dwightokita@gmail.com
Website:
http://www.dwightland.homestead.com
Dwight Okita on WorldCat :
http://www.worldcat.org/search?q=dwight+okita
---
Selected Titles
Crossing with the light /
ISBN: 0962428795 OCLC: 27871931 Tia Chucha Press, Chicago : ©1992.
The prospect of my arrival :
ISBN: 1460959892 OCLC: 772451364 CreateSpace, North Charleston, S.C. : ©2011. I was given the name Prospect because people have high hopes for me. So begins the story of a human embryo that is allowed to preview the world before deciding whether to be born. The embryo, named Prospect, is given a starter kit of human knowledge, and his consciousness is inserted into a synthetic twenty-year old body. To help him make up his mind, he will meet a range of people. Among them, a greeting card writer who excels at sympathy cards, and Prospect's very own inscrutable parents. Trish Mesmer is the scientist charged with counseling Prospect, though she has more hidden agendas than a centipede has legs. At the same time, Trevor Grueling grows increasingly committed to derailing the bio-experiment all together. This cautionary tale is served up with equal helpings of whimsy and dread, with just a dash of hope.