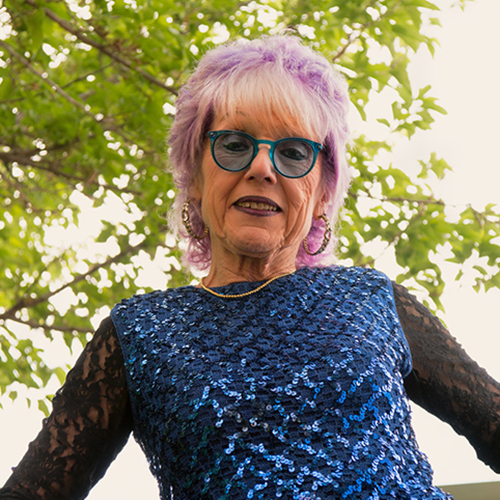 Judy Chicago
Born:
1939 in Chicago, Illinois
Pen Name:
None
Connection to Illinois
: Judy Chicago was born in Chicago, Illinois.
Biography
: Judy Chicago is an author, educator and artist whose career now spans over fifty years. She is considered one of the earliest organizers of the 1970s women's movement in art and has remained a high-profile, controversial multimedia feminist artist.
---
Awards
:
Primary Literary Genre(s):
Non-Fiction; Other
Primary Audience(s):
Adult readers
Email:
info@judychicago.com
Website:
http://www.judychicago.com
Judy Chicago on WorldCat :
http://www.worldcat.org/search?q=judy+chicago
---
Selected Titles
Beyond the flower :
ISBN: 0140232974 OCLC: 33335517 Viking, New York, N.Y., U.S.A. : 1996. Anais Nin heralded the first volume of Judy Chicago's autobiography, Through the Flower, as "remarkable" and "invaluable for all women." Now, twenty years on, Chicago takes us Beyond the Flower, lifting the veil of the international public persona she has become since her influential work The Dinner Party, and revealing her very personal struggles as an artist and a woman in late-twentieth-century America. With the same intense intimacy and unabashed probing of issues of gender, power, and history that characterize her monumental works of art and made Through the Flower a classic in the literature of women and the arts, she asks hard questions about the role of art in our culture. Judy Chicago's contagious and affirmative energy suffuses Beyond the Flower, and this volume will excite and provoke dialogue among feminists, art lovers, and talented women rising through the ranks of any profession - or now taking stock of their lives.
Embroidering our heritage :
ISBN: 0385145691 OCLC: 6278193 Anchor Books, Garden City, N.Y. : 1980.
Frida Kahlo :
ISBN: 3791343602 OCLC: 630456758 Prestel, Munich ; ©2010. This volume examines the life and work of Mexican artist Frida Kahlo (1907-1954). The authors present Kahlo's story through their interpretations of and their commentary about 100 of Kahlo's paintings. They explore Kahlo's many faces -- woman, artist, historical figure, and inspiration. The authors discuss how Kahlo's work fits in with some of the major themes of women's art throughout the 20th century, including gender, the body, relationships, the self, pain, pride, and culture.
Holocaust project :
ISBN: 0670842125 OCLC: 27145289 Penguin Books, New York, N.Y., U.S.A. : 1993.
Judy Chicago :
ISBN: 0940114259 OCLC: 43906952 The Birth Project is a celebration of birth, but it also shows the anxiety, agony of labor, ambivalence of emotions in pregnancy, and other aspects of birth and feminist goals. Judy Chicago has created a mode of art to reveal how women feel about birth and life. -- Vytas Babusis, page 3.
Kitty city :
ISBN: 0060595817 OCLC: 55738052 Harper Design, New York, NY : 2005.
The birth project /
ISBN: 0385187106 OCLC: 11159627 Doubleday, Garden City, N.Y. : 1985. Fifty full-color and 350 black-and-white photographs illustrate the Birth Project exhibit, conceived by Judy Chicago, based on nearly one hundred of her works, and needleworked by women across the country. Between 1980 - 1985, Judy Chicago designed dozens of images on the subject of birth and creation to be embellished by needleworkers around the United States, Canada and as far away as New Zealand. Formatted into provocative exhibition units which included both needleworks and documentary materials, these works toured the country and Canada, eventually placed by 'Through the Flower' in numerous institutions where they are on public view or used as part of university curricula. Prior to the Birth Project, few images of birth existed in Western art, a puzzling omission as birth is a central focus of many women's lives and a universal experience of all humanity - as everyone is born. Seeking to fill this void, Judy Chicago created multiple images of birth to be realized through needlework, a visually rich medium which has been ignored or trivialized by the mainstream art community.
The dinner party :
ISBN: 0385145675 OCLC: 4490367 Book documenting the making of Dinner Party, an installation which opened at San Francisco Museum of Art, 16 March - 17 June 1979 and was circulated by Through the Flower.
The dinner party :
ISBN: 1858943701 OCLC: 76365461 Merrell, London ; 2007. "Judy Chicago's internationally acclaimed installation The Dinner Party is a monumental work of art conceived as a symbolic history of women in Western civilization. Strategically countering the traditional erasure of women's achievements, this epic work honors 1038 iconic, mythical, archetypal, and historical women. This, the most definitive book to be published on Chicago's masterwork, reveals the visual and intellectual scope of the installation more fully than ever before, supported by new photography, documentary images, and the artist's expanded research into the history of the women represented."--Jacket.
Women and art :
ISBN: 1902328442 OCLC: 58047983 Eagle Editions, Royston, Hertfordshire : 2004.