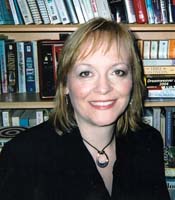 Lorna Collier
Born:
Pen Name:
None
Connection to Illinois
: Collier was born in Illinois and currently resides in northern Illinois.
Biography
: Collier is a writer and editor living near Chicago. Prior to starting her freelance career, she worked as a daily newspaper reporter, a magazine editor, and a TV news producer for an NBC affiliate. She graduated from Northern Illinois University with a BS. She majored in English and minored in journalism. As a freelance writer, she has writeen articles for many newspapers, magazines, and websites. Her first book is titled, ''Tilli's Story: My Thoughts Are Free''. It is about the life of Tilli Schulze, who grew up in a small East German farming village during World War II and the subsequent Soviet occupation. The book has been optioned for film by producer Kathryn Lekan, with German filmmaker Matthias Glasner set to begin work on a screenplay in 2012.
---
Awards
:
Primary Literary Genre(s):
Non-Fiction
Primary Audience(s):
Adult readers; Young adult readers
Email:
lorna@lornacollier.com
Website:
http://www.lornacollier.com
Lorna Collier on WorldCat :
http://www.worldcat.org/search?q=lorna+collier
---
Selected Titles
Tilli's story :
ISBN: 1583480722 OCLC: 62081603 Tilli Horn was a little girl in a tiny farming village in eastern Germany when World War II began. She grew up with Nazi propaganda, secret police, bombings and terror. The Russian occupation after the war was no better, and finally she made a thrilling solo escape to West Germany.