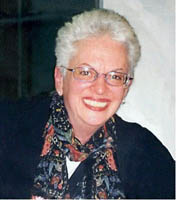 Arlene B. Hirschfelder
Born:
1943 in Chicago, Illinois
Pen Name:
None
Connection to Illinois
: Arlene was born and raised in Chicago.
Biography
: Arlene Hirschfelder is an educator and author. Her passion for writing nonfiction traces back to her childhood in Chicago. She grew up in a house surrounded by thousands of history books and a family where reading and writing seemed just about as important as breathing and eating! Hirschfelder earned her B.A. from Brandeis University in Massachusetts and M.A.T from the University of Chicago. Her post graduate work was completed at Columbia University Teachersí College in New York. For over 20 years, Arlene worked in New York for the Association on American Indian Affairs as the scholarship director and education consultant. She was also a consultant at the Smithsonian Institution, National Museum of the American Indian and was a faculty member at New School for Social Research (now New School University) - both in New York.Hirschfelder has also been a workshop developer, and consultant on Native American issues and presenter at schools. She has designed curricula for museums and other institutions, including Smithsonian Institution/National Museum of the American Indian and Columbia University School ofSocial Work.Along with the many books she has written, Arlene has also been a contributor to other books and has written articles for ''Ms.'', ''Halcyon'', ''Los Angeles Times'', ''Indian Affairs'', ''Interracial Books for Children Bulletin'', and ''Shofar''. Her book contributions include: * ''Unlearning ďIndianĒ Stereotypes, Racism and Sexism'', Resource Center for Educators* ''Ethnic Images in Toys and Games'',Pamela B. Nelson, editor, Balch Institute for Ethnic Studies* ''A Place Called Home: Twenty Writing Women Remember'', edited by Mickey Pearlman, St. Martinís Press. Hirschfelder was the guest editor for the summer 1988, issue of ''Indian Affairs'' (special issue on American Indian religious freedom). She also helped compile the book, ''Rising Voices: Writings of Young Native Americans'' with Beverly Singer and was the sole editor of ''Native Heritage: Personal Accounts by American Indians 1790 to the Present''. Today, Arlene lives in Teaneck, New Jersey.
---
Awards
:
-- (With others) Choice Outstanding Academic Book selection, 1984, for ''Guide to Research on North American Indians'', and 1994, for ''Native American Almanac''
-- Western Heritage Wrangler Award, National Cowboy Hall of Fame/Western Heritage Center, 1986,
Primary Audience(s):
Adult readers
Email:
arlene0417@aol.com
Website:
http://www.author-illustr-source.com/arlenehirschfelder.htm
Arlene B. Hirschfelder on WorldCat :
http://www.worldcat.org/search?q=arlene+b.+hirschfelder
---
Selected Titles
A kid's guide to Native American history :
ISBN: 1556528027 OCLC: 319595125 Chicago Review Press, Chicago, Ill. : ©2010. Hands-on activities, games, and crafts introduce children to the diversity of Native American cultures and teach them about the people, experiences, and events that have helped shape America, past and present. Nine geographical areas cover a variety of communities such as the Mohawk in the Northeast, Ojibway in the Midwest, Shoshone in the Great Basin, Apache in the Southwest, Yup'ik in Alaska, and Native Hawaiians.
American Indian stereotypes in the world of children :
ISBN: 0810836122 OCLC: 40269664 Scarecrow Press, Lanham, Md. : 1999. Presents a collection of challenging articles detailing uses and abuses of Native American symbols, images, ideas, and stories that are directed at youth in the mass media. Toys, cartoons, textbooks, general reading, media portrayals, sports logos, nicknames, and more are discussed in standalone articles.
Annotated bibliography of the literature on American Indians published in state historical society publications, New England and Middle Atlantic states
ISBN: 0527408891 OCLC: 8763655 Kraus International Publications, Millwood, N.Y. : ©1982.
Artists and craftspeople /
ISBN: 0816029601 OCLC: 29600759 Facts on File, New York : ©1994. 17 figures in Native American history from the 17th century to the 20th century including athletes, artists, writers, religious leaders, and scholars.
Children of native America today
ISBN: 9781570919657 OCLC: 860881890 Text and photographs introduce traditions, activities, and lifestyles of children from various North American tribes.
Children of native America today /
ISBN: 1570914990 OCLC: 49284128 Charlesbridge Pub., Watertown, MA : ©2003. Text and photographs introduce traditions, activities, and lifestyles of children from various North American tribes.
Children of the U.S.A. /
ISBN: 1570916152 OCLC: 71237300 Charlesbridge, Watertown, MA : ©2008. Product Description: There is no typical American child. Children may share similar activities and pastimes, but they represent a variety of ethnic, cultural, and religious backgrounds. Striking photographs showcase fifty-one cities-one from each state, as well as our nation's capital, Washington, D.C. The photos and facts feature common activities and interests, as well as varied foods, languages, entertainment, sports, and other examples of daily life throughout the country. Published in conjunction with The Global Fund for Children.
Encyclopedia of Native American religions :
ISBN: 0816046530 OCLC: 40848662 Facts on File, New York : ©2000. "Encyclopedia of Native American Religions is a guide to the rich spiritual traditions and practices of Native Americans in the United States and Canada. Included are more than 1,200 entries, alphabetically arranged and fully cross-referenced. Long regarded as quaint curiosities or exotic pagan rites, the religious practices of Native Americans make up a rich, enduring legacy deserving of a place among the great spiritual traditions. Encyclopedia of Native American Religions is a comprehensive resource to these traditions and practices and accords them the respect, status, and attention they deserve." "In this edition, new or updated information has been included on such topics as: national and state legislation, such as the Native American Church Bill, which allows the religious use of peyote, and the Religious Freedom Restoration Act; religious rights in the military; sacred sites; sacred use of tobacco; and court cases involving the participation of non-Indians in Native American religious ceremonies, such as the Sun Dance."--Jacket.
Encyclopedia of smoking and tobacco
ISBN: 0313097704 OCLC: 70764165 Oryx Press, Phoenix, AZ : 1999. Nearly 600 entries, compiled from authoritative sources, convey information about the lively history, manufacture, and use of all forms of tobacco. ... The Encyclopedia aims to provide accurate, current, and balanced information to people of all viewpoints and on both sides of the smoking debate.--Preface, p. viii.
Guide to research on North American Indians
ISBN: 0838903533 OCLC: 9084019 American Library Association, Chicago : 1983.
Happily may I walk :
ISBN: 0684186241 OCLC: 13560420 Scribner's, New York : ©1986. Explores the everyday life, culture, and preservation of traditions of America's native peoples, the Indians, Inuits, and Aleuts.
Kick butts! :
ISBN: 081083913X OCLC: 45582652 Scarecrow Press, Lanham, Md. : 2001. Examines the history and current status of cigarettes and smokeless tobacco, and provides an action guide for staying smoke-free.
Native Americans
ISBN: 078945162X OCLC: 42475942 Dorling Kindersley Pub., New York : 2000. Features major events and figures in Native American history, from the first contact with Europeans to Native Americans' role in contemporary society, and explains their religious beliefs and customs.
Native Americans today :
ISBN: 0585256357 OCLC: 45732165 Teacher Ideas Press, Englewood, Colo. : 2000. Reproducible activities, biographies of real people, and accurate background information on topics such as homes and environment, growing up and growing old, a day in the life, communications, arts, economics and sociopolitical struggles helps you show students how Native Americans live today. Includes helpful websites.
Photo odyssey :
ISBN: 039589123X OCLC: 42413329 Clarion Books, New York : ©2000. In 1853 explorer Colonel John Charles Fremont invited photographer and fine artist Solomon Nunes Carvalho to accompany his fifth, and final, western expedition. As the official photographer, Carvalho documented the trip from the Mississippi River to Utah with daguerreotypes, a unique and often unwieldy form of photography that produces images on large silver plates. Carvalho was a skilled photographer, but he was a novice on the trail and he battled with the hardships of the journey. He not only was challenged by the physical strain but, as an observant Jew, struggled to maintain his commitment to Judaism, even when observing strict dietary laws meant that he did not eat. Carvalho's own words, from the journal he kept and from letters he wrote home to his wife, provide a vivid firsthand view of his remarkable adventure. With many apt excerpts from his descriptions, author Arlene Hirschfelder has written a detailed account of the life of this little-known, yet widely accomplished, man.
The extraordinary book of Native American lists /
ISBN: 0810877090 OCLC: 733045205 Scarecrow Press, Inc., Lanham, MD : ©2012. Communicates information about the histories, contemporary presence, and various other facts of the Native peoples of the United States. From publisher description.
The Native American almanac :
ISBN: 9780028630038 OCLC: 40636103 Macmillan, USA : 1998, ©1993. Comprehensive, authoritative, and timely, here is a wide-ranging portrait of America's indigenous peoples, combining information about their history and traditions with insight into the topics that most affect their lives today. From the upheaval of first contacts to the policies of removal to contemporary issues of self-determination, this useful source book provides information on all aspects of Native American life. Each chapter of the almanac outlines a particular topic of interest, such as the history of Native-white relations, the location and status of Native American tribes, religious traditions and ceremonies, Native American language and literature, contemporary performers and artists, and more. Within each chapter, reference features highlight prominent individuals, provide up-to-date facts and figures, make suggestions for further reading, and include the names and addresses of dozens of Native American organizations, cultural centers, and points of interest. The book also contains a detailed chronology, an extensive bibliography, and more than 100 historical and contemporary drawings and photographs. For students, researchers, writers, and anyone else interested in Native American studies today, The Native American Almanac is a comprehensive look at the first Americans. -- Publisher's description
Tobacco /
ISBN: 0313358087 OCLC: 659561947 Greenwood, Santa Barbara, Calif. : ©2010. Offers a comprehensive introduction to historic and contemporary efforts to regulate tobacco and reduce the staggering number of people who die from using tobacco products.