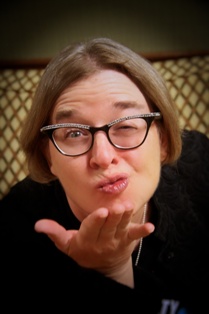 Jennifer Stevenson
Born:
1950's in Chicago, Illinois
Pen Name:
None
Connection to Illinois
: Jennifer was born (as she says. . in Chicago in the 1950's) and raised in the Chicago area.
Biography
: Jennifer Stevenson grew up in the feral spaces between Chicago and the western suburbs, where she befriended dogs, trees, little old ladies, and a lot of very out-of-date music. Since then she has repaired real and rubber sunflowers, renovated stores and factory spaces, skated in roller derby, painted a dude farm, and typed way too many words. For fun, she speed skates, swims, gardens, and rides horses.
---
Awards
:
Primary Literary Genre(s):
Fiction
Primary Audience(s):
Adult readers
Email:
author@jenniferstevenson.com
Website:
http://jenniferstevenson.com
Jennifer Stevenson on WorldCat :
http://www.worldcat.org/search?q=jennifer+stevenson
---
Selected Titles
The brass bed
ISBN: 9780345486684 OCLC: 150381266 Ballantine Books, New York : ©2008. In the first volume of a back-to-back paranormal romance trilogy, three unlikely sleuths--a sex demon, a con artist, and a female fraud investigator--find themselves united in a seductive and dangerous case.
The hinky velvet chair
ISBN: 9781611382877 OCLC: 864433814
The velvet chair /
ISBN: 0345486692 OCLC: 228301350 Del Rey/Ballantine Books, New York : ©2008.
Trash sex magic
ISBN: 9781931520911 OCLC: 811408389 Small Beer Press, Northampton, Mass. : ©2004.
Trash sex magic /
ISBN: 1931520062 OCLC: 54446457 Small Beer Press, Northampton, MA : ©2004.