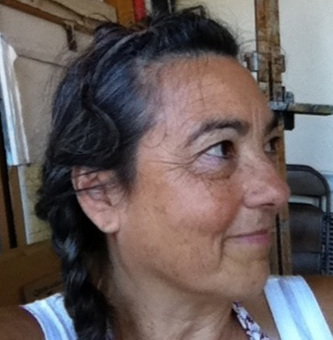 Laura Nyman Montenegro
Born:
1953 in Chicago, Illinois
Pen Name:
None
Connection to Illinois
: Montenegro was born in Chicago and currently resides in Evanston.
Biography
: Laura Nyman Montenegro is an author/illustrator of children's picture books. Her latest book, A Poet's Bird Garden was published by Farrar, Straus & Giroux. Her picture books, A Bird About to Sing, Sweet Tooth and One Stuck Drawer, all published by Houghton Mifflin Company, have won Parent's Choice Awards and A Bird About to Sing was featured on Reading Rainbow. Laura teaches classes for adults in the art of making picture books at the School of the Art Institute of Chicago and at Big Table Studio in Evanston, IL. She is a visiting author/illustrator at schools and universities, served as a children's librarian and graphic artist at the Evanston Public Library and is a puppeteer, movement artist, actor, co-founder and ensemble member of Theatre Zarko, Puppet Symbolist Theatre. Laura is an art educator, with a BA in Fine Arts and Anthropology and an MA and certification in Art Education from the University of New Mexico. Laura believes that children are natural artists and storytellers who respond to the picture book world with gusto and insight and that the picture book art form is a rich and inviting world for story making and expression.
---
Awards
:
A BIRD ABOUT TO SING Featured on Reading Rainbow, 2004
SWEET TOOTH Parent's Choice Honor Book Award
One Stuck Drawer Parent's Choice Honor Book Award
Primary Literary Genre(s):
Fiction
Primary Audience(s):
Children
E-Mail:
lauramontenegro@sbcglobal.net
Facebook:
https://www.facebook.com/laura.montenegro.965
Instagram:
https://www.instagram.com/lauranymanmontenegro/
Web:
http://www.lauranymanmontenegro.com/Laura_Montenegro
---
Selected Titles
A Poet's Bird Garden
ISBN: 0374360383 OCLC: 63122533 After Chirpie the bird escapes from her cage and flies into a tree, a group of poets decides that the best way to entice her down is to create a garden full of seeds, water, hiding places, and materials for building a nest.
A Bird About to Sing
ISBN: 0618188657 OCLC: 49625410 Houghton Mifflin, Boston : 2003. Natalie, who likes to write poems, goes to a poetry reading and discovers that a poem needs to be read out loud at just the right time.
One Stuck Drawer
ISBN: 039557319X OCLC: 22385487 Houghton Mifflin, Boston : 1991. Visiting a furniture store, a young girl falls in love with an old dresser, but can't pay for it until the dresser's stuck drawer provides a solution.
Sweet Tooth
ISBN: 0395680786 OCLC: 29670275 Houghton Mifflin, Boston : 1995. A girl is separated from her beloved lion because of ignorance and prejudice.