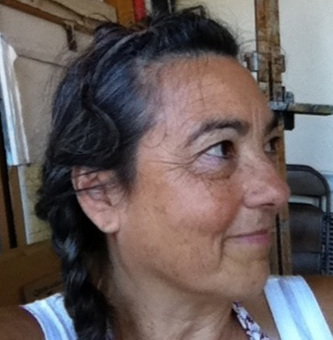 Laura Nyman Montenegro
Born:
1953 in Chicago, Illinois
Pen Name:
None
Connection to Illinois
: Montenegro was born in Chicago and currently resides in Evanston, Illinois.
Biography
: Laura is an art educator, with a BA in Fine Arts and Anthropology and an MA and certification in Art Education. She is a puppeteer and movement artist, co-founder and ensemble member of Theatre Zarko in Evanston, Illinois. She teaches classes for adults in the art of making picture books.
---
Awards
:
Primary Audience(s):
Children; Children
Email:
lauramontenegro@sbcglobal.net
Website:
http://www.lauranymanmontenegro.com/Laura_Montenegro
Laura Nyman Montenegro on WorldCat :
http://www.worldcat.org/search?q=laura+nyman+montenegro
---
Selected Titles
A bird about to sing /
ISBN: 0618188657 OCLC: 49625410 Houghton Mifflin, Boston : 2003. Natalie, who likes to write poems, goes to a poetry reading and discovers that a poem needs to be read out loud at just the right time.
A poet's bird garden /
ISBN: 0374360383 OCLC: 63122533 After Chirpie the bird escapes from her cage and flies into a tree, a group of poets decides that the best way to entice her down is to create a garden full of seeds, water, hiding places, and materials for building a nest.
One stuck drawer /
ISBN: 039557319X OCLC: 22385487 Houghton Mifflin, Boston : 1991. Visiting a furniture store, a young girl falls in love with an old dresser, but can't pay for it until the dresser's stuck drawer provides a solution.
Sweet Tooth /
ISBN: 0395680786 OCLC: 29670275 Houghton Mifflin, Boston : 1995. A girl is separated from her beloved lion because of ignorance and prejudice.