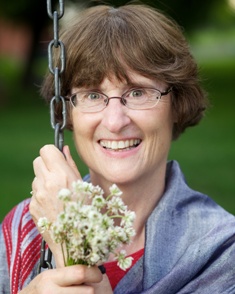 Jane Kurtz
Born:
1952 in Portland, Oregon
Pen Name:
None
Connection to Illinois
: Jane Kurtz was a teacher then director of Carbondale New School in Carbondale, Illinois from 1975-1981.
Biography
: When Jane was two years old her family moved and she grew up in a remote corner of Ethiopia, living there until she came back to the United States to attend college.Jane currently lives in Kansas with her husband.
---
Awards
:
Golden Kite Award and others, including the PEN West Literary Award
Primary Audience(s):
Adult readers; Children; Children
Email:
jean@daytonbookings.com
Website:
http://www.janekurtz.com
Jane Kurtz on WorldCat :
http://www.worldcat.org/search?q=jane+kurtz
---
Selected Titles
Ethiopia :
ISBN: 0875184839 OCLC: 23870506 Dillon Press ; New York : ©1991. Describes the geography, history, culture, economy, and people of the mountainous country in northeastern Africa troubled in recent years by drought, famine, and civil unrest.
Fire on the mountain
ISBN: 039578123X OCLC: 43461971 Houghton Mifflin, Boston : 1999. A clever young shepherd boy uses his wits to gain a fortune for himself and his sister from a haughty rich man.
Fire on the mountain.
ISBN: 0613049748 OCLC: 228271223 Sagebrush Education, [Place of publication not identified] : 1999.
I'm sorry, Almira Ann
ISBN: 0439206456 OCLC: 48528160 Scholastic, New York : ©2001, 1999. Eight-year-old Sarah's high spirits help make her family's long journey from Missouri to Oregon more bearable, though they do cause both her and her best friend Almira Ann some problems. Sarah Benton and her family set off on a journey westward, following the Oregon Trail. Sarah's best friend, Almira Ann, is on the trail, too. But the journey sours when Sarah unintentionally scares Almira Ann, causing her to fall out of the wagon and break her leg. As Sarah tries to mend her friendship with Almira Ann, she learns a valuable lesson about difficult, yet rewarding, jouneys.
Lanie
ISBN: 9781338197327 OCLC: 1013541362 Lanie is an outside girl who is stuck with an inside family. She longs to go camping, explore the outdoors, and have real adventures, but no one else in her family is interested. To make matters worse, Lanie's best friend is far away and living out their dreams of becoming wildlife biologists---without her! When Lanie's aunt comes to stay with them, Lanie finds a kindred spirit and embarks on an exciting project--planting a wild garden---but she faces competition with her younger sister Emily for their aunt's attention. Then her aunt leaves, and Lanie again feels alone & abandoned once again. Gradually, after a blowup with her younger sister, she finds support for her interests where she least expects it--within her own family. Likewise, she discovers the beauty and wonder of nature where she didn't expect to find it--right in her own backyard.
Lanie /
ISBN: 1593696825 OCLC: 424558780 American Girl Pub., Middleton, WI : ©2010. Ten-year-old Lanie of Cambridge, Massachusetts, who loves nature and the outdoors, wants to go camping with her family but her favorite aunt teaches Lanie to find the wonders of nature anywhere, even in her own backyard.
Miro in the kingdom of the sun /
ISBN: 0395691818 OCLC: 31740513 Houghton Mifflin Co., Boston : 1996. A young Inca girl succeeds where her brothers and others have failed, when her bird friends help her find the special water that will cure the king's son.
Only a pigeon /
ISBN: 0689800770 OCLC: 33281999 Simon & Schuster Books for Young Readers, New York, N.Y. : ©1997. Ondu-ahlem carefully trains his pigeons and prepares them for the day when he and other Ethiopian boys test the homing instinct and loyalty of their precious birds.
River friendly, river wild /
ISBN: 1416934871 OCLC: 86080460 Aladdin Paperbacks, New York : 2007. A family experiences a renewed appreciation for home and community after they are evacuated during a spring flood and then return to survey the damage.
Terrific connections with authors, illustrators, and storytellers :
ISBN: 1563087448 OCLC: 43803261 Libraries Unlimited and its division Teacher Ideas Press, Englewood, Colo. : 1999.
The storyteller's beads /
ISBN: 0439155096 OCLC: 44893992 Scholastic Inc., New York : [2000], ©1998. During the political strife and famine of the 1980's, two Ethiopian girls, one Christian and the other Jewish and blind, struggle to overcome many difficulties, including their prejudices about each other, as they make the dangerous journey out of Ethiopia.
Trouble
ISBN: 9780980148329 OCLC: 501040753 Ethiopia Reads, [Addis Ababa] ; ©2009. A retelling of a traditional Eritrean tale in which a young goatherd disobeys his father by inadvertently trading away the board game that was supposed to keep him out of trouble.
Trouble /
ISBN: 0152002197 OCLC: 33407778 Harcourt Brace, San Diego : ©1997. A retelling of a traditional Eritrean tale in which a young goatherd disobeys his father by inadvertently trading away the board game that was supposed to keep him out of trouble.
Water hole waiting /
ISBN: 0060298502 OCLC: 45958185 Greenwillow Books, New York : ©2002. A thirsty monkey waits as the larger animals drink from the water hole on the African savanna.