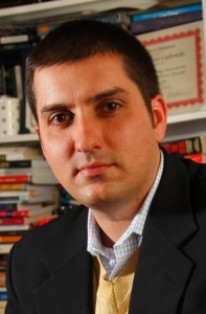 Stephen M Caliendo
Born:
1971 Pittsburgh, Pennsylvania
Pen Name:
None
Connection to Illinois
: Professor Caliendo teaches Political Science at North Central College in Naperville. He lives in Chicago, Illinois.
Biography
: Stephen Maynard Caliendo grew up in a Western Pennsylvania exurb and later attended Clarion University to study English literature and political science. He earned Master's and Ph.D. degrees in political science from Purdue University and has taught at the University of Missouri--St. Louis and Avila University. With Charlton D. McIlwain (New York University), Caliendo is co-director of The Project on Race in Political Communication (RaceProject.org), which seeks to provide information, through social science research and public commentary, about the way race and politics interact with communication.Dr. Caliendo is also a regular analyst for international, national, state and local media outlets including National Public Radio, Al Jazeera English, Radio France Internationale and The Washington Post.Look for his forthcoming book Inequality in America: Fulfilling Democracy's Promise (Westview, 2012)!
---
Awards
:
Primary Literary Genre(s):
Non-Fiction; Other
Primary Audience(s):
Adult readers
Email:
smcaliendo@noctrl.edu
Website:
http://RaceProject.org
Stephen M Caliendo on WorldCat :
http://www.worldcat.org/search?q=stephen+m+caliendo
---
Selected Titles
Race appeal :
ISBN: 9781439902752 OCLC: 704263919 Temple University Press, Philadelphia : ©2011. Why, when, and how often candidates use race appeals, and how the electorate responds.
Teachers matter :
ISBN: 027596907X OCLC: 43115028 Praeger, Westport, Conn. : 2000.
The Routledge companion to race and ethnicity
ISBN: 9781780348155 OCLC: 809017479 Routledge, Abingdon, Oxon [England] ; 2011 The Routledge Companion to Race and Ethnicity is a comprehensive guide to the increasingly relevant, broad and ever changing terrain of studies surrounding race and ethnicity.
The Routledge companion to race and ethnicity /
ISBN: 0415777070 OCLC: 701718175 Routledge, London ; 2011. A fascinating collection of introductory essays covering the major topics and issues in the field. It features an international range of case study analyses and an A-Z of key names and concepts.