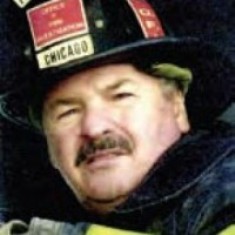 William Cosgrove
Born:
in Chicago, Illinois
Pen Name:
None
Connection to Illinois
: William Cosgrove was born in Chicago, Illinois and was raised on the south side of the city as one of ten children of a Chicago firefighter. He wore his fathers badge for over twenty-eight years on the Chicago Fire Department. This badge was passed on to his son, Timothy, who is now a Chicago Firefighter.
Biography
: Mr. Cosgrove was also a Fire Investigator for the City of Chicago. He served as a Technical Advisor to Mr. Robert DeNiro in the blockbuster movie, "Backdraft", on which he based his first book, "Robert DeNiro and the Fireman". His second book "The Noble Breed" takes the readers into the harrowing lives of Chicago firefighters, and explains in summary the never told story of the Chicago firefighters strike against the City of Chicago. Bill Cosgrove, in his third book "Accident or Arson" graphically portrays firefighters at their best and he presents a vivid description of firefighter specialists conducting detailed fire origin and cause investigations. Bill received valor awards from the City of Chicago Fire Department for fire rescues in 1970, 1974, 1978, and 1988. He also received a valor award from the Veterans of Foreign Wars in 1975. Since retiring from the Chicago Fire Department in 1995, he practices as a licensed private detective. Bill owns and operates, Bill Cosgrove Investigations, Inc. His company specializes in the origin and cause of fires.
---
Awards
:
Primary Literary Genre(s):
History; Non-Fiction
Primary Audience(s):
Adult readers
Website:
http://idofires.com
William Cosgrove on WorldCat :
http://www.worldcat.org/search?q=william+cosgrove
---
Selected Titles
Accident or arson? /
ISBN: 1582441979 OCLC: 49423304 Rutledge, Danbury, CT : ©2002. " ... The third book by Bill Cosgrove, a 28-year veteran of the Chicago Fire Department and now a private investigator, is for anyone who has ever been curious about how arson is detected and investigated. Cosgrove takes the reader onto the front line in a fascinating first-hand account of the Office of Fire Investigation that coordinates with local and federal law enforcement agencies to establish the cause of every fire in the city."
Chicago's forgotten tragedy /
ISBN: 1452079390 OCLC: 671958575
Robert DeNiro and the fireman /
ISBN: 1887750630 OCLC: 39360759 Rutledge Books, Bethel, CT : ©1997.
The noble breed /
ISBN: 1582440638 OCLC: 43304850 Rutledge Books, Danbury, CT : ©1999. William Cosgrove takes his readers into the harrowing lives of Chicago firefighters. He not only gives an insightful history of the Chicago Fire Department, but also provides an accurate account of the training that each firefighter endures and the stamina required. For average citizens who have never really given thought to the public servants who risks their lives, this detailed story helps them understand the pressures and rewards of working in a fire department in one of the largest cities in the country.