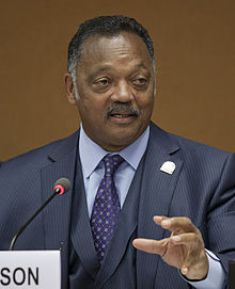 Jesse Jackson, Sr.
Born:
1941 in Greenville, South Carolina
Pen Name:
None
Connection to Illinois
: Jackson attended the Chicago Theological Seminary with the intent of becoming a minister, but dropped out in 1966 to focus full time on the civil rights movement. He was ordained in 1968, without a theological degree; awarded an honorary theological doctorate from Chicago in 1990; and received his Master of Divinity Degree based on his previous credits earned, plus his life experience and subsequent work, in 2000.
Biography
: Jesse Jackson, Sr. is a civil rights activist and Baptist minister. He was a candidate for the Democratic presidential nomination in 1984 and 1988 and served as shadow senator for the District of Columbia from 1991 to 1997. He was the founder of both entities that merged to form Rainbow/PUSH. Representative Jesse Jackson, Jr. is his eldest son. After being appointed special envoy to Africa, he was awarded the 2000 Presidential Medal of Freedom. In an AP-AOL 'Black Voices' poll in February 2006, Jackson was voted 'the most important black leader'.
---
Awards
:
Primary Literary Genre(s):
Non-Fiction
Jesse Jackson, Sr. on WorldCat:
http://www.worldcat.org/search?q=jesse+jackson%2C+sr.
---
Selected Titles
It's about the money! :
ISBN: 081293296X OCLC: 42649743 Times Business, New York : ©1999. Advice for financial success, specifically for African Americans.
Straight from the heart /
ISBN: 0800608623 OCLC: 14068468 Fortress Press, Philadelphia : ©1987.