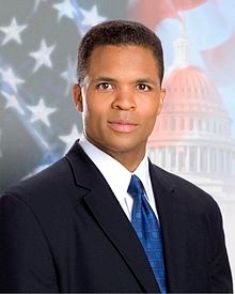 Jesse L Jackson, Jr.
Born:
1965 in Greenville, South Carolina
Pen Name:
None
Connection to Illinois
: Jesse Jackson, Jr. is a member of the United States House of Representatives representing Illinois's 2nd Congressional District, which includes a large part of Chicago's South Side and southeast suburbs.
Biography
: Prior to elective politics, Representative Jackson was active in international civil rights work. He participated in his father's presidential campaigns and then in the office of his Rainbow Coalition. During his time in public office he has co-authored three books, including two on financial literacy. He also co-wrote A More Perfect Union, which advances a series of constitutional amendments that would guarantee all Americans the right to vote, and the right to high quality education, health care and housing.
---
Awards
:
Primary Literary Genre(s):
Non-Fiction
Website:
http://www.jessejacksonjr.org/home
Jesse L Jackson, Jr. on WorldCat :
http://www.worldcat.org/search?q=jesse+l+jackson%2C+jr.
---
Selected Titles
It's about the money! :
ISBN: 0609807366 OCLC: 46681598 Three Rivers Press, New York : ©1999. "Reverend Jackson and Congressman Jackson believe that the message contained in It's about the moeny is the fourth step in the movement to freedom. The first three steps (emancipation from slavery, ending legal segregation, and securing the right to vote) formed the basis for the fourth movement of the freedom symphony: access to capital and financial independence. The Jacksons' program will help everyone fully participate in the financial engine that drives our country, by showing how to build wealth, increase it, and keep it secure so that you can build a better life for yourself and for your family"--Back cover.
Legal lynching :
ISBN: 1569247617 OCLC: 34745952 Marlowe & Co., New York : 1996. Legal Lynching is an impassioned rebuttal to advocates of the death penalty: legal executions are unjustly administered, are morally indefensible and fail to deter crime. A comprehensive rejection of the knee-jerk solution to the rise in violent crime, Legal Lynching comprises a history of state-sponsored execution, a consideration of the statistical evidence, an examination of scriptural justification for the taking of a life, and, most chilling, the true-life stories of those condemned to die who were later found to be innocent. With eloquent determination, Jackson examines the recent history of the death penalty. He reflects on high-profile cases, such as that of Mumia Abu-Jamal; assesses the state of the opposition movement; and reveals irrefutable discrepancies in the implementation of the death penalty based on race, class, sex, and geography. By giving lie to the notion that justice is administered blindly and fairly in the life-and-death cases, Jackson's exposition is an inspiring call to action.
Legal lynching :
ISBN: 1565846850 OCLC: 46928816 New Press : New York : 2001. Argues that the death penalty is morally wrong, an ineffective deterrent, and an instrument of a justice system exemplified by systematic legal error and widespread racial bias.