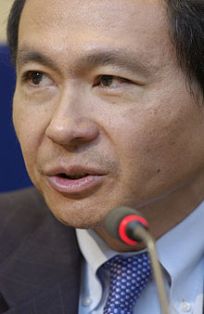 Francis Fukuyama
Born:
1952 in Chicago, Illinois
Pen Name:
None
Connection to Illinois
: Francis Fukuyama was born in the Hyde Park neighborhood of Chicago.
Biography
: Francis Fukuyama is Olivier Nomellini Senior Fellow at the Freeman Spogli Institute for International Studies. He received his B.A. from Cornell University in classics, and his Ph.D. from Harvard in Political Science.Dr. Fukuyama has written widely on issues relating to questions concerning democratization and international political economy. He is chairman of the editorial board of The American Interest, which he helped to found in 2005.
---
Awards
:
Primary Literary Genre(s):
History; Non-Fiction
Primary Audience(s):
Adult readers
Email:
f.fukuyama@stanford.edu
Website:
http://fukuyama.stanford.edu
Francis Fukuyama on WorldCat :
http://www.worldcat.org/search?q=francis+fukuyama
---
Selected Titles
After the neocons :
ISBN: 1861978782 OCLC: 75714086 Profile, London : 2007.
After the neocons :
ISBN: 1861979223 OCLC: 70763603 Profile, London : 2006. A critique and reformulation of US foreign policy from one of the world's leading thinkers - who formerly regarded himself as a 'neocon'.
America at the crossroads :
ISBN: 9780300122534 OCLC: 62085410 Yale University Press, New Haven : ©2006. Francis Fukuyama's criticism of the Iraq war put him at odds with neoconservatives both within and outside the Bush administration. Here he explains how, in its decision to invade Iraq, the Bush administration failed in its stewardship of American foreign policy, in making preventive war the central tenet of its foreign policy, in misjudging the global reaction to its exercise of benevolent hegemony, and in failing to appreciate the difficulties involved in large-scale social engineering. Providing a history of neoconservative thought since the 1930s, Fukuyama argues that the movement's legacy is a complex one that can be interpreted quite differently than it was after the end of the Cold War. He proposes a new approach to American foreign policy, in which the positive aspects of the neoconservative legacy are joined with a more realistic view of how to use American power around the world.--From publisher description.
Falling behind :
ISBN: 0195368827 OCLC: 271672219 Oxford University Press, Oxford ; 2008. In 1700, Latin America and British North America were roughly equal in economic terms. Yet over the next three centuries, the United States gradually pulled away, and today the gap is huge. Why did this happen? Was it culture? Geography? Economic policies? Natural resources? Differences in political development? The question has occupied policymakers and scholars for decades, and the debate remains intense. In Falling Behind, Francis Fukuyama, acclaimed author of The End of History and America at the Crossroads, gathers together some of the world's leading scholars on the subject to explain th.
Our posthuman future :
ISBN: 0756795893 OCLC: 850972273 Farrar, Straus and Giroux, New York : 2002.
Our posthuman future :
ISBN: 0312421710 OCLC: 49502279 Farrar, Straus and Giroux, New York : 2002. A social philosopher examines how the foundation of liberal democracy, which is the belief that all human beings are equal by nature, could be shattered by the biotechnology revolution.
State Building :
ISBN: 9781847653772 OCLC: 988174713 Profile Books, London : 2005.
State-building :
ISBN: 0801442923 OCLC: 54065981 Cornell University Press, Ithaca, N.Y. : ©2004. "Fukuyama begins State-Building with an account of the broad importance of "stateness." He rejects the notion that there can be a science of public administration and discusses the causes of contemporary state weakness. He ends the book with a discussion of the consequences of weak states for international order and the grounds on which the international community may legitimately intervene to prop them up."--Jacket.
The end of history and the last man
ISBN: 9780241960240 OCLC: 795847867 Hamish Hamilton, London : 2012.
The end of history and the last man /
ISBN: 0241130131 OCLC: 24378505 Free Press ; New York : ©1992. Presents evidence to suggest that there are two powerful forces at work in human history, "the logic of modern science" and "the struggle for recognition."
The great disruption :
ISBN: 068484530X OCLC: 40901223 Free Press, New York : ©1999. "The Great Disruption begins by observing that over the past thirty years, the United States and other developed countries have undergone a profound transformation from industrial to information societies; knowledge has replaced mass production as the basis of wealth, power, and social interaction. At the same time, Western societies have endured increasing levels of crime, massive changes in fertility and family structure, decreasing levels of trust, and the triumph of individualism over community. Just as the Industrial Revolution brought about momentous changes in society's moral values, a similar Great Disruption in our own time has caused profound changes in our social structure." "Drawing on the latest sociological data and new theoretical models from fields as diverse as economics and biology, Fukuyama reveals that even though the old order has broken apart, a new social order is already taking shape. Indeed, he suggests, the Great Disruption of the 1960s and 1970s may be giving way to a Great Reconstruction, as Western society weaves a new fabric of social and moral values appropriate to the changed realities of the postindustrial world."--Jacket.
The origins of political order :
ISBN: 9780374533229 OCLC: 650212556 Farrar, Straus and Giroux, New York : 2011. Francis Fukuyama examines the paths that different societies have taken to reach their current forms of political order.
Trust :
ISBN: 0029109760 OCLC: 32547174 Free Press, New York : ©1995. In Trust, a sweeping assessment of the emerging global economic order "after History," Fukuyama examines a wide range of national cultures in order to divine the hidden principles that make a good and prosperous society, and his findings strongly challenge the orthodoxies of both left and right. In fact, economic life is pervaded by culture and depends, Fukuyama maintains, on moral bonds of social trust. This is the unspoken, unwritten bond between fellow citizens that facilitates transactions, empowers individual creativity, and justifies collective action. In the global struggle for economic predominance that is now upon us - a struggle in which cultural differences will become the chief determinant of national success - the social capital represented by trust will be as important as physical capital. But trust varies greatly from one society to another, and a map of how social capital is distributed around the world yields many surprises.
Trust :
ISBN: 0140259430 OCLC: 36408308 Penguin, London : 1996, ©1995.