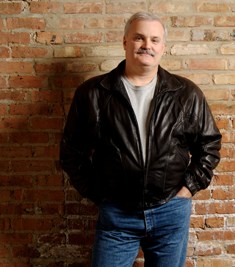 Shane Gericke
Born:
1956 in Frankfort, Illinois
Pen Name:
None
Connection to Illinois
: Shane lives in a suburb of Chicago.
Biography
: Shane Gericke has been held at knifepoint, hit by lightning, and shaken the cold sweaty hand of Liberace. He was born to write thriller novels! His latest is Torn Apart, a finalist for the Thriller Award for Best Novel of 2010 by the International Thriller Writers organization, and named a Book of the Year by Suspense Magazine. Shane, whose last name is improbably pronounced YER-kee, spent 25 years as a newspaper editor, most prominently at the Chicago Sun-Times, before jumping into fiction. A founding member of International Thriller Writers, he has been chairman of the ThrillerFest literary festival in New York and founding director of its agent-author matching program AgentFest. He also belongs to Mystery Writers of America and the Chicago-based Society of Midland Authors. His novels—available in print and e-books—are in translation worldwide, and his national bestselling debut, Blown Away, was named the best debut mystery of 2006 by RT Book Reviews. He lives in the Chicago suburb of Naperville, the home of world-famous detective Dick Tracy, with whom Shane shares no resemblance except steely jaw and manly visage. He grew up in Frankfort, a south suburb of Chicago, and attended Northern Illinois University in DeKalb, majoring in journalism and winning the Illinois Journalist of the Year award. After graduating, he worked at the Moline Dispatch, the Joliet Herald-News, and the Chicago Sun-Times, all in Illinois. Check him out at [http://www.shanegericke.com www.shanegericke.com], and on Facebook and Twitter.
---
Awards
:
Primary Literary Genre(s):
Fiction
Primary Audience(s):
Adult readers
Email:
shane@shanegericke.com
Website:
http://www.shanegericke.com/index.htm
Shane Gericke on WorldCat :
http://www.worldcat.org/search?q=shane+gericke
---
Selected Titles
Blown Away
ISBN: 9781612308944 OCLC: 921392178 Shane Gericke writes with the clear eye of hard-nosed reporter and the sweet soul of an artist. The power of Blown Away is visceral and unforgettable - you won't want to miss this one. - Gayle LyndsShane Gericke's debut novel, Blown Away, became an immediate national bestseller that won the coveted Best First Mystery award from RT Book Reviews. Its central character is Emily Thompson, a rookie police officer in the leafy Chicago suburb of Naperville.Emily, who's finally pulled herself out of the emotional mud that's suffocated her since the unexplained deaths of her husband, mother, and father, is finally looking forward to a celebration of life: her upcoming fortieth birthday.Unfortunately, so is a serial killer, who terrorizes her city of 150,000 with a series of brutal murders staged to look like the childhood board games Emily played growing up on Chicago's Southwest Side. The killer is clearly someone from her past.But who?From Time Bomb and Duck-Duck-Goose to Chutes and Ladders and Operation, every corpse brings Emily and her Naperville Police colleagues - Martin Benedetti, Annabelle Bates, Hercules Branch, and Police Chief Kendall Cross - one step closer to Hangman, the ultimate game in this blood-drenched contest. The killer promises to make Emily play for real: Hanging by the neck till she's dead, dead, dead, to fulfill his psychopathic need to murder her.But, Emily and her pals have far different plans for him and her birthday celebration . . .
Blown away /
ISBN: 0786018135 OCLC: 67510631 Kensington Pub., New York : 2006. "A serial killer is playing a deadly game. There are no rules except one: the killer always wins. the loser always dies." --pg 4 of cover.
Cut to the Bone
ISBN: 9781612308937 OCLC: 921392116 Shane Gericke is the real deal. - Lee ChildEmily Thompson, the hard-charging Naperville Police officer who barely escaped with her life in Shane Gericke's series debut Blown Away, has been promoted to detective. She's fallen in love with Martin Benedetti, the county sheriff's homicide commander. They're building their dream house in the Chicago suburb of Naperville, where she lives and works. Life is good as she slowly recovers from her jagged wounds, both physical and emotional . . .Until another serial killer decides to crash the party and match wits with a cop he believes should have died in the noose of the first killer's Hangman game.In Cut to the Bone, a stone-cold multiple murderer is scheduled to die in the state electric chair in Naperville. He'd kidnapped an expectant mother, cut the baby out her womb, and gave it to his girlfriend, who'd wanted kids but didn't want to ruin her figure giving birth. The screams of the dying mother alerted nearby police officers, who gave chase. The killer smashed the infant against a tree trying to escape. The cops caught him anyway. He was tried, and now he'll fry.But Emily Thompson's newest foe, who calls himself The Executioner, decides that he, not the cops, jury, state, governor, or a mere detective, is this man's god of life and death. So he attacks Emily to get inside the death house and free the baby - and mom-killer, even as the electrical generator winds up to deliver its killing punch.An electrical killing punch that Emily takes full-force . . .This fictional crime was inspired by a ghastly real-life one in the Chicago suburb of Addison. In November, 1995, Jacqueline Williams's boyfriend, Fedell Caffey, murdered a pregnant woman, Debra Evans, and cut her nearly full-term fetus from her body. To eliminate witnesses, he and Williams also murdered Evans's ten-year-old daughter, Samantha, and eight-year-old son, Joshua. A third child, Jordan, was spared because, they thought, children under the age of two couldn't be reliable witnesses.The cut-out boy, named Eli, survived. Jordan and Eli are being raised by Evans's grandfather. Caffey and Williams were sentenced to death. That was commuted to life without parole when then-Illinois Governor George Ryan banned capital punishment in Illinois.
Cut to the bone /
ISBN: 0786018143 OCLC: 798227565 Pinnacle, New York : ©2007. Detective commander for the Naperville, Illinois, sheriff's office, Martin Benedetti, during a routine investigation, gets too close to a serial killer who, savagely mutilating his victims, threatens to destroy everything and everyone Martin loves.
Torn apart
ISBN: 9781612308999 OCLC: 921392039 A four-pack of spree killers who call themselves the Zodiacs picks up a shipment of narcotics from Black River Falls, Wisconsin, with the intention of hauling it to the Chicago suburbs for distribution. On the way, they shoot cops, murder hitchhikers, and machine-gun beautiful, multi-horned deer just for the fun of it. They arrive in Naperville to drop their narco load at a nondescript house on the city's north side. But their dingy, battered van looks suspicious to Annabelle Bates, a down-the-street neighbor who also commands SWAT for the Naperville Police Department. She and Emily, who's visiting best friend Annie that morning, walk toward the van. The Zodiacs spot them, grab one of Annie's daughters as a hostage, and take off. A wild chase through the winding, tree-lined streets of Naperville ensues, but the Zodiacs shake their pursuers.They quickly sell Annie's daughter to a kiddie-porn ring that will drug the girl with a new synthetic narcotic called Katrina, video-record her rape by a variety of men, and sell it on the Dark Net, the seedy part of the Internet unreachable by public search engines and where monsters worldwide buy and trade drugs, guns, sex, animals, and children. Emily, Annie, Martin Benedetti, Hercules Branch, Chief Kendall Cross, and the rest of the police gang race to save the child of a cop. And even if they pull off that miracle - no sure thing, as nobody knows where the Zodiacs disappeared - they must simultaneously deal with tragic murder of one of their own. And finally, you'll meet the magical deer who saves the life of a critically wounded sheriff's deputy in Wisconsin, despite being machine-gunned itself by the Zodiacs . . .
Torn apart /
ISBN: 0786020393 OCLC: 462884223 Pinnacle ; New York : ©2010. When a wave of violence hits Naperville, Illinois, Detective Emily Thompson, determined to stop the crime spree, goes up against a maniacal killer who threatens to destroy everyone she knows and loves.