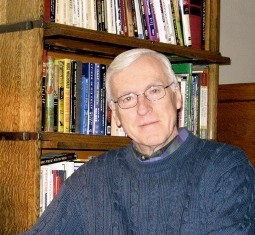 David J. Walker
Born:
in Chicago, Illinois
Pen Name:
None
Connection to Illinois
: David grew up in Mundelein and currently resides in Wilmette.
Biography
: Walker's most recent novel, ''No Show of Remorse'', is his fourth book featuring Chicago private investigator Mal Foley. His other series, his 'Wild Onion Ltd.' Series, features a husband/wife private eye team. The three books in that series are ''A Ticket to Die For'', ''A Beer at a Bawdy House'', and ''The End of Emerald Woods''. Dave has been a parish priest, an investigator with the Chicago police department and a lawyer. He now divides his time between writing and practicing law.
---
Awards
:
Primary Literary Genre(s):
Mystery
Primary Audience(s):
Adult readers
Email:
dave@davidjwalker.com
Facebook:
http://www.facebook.com/people/David-J-Walker/100000876673221=david+j+walker
Website:
http://www.davidJWALKER.com
David J. Walker on WorldCat :
http://www.worldcat.org/search?q=david+j.+walker
---
Selected Titles
A beer at a bawdy house /
ISBN: 0312252420 OCLC: 42780814 St. Martin's Minotaur, New York : 2000. Peter Keegan, a Catholic bishop, turns to the husband and wife team of Dugan and Kirsten when someone starts to blackmail him.
A ticket to die for /
ISBN: 0312193459 OCLC: 39116708 St. Martin's, New York : 1998. A new mystery series featuring the husband-and-wife sleuths, Dugan and Kirsten of Chicago. He is a police academy dropout who became a lawyer, she dropped out of law school to be a policewoman and is now a PI. The case involves pornography and murder.
All the dead fathers
ISBN: 9781466872257 OCLC: 881283067 Two years ago, Father Michael Nolan was sued by the family of a seventeen-year-old girl who had committed suicide years ago after confessing to having an affair with Father Nolan. The lawsuit was thrown out, but all of Michael's secrets came out, resulting in the end of his life as a priest and ruining his relationship with his niece, Kirsten. Michael and Kirsten, a private investigator and the lead character along with her lawyer husband, Dugan, a lawyer, of David J. Walker's acclaimed Wild Onion mystery series, were quite close, especially after Michael helped her out of a big jam when she was in college, and Kirsten is devastated by the revelations about her uncle. She still feels obligated to him, though, after everything they've been through together, and when a list of priests who have been accused of abuse appears in the Chicago newspaper, she is sympathetic. Unlike Dugan, who defended him against the lawsuit but since then would rather have less than nothing to do with him. But Kirsten's sympathy turns to real fear when one of the priests on the list turns up dead, murdered and his body mutilated. Has the list in the newspaper ignited a killer, or is it someone seeking revenge for a more personal reason' Before they can get anywhere on the first murder, another priest turns up dead. In this latest intricately constructed novel by the award-winning author of the Mal Foley mysteries, Kirsten and Dugan try to find a killer amid the rising danger.
All the dead fathers /
ISBN: 0312334540 OCLC: 56753611 St. Martin's Minotaur, New York : 2005. A private investigator comes to the aid of her uncle, a former priest accused of sexual abuse, when a published list of priests accused of perversion leads to their murders.
Applaud the hollow ghost
ISBN: 9781250112729 OCLC: 940561165 The hollow ghost haunting Chicago P.I. Malachy Mal Foley's dreams is Lammy Fleming, one of Mal's high school classmates. Mal, a new kid in school, had befriended Lammy at first, but Lammy was slow, chubby, bad at schoolwork, and terrible at sports, and he was the target of taunting and worse by the other boys at St. Robert's. Eventually, swayed by the cutthroat crowd of adolescent boys, Mal found himself unwilling to challenge the pack by championing such an unpopular boy. The way Mal turned his back on Lammy, the way Lammy became an invisible boy, has haunted Mal for more than twenty years. Now Lammy has been accused of assaulting a young girl in his neighborhood, and though the legal case against him is slim, the neighbors have already tried the case. Lammy is facing harassment, vandalism, and threats of worse. Mal's conscience has decided that clearing Lammy's name and protecting him against attack will lay Mal's guilt to rest. But challenging the girl's story - and her powerful Chicago mob father and uncle - proves much more dangerous than any twenty-year-old ghost.
Fixed in his folly /
ISBN: 0312130740 OCLC: 31934611 St. Martin's Press, New York : 1995. In Chicago, PI Malachy Foley is hired by a woman lawyer to find the son she gave up for adoption 30 years earlier. He finds the man, now a Jesuit priest, and becomes involved in a case of revenge and murder.
No show of remorse
ISBN: 9781250112743 OCLC: 940561026 Chicago private eye Mal Foley was a lawyer once. Then he disobeyed a court order requiring him to reveal a client's role in a shootout that left three people dead, one of them a cop, and his law license was revoked. Now years removed from that fateful day, Mal is filing a petition to get his license reinstated. It quickly becomes a problem, however, as Mal is expected to express remorse for his misconduct in order to satisfy the court, something he steadfastly refuses to do. In fact, he would withdraw the petition--if people would only stop trying to frighten him into doing just that. Anonymous notes turn into death threats, then into savage beatings, and finally into murder. It seems no one wants Mal's petition to lead to a hearing, where testimony might reveal what really led to the shooting so many years ago. The person with the most to lose should the truth come out seems to be Jimmy Coletta, a second cop shot that night. Coletta survived, but has spent his life since in a wheelchair. Whatever part he played in the shootout, he seems a good man now, spending his life helping minority kids who have disabilities. Mal doesn't want to bring Jimmy down, but soon an innocent man's life depends on Mal pressing ahead with his petition, no matter who gets destroyed in the process. Set in Chicago, No Show of Remorse is a startling novel about crime, corruption, and their devastating consequences.
No show of remorse /
ISBN: 0312252404 OCLC: 48100117 St. Martin's Minotaur, New York : 2002. Determined to get his law license reinstated, Mal Foley soon discovers that someone does not want his petition to be heard when threatening letters turn into brutal beatings followed by murder.
Picture industry :
ISBN: 9783037645024 OCLC: 1019632564 Curated by artist Walead Beshty, the exhibition Picture Industry reflects upon transformations in the production and distribution of photographic images as realized through its varied constructions of the corporeal, from its origin as a scientific tool and a means of cultural investigation to its phenomenological effects on the viewer. The exhibition complexifies traditional accounts of the medium, drawing on its application within science and the humanities to contemporary art, and includes works and photographic documents by over 70 artists and practitioners spanning the late 19th century to the present. It posits a provisional, alternative history of the optical image, breaking with both the technologically deterministic approach of aesthetic formalism, and the semiotic fixations of postmodernism, and on this basis reflects anew on the contemporary condition of image production. Picture Industry considers not only the materiality of images and the technologies that form their reception, but also the conflicted social history that lies under their surfaces and shapes our complex contemporary image world.00Exhibition: Hessel Museum of Art, Annadale-on-Hudson, USA (24.06.-15.12.2017).
Saving Paulo /
ISBN: 1594146551 OCLC: 191258666 Five Star, Waterville, Me. : 2008. In Chicago, after losing his job for calling his boss a sexist a-hole, Charlie Long meets his cousin lawyer Eugene "Sal" Pacewlli at the Billy Goat Tavern to tell him he was fired. Frustrated with his Sir Galahad relative, Sal leaves in disgust. Soon after Sal leaves Charlie heads to the bathroom when he sees a well dressed black guy pulling a mixed race looking little kid when two white thugs fire and kill the adult. Without warning Charlie grabs the little kid and takes off.
The end of Emerald Woods /
ISBN: 0312252153 OCLC: 44046738 St. Martin's Minotaur, New York : 2000. "Married Chicago investigator-and-lawyer team Kirsten and Dugan" investigate when a petty theft is tied to some very serious threats and a powerful Chicago land developer.--Jacket.
The poetry of the Negro, 1746-1970;
ISBN: 0385055544 OCLC: 99347 Doubleday, Garden City, N.Y., 1970. For other editions, see Author Catalog.
Too many clients
ISBN: 9780727879615 OCLC: 751725257 Severn House Large Print, London : 2011, The new novel in the acclaimed Wild Onion Ltd. mystery series. Private eye Kirsten and her lawyer husband Dugan have a problem. A tarnished Chicago cop has been murdered, and Dugan's foolish flouting of certain rules has ensured his place on the list of suspects.
Too many clients /
ISBN: 0727869302 OCLC: 573196770 Severn House, Sutton : 2010. "When a Chicago cop is murdered, Dugan's foolish flouting of the rules about attorneys "chasing" clients drags him into the case, and Kirsten, though knowing it's unwise to have a spouse as a client, undertakes to drag him back out. Soon she has not one, but three, clients. They all want her to find the killer ... or at least they all say they do. Turns out the dead police officer had way too many people happy to see him gone ... from members of his own family to members of organized crime, from ethically-challenged lawyers and real estate developers to cop co-conspirators.--Author's website.