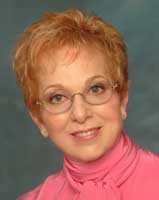 Sheila N. Glazov
Born:
in Chicago, Illinois
Pen Name:
None
Connection to Illinois
: Glazov was born in Chicago.
Biography
: Glazov is an award-winning author, professional speaker, educator, and consultant on the subjects of personality types, creativity, and self-esteem. She has appeared on CNN, NBC, ABC, FOX, LIFETIME, and WGN TV. She has been interviewed on radio stations nationwide and featured in The Wall Street Journal, Chicago Tribune, and Chicago Sun-Times. Sheila is the creator of the ''What Color is Your Brain?™ Workshop'' and the author of the children's book ''Princess Shayna's Invisible Visible Gift''. She has lectured in the U.S., Canada, Europe, and South America, and has conducted her workshops with clients such as the Motorola, Sears, CB Richard Ellis, Pulte Homes, Quill Corporation, the American Academy of Pediatrics, Washoe Health System, the Society of Women Engineers, the Women's Leadership Initiative, Clemson University, the Chicago Public Schools, and the Community Association Institute. Encouraging adults and children to recognize and respect the best in themselves and others is the essence of Sheila's books and workshops. Sheila earned her Bachelor of Science degree in education from Ohio State University and a degree in Creative Leadership from Disney University, and she is a graduate of the Iowa Summer Writing Festival, the Creative Problem Solving Institute, and the McNellis Creative Planning Institute. She has taught third grade and high school ESL. Sheila has been an adjunct faculty member of William Rainey Harper College and a guest instructor at DePaul, Penn State, Northwood, and Roosevelt Universities. Today's Chicago Woman newspaper selected her as one of "100 Women Making a Difference" for her entrepreneurial achievements in the field of creativity. Sheila has been a member of the National Speakers Association, the Society of Children's Book Writers and Illustrators, the Governor's Commission on the Status of Women in Illinois, Women In Management, the American Association of University Women, and a board member of many community organizations.
---
Awards
:
Email:
info@sheilaglazov.com
Website:
http://www.sheilaglazov.com
Sheila N. Glazov on WorldCat :
http://www.worldcat.org/search?q=sheila+n.+glazov
---
Selected Titles
Princess Shayna's invisible visible gift
ISBN: 9781617110351 OCLC: 729863318 SLACK Inc., Thorofare, NJ : ©2012.
Princess Shayna's invisible visible gift /
ISBN: 0965561992 OCLC: 37129906 Peridot Productions, Tower Lakes, Ill. : ©1997.
What color is your brain? :
ISBN: 1556428073 OCLC: 123968193 SLACK, Thorofare, NJ : ©2008. "What Color Is Your Brain? A Fun and Fascinating Approach to Understanding Yourself and Others explains the similarities and differences that impact our thoughts and actions.