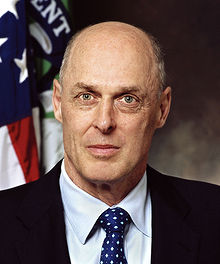 Henry Merritt Paulson, Jr.
Born:
1946 in Palm Beach, Florida
Pen Name:
None
Connection to Illinois
: Paulson was raised in Barrington Hills, Illinois and graduated in 1964 from Barrington High School.
Biography
: Paulson was a star athlete at Barrington High School, a champion wrestler and stand-out football player. He attended Darmouth and received his MBA from Harvard Business School. Paulson was Staff Assistant to the Assistant Secretary of Defense at The Pentagon from 1970 to 1972. He then worked for the administration of U.S. President Richard Nixon, serving as assistant to John Ehrlichman from 1972 to 1973. Paulson was nominated on May 30, 2006, by U.S. President George W. Bush to succeed John Snow as the Treasury Secretary. On June 28, 2006, he was confirmed by the United States Senate to serve in the position, which he did until 2009.
---
Awards
:
Primary Literary Genre(s):
Non-Fiction
Henry Merritt Paulson Jr on WorldCat :
http://www.worldcat.org/search?q=henry+merritt+paulson+jr
---
Selected Titles
On the brink :
ISBN: 0446561940 OCLC: 320191001 Business Plus, New York : ©2010. U.S. Treasury Secretary Hank Paulson's first-person account of the key decisions that had to be made with lightning speed as he stood at the epicenter of the world's most cataclysmic financial crisis since the Great Depression. Includes sections on Freddie Mac, Freddie Mae, Lehman Brothers, AIG, Merrill Lynch, and Citigroup.
You, me & the U.S. economy :
ISBN: 0795310889 OCLC: 807049371 RosettaBooks, New York : ©2010. Stacy Carlson, Treasury Secretary Henry M. Paulson's former speechwriter, takes you inside the Treasury Department and traces people, events and issues in a wry, personal narrative. An insider's account of the financial crisis written specifically for Main Street.