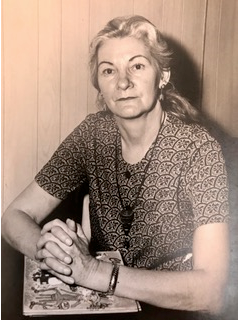 Ida Chittum
Born:
1918 in Canton, Ohio
Died:
December 1, 2002 in Bloomville, New York
Pen Name:
None
Connection to Illinois
: Ida lived in Findley, Illinois.
Biography
: Ida, who was educated through the eighth grade in a one-room school house, was a prolific reader and advocate of literacy. She was instrumental in bringing a library to her longtime home of Findlay, Ill., and was the first woman to act as commencement speaker at Findlay High School. In addition to her many books she was a popular speaker to school children.
---
Awards
:
Lewis Carroll Shelf Award of University of Wisconsin for Farmer Hoo and the Baboons; certificate of appreciation from Mobile Media, 1975; award of recognition from Central Missouri State University for outstanding contribution to children's literature, 19
Primary Audience(s):
Children; Children
Ida Chittum on WorldCat :
http://www.worldcat.org/search?q=ida+chittum
---
Selected Titles
A nutty business.
ISBN: 0399203532 OCLC: 707122 Putnam New York, [1973] When Farmer Flint gathers nuts to sell in order to buy calico for his wife and daughter, the squirrels declare war.
Clabber biscuits.
ISBN: 0811477452 OCLC: 257462 Steck-Vaughn Co. Austin, Tex., [1972] Farmer Grit finally stops trying to bake the biscuits that are his wife's speciality and concocts something that will help her get well.
Tales of terror /
ISBN: 0528821660 OCLC: 1364071 Rand McNally, Chicago : ©1975. A collection of short stories set in the Ozarks dealing with natural and supernatural events.
The cat's pajamas /
ISBN: 0836811240 OCLC: 6016173 Fred spends a lot of time and effort making his cat a pair of pajamas, but the cat won't wear them.
The ghost boy of El Toro /
ISBN: 0448169274 OCLC: 12353821 Grosset & Dunlap, New York : 1982, ©1978. Jason's summer running a tropical island clinic brings him into touch with a witch doctor, superstitious villagers, a ghost boy, and a monster.
The secrets of Madam Renee /
ISBN: 0830901272 OCLC: 1325855 Independence Press, Independence, M.O. : ©1975. A fourteen-year-old orphan, curious about her origins, becomes involved with a mysterious woman whose crystal ball and erratic ways have earned her a reputation as a disagreeable witch.
The thing without a name, and other strange tales from the Ozark Hills /
ISBN: 0830902996 OCLC: 8363667 Independence Press, [Independence, Mo.] : ©1981. Granny Grit entertains and terrifies her grandchildren with strange tales of her youth and the old days in the Ozark Mountains.