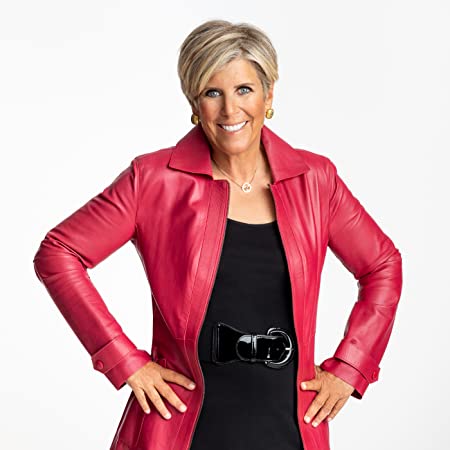 Susan Lynn Orman
Born:
1951 in Chicago, Illinois
Pen Name:
Suze Orman
Connection to Illinois
: Suze Orman was born and raised on Chicago's South Side. She graduated from the University of Illinois with a degree in Social work. She attended the University of Illinois at Urbana-Champaign and received a B. A. in social work in 1976. In 2009, Orman received an honorary degree of doctor of humane letters from the University of Illinois at Urbana-Champaign.
Biography
: Suze Orman has been coined America's favorite financial advisor by The New York Times, and "a force in the world of personal finance" and a "one-woman financial advice powerhouse" by USA today. A #1 New York Times bestselling author, two-time Emmy Award winner, host of the popular Women & Money podcast, magazine and online columnist, writer/producer, and one of the top motivational speakers in the world today, Suze Orman is undeniably America's most recognized expert on personal finance. Orman has received an unprecedented eight Gracie Awards, which recognize the nation's best radio, television, and cable programming by, for, and about women. Twice named to the TIME 100 and ranked among the World's 100 Most Powerful Women by Forbes, Orman was the host of The Suze Orman Show on CNBC for 13 years (now available to stream for free on Amazon Freevee) and a contributing editor to O: The Oprah Magazine for 16. Orman's incredible journey to becoming America's most recognized expert on personal finance began as a young broker at Merrill Lynch, helping clients of all backgrounds create a financially secure retirement plan. Orman was an account executive at Merrill Lynch from 1980 to 1983, served as Vice President-Investments for Prudential-Bache Securities from 1983 to 1987, then directed the Suze Orman Financial Group from 1987 to 1997. Currently, Orman hosts the popular Women & Money podcast, serves as the official personal-finance educator for the United States Army and Army Reserve, and is a special advocate for the National Domestic Violence Hotline, bringing her message of awareness and empowerment to women who have suffered financial abuse.
---
Awards
:
Primary Literary Genre(s):
Non-Fiction
Primary Audience(s):
Adult readers
Blog:
https://www.suzeorman.com/blog/
Facebook:
https://www.facebook.com/suzeorman/
Instagram:
https://www.instagram.com/therealsuzeorman/
LinkedIn:
https://www.linkedin.com/in/suzeorman
Twitter:
https://twitter.com/Suzeormanshow
Web:
http://www.suzeorman.com
Wikipedia:
https://en.wikipedia.org/wiki/Suze_Orman
YouTube:
https://www.youtube.com/suzeorman
---
Selected Titles
Ask Suze: About Wills and Trusts
ISBN: 1573224219 OCLC: New York : Penguin Putnam, Inc. New York : 2000 Boxed set of 9 trade paperbacks. Attractive color packaging, showing the "youthful" financial guru. 2000, trade paperback boxed set, Penguin Putnam, NY. Set of trade paperbacks, offering financial advice from the author / guru / media star, Suze Orman, who seems to be on TV on a daily basis. Here are 9 titles in which Ms. Orman discusses: love and money, mutual funds, stocks and bonds, real estate, planning your future, debt, insurance, Social Security, and wills and trusts. The author is a no-nonsense in-your-face adviser, who has no time for those who don't study and consider their options intelligently. Sensible, accurate, and very much a set that answers a lot of questions everyone would like to ask.
Suze Orman's 2009 action plan /
ISBN: 073932859X OCLC: 298131292 Random House Large Print, New York : ©2008. Orman believes that 2009 is a critical year for your money. She outlines a plan of action that you can take now to safeguard your savings, retirement account, real estate, credit, and more.
Suze Orman's Financial Guidebook: Put the 9 Steps to Work
ISBN: 0307347303 OCLC: New York : Currency New York : 2006 A One-on-One Financial Planning Session with Suze OrmanWith her New York Times bestseller The 9 Steps to Financial Freedom, America's leading financial expert Suze Orman transformed the concept of money forever by teaching us to recognize the emotional aspects of our relationship with it. Now, this fully revised edition of Suze Orman's Financial Guidebook translates Suze's own brand of motivation and inspiration into a user-friendly, hands-on workbook that will empower you to work through the nuts and bolts of personal finance, with Suze as your trusted adviser.Updated to keep you abreast of our quickly shifting economy, you'll find:• Insightful exercises, quizzes, and worksheets to help you understand how your parents' relationship with money affects yours, and what money means to you• Up-to-the-minute information on tax codes, IRA rules and regulations, and long-term-care insurance• Useful strategies for coping with the ever-changing landscape of educational costs, social security, and the stock market• An outline of key questions that every financial adviser should ask you upon your initial meeting• An in-depth analysis of all your monthly expenses, providing a realistic picture of just how much money you have to work with and how you may not be respecting your money as much as you shouldRegardless of your age and income, it is never too early or too late to take control of your money. Suze Orman's Financial Guidebook is the perfect companion to The 9 Steps to Financial Freedom, the personal finance classic that changed the way millions of Americans viewed money. Full of self-tests, thought-provoking questions, and Suze's easy-to-understand personal finance advice, here is your empowering approach to achieving financial freedom forever, with the best guide possible.
The 9 Steps to Financial Freedom: Practical and Spiritual Steps So You Can Stop Worrying
ISBN: 030734584X OCLC: Currency 2006 Suze Orman has transformed the concept of personal finance for millions by teaching us how to gain control of our money -- so that money does not control us. She goes beyond the nuts and bolts of managing money to explore the psychological, even spiritual power money has in our lives. The 9 Steps to Financial Freedom is the first personal finance book that gives you not only the knowledge of how to handle money, but also the will to break through all the barriers that hold you back.Combining real-life recommendations with the motivation to overcome financial anxieties, Suze Orman offers the keys to providing for yourself and your family, including:* seeing how your past holds the key to your financial future* facing your fears and creating new truths* trusting yourself more than you trust others* being open to receiving all that you are meant to have* understanding the lessons of the money cycleThe 9 Steps to Financial Freedom is useful advice and inspiration from the leading voice in personal finance. As Orman shows, managing money is far more than a matter of balancing your checkbook or picking the right investments. It's about redefining financial freedom -- and realizing that you are worth far more than your money.
The Courage to Be Rich: Creating a Life of Material and Spiritual Abundance
ISBN: 1573221252 OCLC: 45841567 Riverhead Books, New York : 2001.
The money book for the young, fabulous & broke /
ISBN: 1594489130 OCLC: 56799190 [This book] address[es] the specific financial reality that young people face today, and it offers a set of real, not impossible, solutions to the problems at hand and the problems ahead. Concisely, pragmatically, and without a whiff of condescension, [the author] tells [the] readers precisely what actions to take and why. Throughout these pages, icons direct readers to a special YF & B domain on [the author's] website that offers more specialized information, forms, and interactive tools that further customize the information in the book. Her advice at times bucks conventional wisdom (Did she just say use your credit care?) and may even seem counterintuitive (Pay into a retirement fund even though credit card debt is killing you?), but it's her honesty, understanding, and uncanny ability to anticipate the needs of her readers that have made her the most trusted financial expert of the day.-Dust jacket.
The money class :
ISBN: 0812982134 OCLC: 753631110 Spiegel & Grau, New York : 2012. Suze Orman, the woman millions of Americans have turned to for financial advice, delivers a master class on personal finance and teaches her readers that the
The road to wealth :
ISBN: 1561709689 OCLC: 49356542 Hay House, Carson, Calif. : ℗2001. A definitive and comprehensive reference on personal finance utilizes a dynamic question-and-answer format to provide information and practical advice on credit cards, retirement planning, stock options, pension plans, mutual funds, investment strategies, health and life insurance, mortgages, prenuptial agreements, wills, taxes, and more. 400,000 first printing.
The Ultimate Retirement Guide for 50+: Winning Strategies to Make Your Money Last a Lifetime
ISBN: 140195992X OCLC: Hay House Inc. 2020 THE PATH TO YOUR ULTIMATE RETIREMENT STARTS RIGHT HERE! Retirement today is more complex than ever before. It is most definitely not your par­ents' retirement. You will have to make deci­sions that weren't even part of the picture a generation ago. Without a clear-cut path to manage the money you've saved, you may feel like you're all on your own. Except you're not—because Suze Orman has your back. Suze is America's #1 per­sonal finance expert for a reason. She's been dispensing actionable advice for years to people seeking financial security. Now, in The Ultimate Retirement Guide for 50+, she gives you the no-nonsense advice and practical tools you need to plan wisely for your retirement in today's ever-changing landscape. You'll find new rules for downsizing, spending wisely, delaying Social Security benefits, and more-starting where you are right now. Suze knows money decisions are never just about money. She understands your hopes, your fears, your wishes, and your desires for your own life as well as for your loved ones. She will guide you on how to let go of regret and fear, and with her unparal­leled knowledge and unique empathy, she will reveal practical and personal steps so you can always live your Ultimate Retirement life. "I wrote this book for you," Suze says. "The worried, the fearful, the anxious. I know you need help navigating the road ahead. I've helped steer people toward happy and secure retirements my whole life, and that's exactly what I want to do for you."
Women & Money (Revised and Updated)
ISBN: 0812987616 OCLC: Random House 2018 Achieve financial peace of mind with the million-copy #1 New York Times bestseller, now revised and updated, featuring an entirely new Financial Empowerment Plan and a bonus chapter on investing.The time has never been more right for women to take control of their finances. The lessons, revelations, and shocks of the past few years have made it clear that standing in our truth is the only way to care for ourselves, our families, and our finances.With her signature mix of insight, compassion, and practical advice, Suze equips women with the financial knowledge and emotional awareness to overcome the blocks that have kept them from acting in the best interest of their money—and themselves. Whether you are single or in a committed relationship, a successful professional, a worker struggling to make ends meet, a stay-at-home parent, or a creative soul, Suze offers the possibility of living a life of true wealth, a life in which you own the power to control your destiny.At the center of this fully revised and updated edition, Suze presents an all-new Financial Empowerment Plan, designed to get you to a place of emotional and financial security as quickly as possible—because the most precious commodity women have is time. Divided into four essential components, the plan will teach you how to• Protect yourself• Spend smart• Build your future• Give to othersAlso included is a bonus chapter on investing—for those who are living by Suze's unbreakable financial ground rules and ready to learn how to invest with confidence.Women & Money speaks to every mother, daughter, grandmother, sister, and wife. It gives readers the opportunity to tap into Suze's unique spirit, people-first wisdom, and unparalleled appreciation that for women, money itself is not the end goal. It's the means to living a full and meaningful life.
Women & Money: Owning the Power to Control Your Destiny
ISBN: 0812981316 OCLC: 426793976 Spiegel & Grau, New York : 2010, ©2007. Suze Orman investigates the complicated, dysfunctional relationship women have with money. With her signature mix of insight, compassion, and soul-deep recognition, she equips women with the financial knowledge and emotional awareness to overcome the blocks that have kept them from making more out of the money they make. At the center of the book is The Save Yourself Plan--a streamlined, five-month program that delivers genuine long-term financial security. But what's at stake is far bigger than money itself: It's about every woman's sense of who she is and what she deserves, and why it all begins with the decision to save yourself.--From publisher description.
You've Earned It, Don't Lose It: Mistakes You Can't Afford to Make When You Retire
ISBN: 1557043167 OCLC: 36181119 Newmarket Press, New York : 1999. Shows how to avoid mistakes and protect earnings, covering such topics as long-term care, trusts, wills, joint tenancy, medicare, and life insurance.