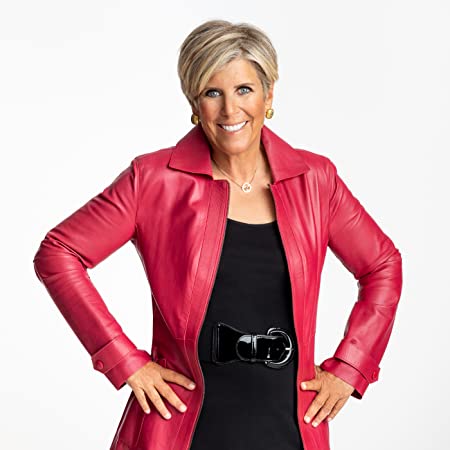 Susan Lynn Orman
Born:
1951 in Chicago, Illinois
Pen Name:
Suze Orman
Connection to Illinois
: Suze Orman was born and raised on Chicago's South Side. She graduated from the University of Illinois with a degree in Social work. She attended the University of Illinois at Urbana-Champaign and received a B. A. in social work in 1976. In 2009, Orman received an honorary degree of doctor of humane letters from the University of Illinois at Urbana-Champaign.
Biography
: Suze Orman is a financial advisor, author, motivational speaker, and television host. She trained as an account executive for Merrill Lynch. After completing her training with Merrill Lynch, she remained at the firm until 1983 when she left to become vice-president of investments at Prudential Bache Securities.In 1987, Orman resigned from Prudential and founded the Suze Orman Financial Group, in Emeryville, California. She was director of the firm until 1997.Suze became a hit on public television having many financial specials based on her books. This resulted in her own television show on CNBC, The Suze Orman Show, which has been on the air since 2002. Orman received many accolades for the show including a Daytime Emmy Award for Oustanding Service show Host.
---
Awards
:
Primary Literary Genre(s):
Non-Fiction; Other
Primary Audience(s):
Adult readers
Website:
http://www.suzeorman.com
Susan Lynn Orman on WorldCat :
http://www.worldcat.org/search?q=susan+lynn+orman
---
Selected Titles
Suze Orman's 2009 action plan /
ISBN: 073932859X OCLC: 298131292 Random House Large Print, New York : ©2008. Orman believes that 2009 is a critical year for your money. She outlines a plan of action that you can take now to safeguard your savings, retirement account, real estate, credit, and more.
The money book for the young, fabulous & broke /
ISBN: 1594489130 OCLC: 56799190 [This book] address[es] the specific financial reality that young people face today, and it offers a set of real, not impossible, solutions to the problems at hand and the problems ahead. Concisely, pragmatically, and without a whiff of condescension, [the author] tells [the] readers precisely what actions to take and why. Throughout these pages, icons direct readers to a special YF & B domain on [the author's] website that offers more specialized information, forms, and interactive tools that further customize the information in the book. Her advice at times bucks conventional wisdom (Did she just say use your credit care?) and may even seem counterintuitive (Pay into a retirement fund even though credit card debt is killing you?), but it's her honesty, understanding, and uncanny ability to anticipate the needs of her readers that have made her the most trusted financial expert of the day.-Dust jacket.
The money class :
ISBN: 0812982134 OCLC: 753631110 Spiegel & Grau, New York : 2012. Suze Orman, the woman millions of Americans have turned to for financial advice, delivers a master class on personal finance and teaches her readers that the "New American Dream" is not the things they accumulate, but the confidence that comes from knowing that which they've worked so hard for cannot be taken away from them.
The road to wealth :
ISBN: 1573221252 OCLC: 45841567 Riverhead Books, New York : 2001. Topics covered include: managing debt; money and relationships; home ownership; insurance; paying for college; retirement planning; stocks; bonds; mutual funds; annuities; and wills and trusts.
The road to wealth :
ISBN: 1561709689 OCLC: 49356542 Hay House, Carson, Calif. : ℗2001.
The women.
ISBN: 0780660773 OCLC: 505647373 New Line Home Video, [United States] : 2010. Mary Haines has it all until she finds out that her husband is cheating on her. All hell breaks loose as Mary contemplates the fate of her marriage and her tight-knit circle of friends question their own friendships and relationships.
Women & money :
ISBN: 0812981316 OCLC: 426793976 Spiegel & Grau, New York : 2010, ©2007. Suze Orman investigates the complicated, dysfunctional relationship women have with money. With her signature mix of insight, compassion, and soul-deep recognition, she equips women with the financial knowledge and emotional awareness to overcome the blocks that have kept them from making more out of the money they make. At the center of the book is The Save Yourself Plan--a streamlined, five-month program that delivers genuine long-term financial security. But what's at stake is far bigger than money itself: It's about every woman's sense of who she is and what she deserves, and why it all begins with the decision to save yourself.--From publisher description.
You've earned it, don't lose it :
ISBN: 1557043167 OCLC: 36181119 Newmarket Press, New York : 1999. Shows how to avoid mistakes and protect earnings, covering such topics as long-term care, trusts, wills, joint tenancy, medicare, and life insurance.