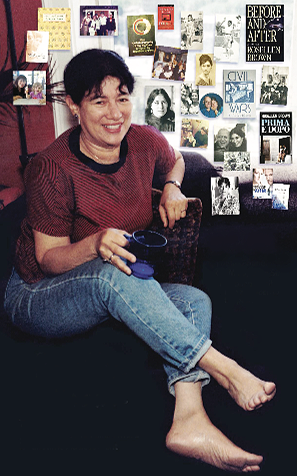 Rosellen Brown
Born:
May 12, 1939 in Philadelphia, Pennsylvania
Pen Name:
None
Connection to Illinois
: Brown moved to Chicago in 1995 and still resides there. She now teaches in the MFA in Writing Program at the School of the Art Institute of Chicago and lives in Mr. Obama's neighborhood, overlooking Lake Michigan.
Biography
: Rosellen Brown is the author of the novels Civil Wars, Half a Heart, Tender Mercies, Before and After, and six other books. Her stories have appeared frequently in O. Henry Prize Stories, Best American Short Stories and Best Short Stories of the Century. Her novel Before and After was adapted into a major motion picture starring Meryl Streep and Liam Neeson.
---
Awards
:
"""The Lake on Fire"""
-- Best Fiction of the Year, Kirkus, 2018
-- Fall Preview: The 20 Books You Need to Read This Season, Entertainment Weekly
-- What to Read This Week, Newsday
-- 5 Hot Books, The National Book Review
-- Best of the Best Books of the Year, Chicago Public Library, 2018
-- Montaigne Medal Finalist, Eric Hoffer Book Award, 2019
-- Official Selection, Reading Group Choices 2020
-- Starred Review, Kirkus
-- Starred Review, Booklist
-- Starred Review, Publishers Weekly
"""Other Awards and Honors"""
-- Janet Heidinger Kafka Prize, 1984
-- Fuller Award for Lifetime Achievement, Chicago Literary Hall of Fame
Primary Literary Genre(s):
Fiction
Primary Audience(s):
Adult readers
E-Mail:
rosellen@rosellenbrown.com
Website:
https://rosellenbrown.com
Wikipedia:
http://en.wikipedia.org/wiki/Rosellen_Brown
---
Selected Titles
Before and after /
ISBN: 0312424418 OCLC: 25874593 Farrar Straus Giroux, New York : ©1992. Rosellen Brown's long-awaited novel is the extraordinary story of a family's struggle to survive the throes of tragedy. Set in the small town of Hyland, the backdrop for Brown's Tender Mercies, Before and After centers on Carolyn and Ben Reiser and their two children, Judith and Jacob, who have moved to New England for the comforts of rural life. Carolyn is a pediatrician who devotes her time and energy to making young lives painless and healthy. Ben is a sculptor whose imagination works overtime, yielding strange creatures of benevolent, almost totemic significance. Jacob is their seventeen-year-old son, whose shyness conceals darker impulses he keeps hidden from his parents. And Judith is his unforgettable sister, puzzled by her brother's secrecy and sexual preoccupations, suspicious of his suppressed anger.
Civil wars /
ISBN: 0385332920 OCLC: 43854855 Delta Trade Paperbacks, New York : 1998, ©1984.
Cora Fry :
ISBN: 0393044556 OCLC: 2463416 Norton, New York : ©1977.
Cora Fry's pillow book
ISBN: 0374144028 OCLC: 30110659 Farrar, Straus, and Giroux, New York : ©1994. A woman's account in verse of working-class life in New England, a story of puritanism and penny-pinching. By the author of Cora Fry, of which this is the sequel.
Half a heart /
ISBN: 1587240173 OCLC: 45749821 Compass Press, Rockland, MA : [2001]
Rosellen brown reader :
ISBN: 0874516455 OCLC: 232497584 Univ Pr Of New England, Hanover : 1994.
Street games :
ISBN: 0393322076 OCLC: 47860874 W.W. Norton, New York : 2001, ©1991.
Tender mercies /
ISBN: 0385333323 OCLC: 40777994 Dell Pub., New York : 1998, ©1978. Laura and Dan are a less than perfect couple with children and lots of plans. Then Dan takes the tiller of a boat he can't handle and causes the accident that changes their lives forever. Suddenly they must deal with a marriage in which all the rules have changed, and confront the guilt and anger, fear and desire that can tear apart families and lives.
The autobiography of my mother /
ISBN: 0385333579 OCLC: 41020322 Delta Trade Paperbacks, New York : 1998.
The lake on fire /
ISBN: 1946448230 OCLC: 1019833302 "After more than a decade, Rosellen Brown, author of ten celebrated books, is back with a gritty, absorbing, and deeply felt novel. The Lake on Fire is an epic narrative that begins among immigrants on a failing Wisconsin farm. Chaya and her strange, brilliant, little brother Asher depart for Chicago only to discover that the Gilded Age is as empty a façade as the beautiful Columbian Exposition attracting thousands to Lake Michigan's shore. They scrape together a meager living--she in a cigar factory; he, roaming the city and stealing books and jewelry to share with the poor, until they find different paths of escape. Chaya's becomes a deeply conflicted love story and Asher, haunted by his loyalty to the Fair's abandoned workers, is responsible for an astonishing terrorist act. The abandoned Fair burns to the ground as the city goes on with its usual business in this profound narrative that resonates eerily with today's news"--