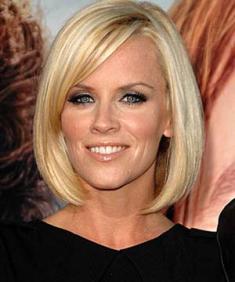 Jenny McCarthy
Born:
1972 in Evergreen Park, Illinois
Pen Name:
None
Connection to Illinois
: The author was raised in Evergreen Park, Illinois and attended Southern Illinois University in Carbondale, Illinois.
Biography
: In the early 1990's, McCarthy became a model for Playboy magazine that launched her career as an actress and television personality. Upon having a child with Autism, she became an activist for autism awareness. She now lives in the Los Angeles, California.
---
Awards
:
Primary Literary Genre(s):
Non-Fiction
Primary Audience(s):
Adult readers
Jenny McCarthy on WorldCat :
http://www.worldcat.org/search?q=jenny+mccarthy
---
Selected Titles
Baby laughs :
ISBN: 0452287197 OCLC: 68191903 Plume, New York : 2006, ©2005. New mothers and fathers will find much-needed relief and insight in this sometimes touching, sometimes gritty, but always perceptive and outrageously funny account of what it truly means to have your very own small bundle of joy.--publisher description.
Bad Habits
ISBN: 9781401304782 OCLC: 815837584 Jenny McCarthy--actress, comedian, activist, and New York Times In keeping with the theme of her comedic New York Times Jenny attended one of the most prestigious all-girl Catholic schools in Chicago. While most young girls in Jenny's neighborhood were playing with Cabbage Patch dolls for fun, Jenny was playing with Jesus, Mary, and Joseph dolls. She had every intention of growing up and becoming a nun, but a few hilarious speed bumps and blinking red lights along the way changed her mind. Jenny never did accept Sister Mary's reasoning that she could avoid purgatory if she just bought a string necklace for $10. The fact that two of her aunts are simultaneously nuns and cops-yes, they carry guns and shoot people while wearing a habit-never made complete sense to her. And neither does her mother's insistence that Jenny bury certain religious statues in the front lawns of her houses before she sells them. But then again, Jenny does have four of them buried across Southern California. This book tells the story of what went wrong during Jenny's Catholic upbringing, or, as Jenny puts it now, what went right. Chapters include: I Knew I Should Have Worn Underwear to Church, Jesus' Baby Mama, Can Someone Kill Our Dog, Please?, and Oh No, My Mom is Going to Hell. BAD HABITS is a brutally honest, hilarious memoir that will delight the legions of Jenny McCarthy fans.
Bad habits :
ISBN: 1401324657 OCLC: 777624980 Hyperion, New York : ©2012. The actress and comedian recounts her Catholic upbringing and her journey from aspiring nun at an all-girls school to bestselling author and talk show host, and offers her personal reflections on faith.
Belly laughs :
ISBN: 0738210072 OCLC: 54501585 Da Capo Lifelong, Cambridge, MA : 2004. McCarthy, 1994 Playmate of the Year, and former MTV host, gave birth to her first child in 2002. Her pregnancy wasn't pretty- and she wants to tell readers all about it.
Belly laughs :
ISBN: 9780738217680 OCLC: 865330297 When it first hit bookstores in 2004, actress and new mother Jenny McCarthy's Belly Laughs became a New York Times' bestseller, popular for its candid discussion of the joys of pregnancy, the gassiness, constipation, queasiness, and exhaustion, plus the forgetfulness, crankiness, and constant worry. Never shy, frequently crude, and always laugh-out-loud funny, McCarthy covers it all in the grittiest of girlfriend detail, from morning sickness and hormonal rage, to hemorrhoids, pregnant sex, and the torture and sweet relief that is delivery.
Dirty love
ISBN: 1592416233 OCLC: 61772790 First Look Home Entertainment, [United States] : [2005] Rebecca is devastated when she comes home one night to find her supermodel boyfriend in bed with another woman. To mend her broken heart, she takes a wild and strange journey through some outrageous dating encounters.
Healing and preventing autism :
ISBN: 0525951032 OCLC: 268795195 Dutton, New York : ©2009. In her bestsellers "Louder Than Words" and "Mother Warriors," McCarthy told stories about healing children with autism. Now she teams up with a preeminent autism doctor to write the first book on a remarkably effective new treatment in healing conditions associated with autism.
Healing and preventing autism :
ISBN: 1433270919 OCLC: 262433593 Blackstone Audio, [Ashland, Or.] : ℗2009. A school of Defeat Autism Now (DAN) pediatricians have been pioneering therapies and treatments to help reverse the effects of autism. ... Dr. Jerry Kartzinel and Jenny McCarthy have put together a book to educate parents in the Defeat Autism Now (DAN) school of treating autism--Container.
Life laughs :
ISBN: 0452288290 OCLC: 86076122 A Plume Book, New York : 2007. Jenny McCarthy speaks candidly about the challenges and the humor to be found in balancing motherhood and the ups and downs of marriage. McCarthy's honesty has made her a bestseller. Here, she opens up about all of the things no one told you before you got married and had kids. Of course there's plenty of Jenny's outrageous humor, but she also writes openly and for the first time about doing your best when marriage falters and about her own divorce, which made headlines when it was announced in the summer of 2005. Jenny doesn't pretend to be an expert in her books; she is instead something more valuable--a good girlfriend. Catch Jenny's takes on growing older, finances, PMS, sex, dating ... again, and mommyhood.--From publisher description.
Louder than words :
ISBN: 0525950117 OCLC: 150255697 Dutton, New York : ©2007. Known for her extreme honesty in her previous books about the everyday trials of pregnancy, motherhood, marriage, and divorce, actress McCarthy has developed a national fan base that has taken her to the bestseller lists; but few have known that her son, Evan, has autism. Here, she takes this revelation to parents across the country, starting a dialogue on this complex condition. Writing with raw humor and honesty, McCarthy shares her son's symptoms and her attempts to sort through the maze of conflicting medical theories, shedding much-needed light on autism through her own heartbreak, struggle, and ultimately hopeful example of how a parent can shape her child's life and happiness.--From publisher description.
Love, lust & faking it :
ISBN: 0062012983 OCLC: 587110479 Harper, New York : ©2010. Inveterate truth teller McCarthy providesa funny, often poignant, and no-holds-barred look at the essence of relationships: love and sex. Jenny explores the intensity of first love, introducing us to Tony, the boy of her teenage dreams, and Tubby, her dirty, sexy stuffed teddy bear. She takes us on a whirlwind tour of the world of aphrodisiacs and fetishes, explains the importance of playing doctor and other nice and naughty fantasies, and gives thanks for the pleasures of chocolate. And she sets the story straight on STDs, man junk and lady bits, why we really cheat, why women are master manipulators, the virtues of sex with the lights off, the power of a "loving no," the satisfaction of the perfect booty call, and much more. Throughout, Jenny reminds us to aim higher, believe in true love, and, most of all, be kind to ourselves.--From publisher description.