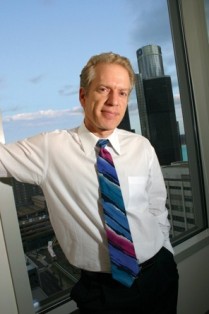 Jeffrey Zaslow
Born:
1958 in Broomall, Pennsylvania,
Pen Name:
None
Connection to Illinois
: Jeffrey lived and worked in Chicago for the Sun Times newspaper.
Biography
: Jeffrey Zaslow was a senior writer and columnist for The Wall Street Journal. His column, 'Moving On,' appeared in the new Personal Journal section, and focused on life transitions -- whether losing a loved one, changing jobs, getting married, moving into retirement, or handling success or failure. He was killed in an automobile accident at 53 years of age.
---
Awards
:
Primary Literary Genre(s):
Non-Fiction
Primary Audience(s):
Adult readers
Website:
http://www.jeffzaslow.com/
Jeffrey Zaslow on WorldCat :
http://www.worldcat.org/search?q=jeffrey+zaslow
---
Selected Titles
Gabby :
ISBN: 145166107X OCLC: 747533399 Scribner, New York : 2011. Congresswoman Gabrielle Giffords and her husband, astronaut Mark Kelly, showed Americans how optimism, an adventurous spirit, and a call to service can help change the world. Their arrival in the spotlight came under the worst of circumstances. On January 8, 2011, while meeting with constituents in Tucson, Arizona, Gabby was the victim of an assassination attempt that left six people dead and thirteen wounded. Gabby was shot in the head; doctors called her survival "miraculous." As the nation grieved and sought to understand the attack, Gabby remained focused on her against-all-odds recovery. Mark spent every possible moment by her side, as he also prepared for his final mission as commander of Space Shuttle Endeavour. Now, as Gabby's health continues to improve, the couple is sharing their remarkable untold story, an unflinching look at the overwhelming challenges of brain injury, the painstaking process of learning to communicate again, and the responsibilities that fall to a loving spouse who wants the best possible treatment for his wife.--From publisher description.
Highest duty :
ISBN: 0061924687 OCLC: 435730624 William Morrow, New York : ©2009. Airline pilot Captain "Sully" Sullenberger tells his life story, including his perspective on the emergency landing on the Hudson River that earned him the world's admiration, and offers insight on the essential qualities--leadership, responsibility and service--that he believes have been vital to his success.
The girls from Ames :
ISBN: 1592405320 OCLC: 426802117 Gotham Books, New York, N.Y. : 2010, ©2009. Looks at the lives, bonds, and experiences of a group of female friends from Ames, Iowa.
The last lecture /
ISBN: 1401323251 OCLC: 183266069 The author, a computer science professor diagnosed with terminal cancer, explores his life, the lessons that he has learned, how he has worked to achieve his childhood dreams, and the effect of his diagnosis on him and his family. - Publisher. "Much of my lecture at Carnegie Mellon focused on the professional side of my life--my students, colleagues and career. The book is a far more personal look at my childhood dreams and all the lessons I've learned. Putting words on paper, I've found, was a better way for me to share all the yearnings I have regarding my wife, children and other loved ones. I knew I couldn't have gone into those subjects on stage without getting emotional."--Author.
The Magic Room
ISBN: 9781536626759 OCLC: 959808250 Brilliance Audio 2016.
The magic room :
ISBN: 1592406610 OCLC: 706017817 Gotham Books, New York : ©2012. Traces the cultural process through which American women become married as reflected by the experiences of patrons at a family-owned bridal shop in Michigan, offering insight into how the rite of passage reflects national views on marriage.
Zui hou de yan jiang
ISBN: 9789861751160 OCLC: 237002509 Fang zhi chu ban she gu fen you xian gong si, Taibei Shi : 2008 Reflections of a Carnegie Mellon computer science professor who lectured on Really achieving your childhood dreams, shortly after having been diagnosed with terminal cancer. His advice concerned seizing the moment while living, rather than dying.