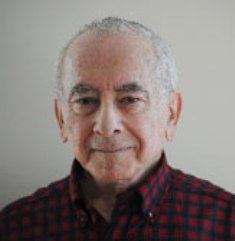 Mervin Block
Born:
Chicago, Illinois
Pen Name:
None
Connection to Illinois
: The author was a newsreporter and editor in Chicago and a former new producer at WBBM Chicago.
Biography
: Mervin Block is a broadcast writing coach and author. He has written news at three television networks: as a staff writer for the 'CBS Evening News with Walter Cronkite' and the 'ABC Evening News with Frank Reynolds' and as a freelance at NBC News.He has written news for Ed Bradley, Tom Brokaw, Walter Cronkite, Douglas Edwards, Charles Kuralt, Roger Mudd, Edwin Newman, Charles Osgood, Dan Rather, Harry Reasoner, Frank Reynolds, Diane Sawyer, Bob Schieffer, Robert Trout and Mike Wallace.Block teaches newswriting workshops at TV and radio newsrooms around the country.
---
Awards
:
Primary Literary Genre(s):
Non-Fiction
Primary Audience(s):
Adult readers
Email:
merblo@aol.com
Website:
http://www.mervinblock.com
Mervin Block on WorldCat :
http://www.worldcat.org/search?q=mervin+block
---
Selected Titles
Broadcast newswriting :
ISBN: 1608714160 OCLC: 654315971 CQ Press, Washington, DC : 2012.
Broadcast newswriting :
ISBN: 156625017X OCLC: 30892918 Radio-Television News Directors Association and Bonus Books, Chicago : ©1994.
Rewriting network news :
ISBN: 0929387155 OCLC: 21577595 Bonus Books, Chicago : ©1990.
Rewriting network news :
ISBN: 9781608714223 OCLC: 502304068 CQ Press, Washington, D.C. : [2010]
Weighing anchors :
ISBN: 1936863391 OCLC: 783156373 Marion Street Press, Portland, Or. : ©2012.
Weighing anchors :
ISBN: 1936863405 OCLC: 815389513 Marion Street Press, Chicago : 2012. Longtime network newswriter Mervin Block doesn't just watch and hear evening newscasts; he listens. Block, who wrote for Walter Cronkite and other anchors at ABC, CBS and NBC, examines today's network anchors, their scripts and their journalism. Instead of writing about anchors' delivery, wardrobe or favorite desserts, he points out distortions, deceptions, discrepancies and abuses of broadcast writing style. Block shows how newscasters: fudge facts, tinker with time, label stories exclusive that aren't, utter grammatical grotesquer.
Writing broadcast news :
ISBN: 1608714179 OCLC: 654315968 CQ Press, Washington, D.C. : 2011. "Mervin Block offers timeless advice, guiding both new and seasoned professionals thorough the essentials of writing for the ear. Initially written for working newspeople, this book is now widely accepted as the professional handbook for broadcast newswriters, editors, producers, anchors and news directors. Interns, too."--[book cover].
Writing news for tv and radio :
ISBN: 1608714217 OCLC: 501404264 CQ Press, Washington, D.C. : [2010]