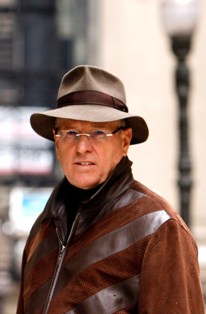 James O'Shea
Born:
1943 in East St. Louis, Illinois
Pen Name:
None
Connection to Illinois
: James O'Shea currently lives in Chicago, Illinois.
Biography
: A former editor-in chief of the Los Angeles Times and managing editor of the Chicago Tribune, James O'Shea is an author of three books and numerous magazine and newspaper stories. He was also a co-founder of The Chicago News Cooperative, an innovative news start-up that created a Chicago-based digital news site and supplied content for The New York Times.
---
Awards
:
Primary Literary Genre(s):
Non-Fiction
Primary Audience(s):
Adult readers
Email:
jamesoshe@gmail.com
Website:
http://www.jameseoshea.com
James O'Shea on WorldCat :
http://www.worldcat.org/search?q=james++o%27shea
---
Selected Titles
Dangerous company :
ISBN: 0140276858 OCLC: 39954325 Penguin Books, New York, N.Y. : 1998.
The daisy chain :
ISBN: 0671733036 OCLC: 22911261 Pocket Books, New York : ©1991. How did this country allow $250 billion to be stolen, squandered and finally sucked down the drain in a scandal that Newsweek has called "the biggest financial mess in U.S. history"? The definitive -- and uproariously entertaining -- answer lies in this prize-winning account of how the cleanest little savings & loan in Texas became the government's black hole -- once Big Bad Don Dixon rode into town.
The daisy chain :
ISBN: 0671711148 OCLC: 28710463 Simon & Schuster, London : 1991
The deal from hell :
ISBN: 1586487914 OCLC: 759837598 PublicAffairs, New York : ©2011. Presents a behind-the-scenes look at how the Tribune Company went from having the most powerful collection of newspapers in the world in 2000 to bankruptcy and public scandal after executives and editors made a series of flawed decisions.