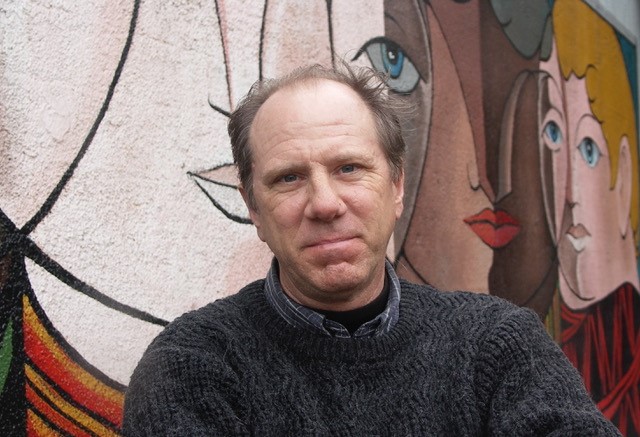 Jeff W. Huebner
Born:
1954 in St. Joseph, Michigan
Pen Name:
Jeff Huebner
Connection to Illinois
: Several years after earning a BA in English/creative writing and communications form Western Michigan University, I moved to Chicago. I have lived and worked in Chicago since 1986. All of my books--and most of my articles--have been about Chicago and Illinois artists, as well as the city's and state's public art, community art, murals, sculptures, and cultural landscapes.
Biography
: A West Michigan native, I am a Chicago-based art writer, freelance journalist, author, and independent mural scholar. I have freelanced articles on a variety of topics--mostly on visual art and public art--to dozens of local, regional, national, and art publications, including the ''Chicago Reader'' (20+ years), ''Chicago'' magazine, the ''Chicago Tribune'', ''Chicago Artists' News'', ''Chicago Art Magazine'', ''Public Art Review'' (Chicago correspondent), ''Sculpture'', ''ARTnews'', ''Art Papers'', ''New Art Examiner'', ''Landscape Architecture'', ''Labor's Heritage'', ''Michigan History'', as well as ''Illinois Magazine'', ''Illinois Times'', ''Illinois Super Lawyers'', etc. I am an adjunct lecturer in the Art and Architecture Department of Harold Washington College, of Chicago City Colleges. I am currently writing a book on the murals of Chicago artist William Walker (1927-2011), partly through a Creative Capital/Warhol Foundation Arts Writers Grant.
---
Awards
:
-- Creative Capital/Warhol Foundation Art Writers Grant recipient, 2012
-- The Dorothea and Leo Rabkin Foundation Visual Arts Journalism Award recipient, 2017
-- Society of Professional Journalists/Chicago Headline Club, Peter Lisagor Award for Exemplary Journalism, Arts Reporting, Chicago Reader, 2019,
Primary Literary Genre(s):
Non-Fiction
Primary Audience(s):
Adult readers
:
---
Selected Titles
Chicago parks rediscovered /
ISBN: 0912223022 OCLC: 49339056 Jannes Art Press, Chicago, Ill. : ©2001.
Murals :
ISBN: 0252069579 OCLC: 45195556 University of Illinois Press for the Friends of Community Public Art, Urbana : ©2001. "Murals: The Great Walls of Joliet documents the profound transformation in the local mentality wrought by the development of public art in the city. Underwritten by a community group, Friends of Community Public Art, the Joliet murals project stands as a model for modern municipal patronage, evidence of a population's decision to invest in public art to enrich its environment and express the ideals of the whole community."--Jacket.
Raya :
ISBN: 0615126030 OCLC: 320908517 Marcos Raya Book Project : [Chicago, Ill.] : ©2004. "The visual art of Marcos Raya summarizes and anticipates the art of the twenty-first century, a period fraught with significant human displacements and cultural conflict. In order to understand Raya's work, states the Mexican cultural critic Carlos Monsiváis, one must become an "undocumented cultural subject." Monsiváis continues: "And anyone who wants to understand artistic works as vast and complex as those of Raya, must realize from the beginning that a contemporary artist needs to be read on the basis of being rooted in mobility.""--Amazon.
Urban art Chicago :
ISBN: 1566632846 OCLC: 43757457 Ivan R. Dee, Chicago : ©2000.
Walls of prophecy & protest :
ISBN: 0810140586 OCLC: 1055262823 "Walls of Prophecy and Protest is an illustrated history of the life, work, and legacy of famed Chicago muralist William Walker by Chicago arts journalist Jeff Huebner"--