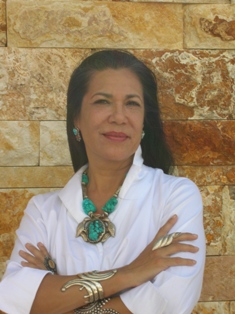 Ana Castillo
Born:
1953 in Evanston, Illinois
Pen Name:
None
Connection to Illinois
: Castillo was born and raised in Chicago.
Biography
: When Anna Castillo was nine years old, she wrote her first poems following the death of her grandmother. She is a writer, poet, editor and educator and also cofounded the literary magazine Third Woman. Ana Castillo now lives in New Mexico.
---
Awards
:
Fuller Award for her lifetime achievement as an author, activist, educator and scholar, The Chicago Literary Hall of Fame, 2022
American Book Award for The Mixquiahuala Letters
Sor Juana Achievement Award, Mexican Fine Arts Center Museum in Chicago, 1998
Independent Publisher Story Teller of the Year Award, 2006
Primary Literary Genre(s):
Fiction; Poetry
Primary Audience(s):
Adult readers
E-Mail:
ac@anacastillo.com
Web:
http://www.anacastillo.com
---
Selected Titles
I ask the impossible :
ISBN: 9780307801968 OCLC: New York : Anchor Books, New York : [2011] A collection of poems covering the author's commitment to social justice, the sensual world, and the strength of women, six of which are written in Spanish with English translations.
Loverboys :
ISBN: 0393331679 OCLC: New York : W.W. Norton, New York : 2008, ©1996. Love and lust among Latinos--men, women, straight, gay and lesbian. The exception is Vatolandia, in which the heroine decides she would rather be lonely than go out with worthless men.
My father was a Toltec and selected poems, 1973-1988
ISBN: 9781400034994 OCLC: New York : Anchor Books, New York : 2004. Presents lyrical, streetwise, frequently autobiographical poems, some in English and others in Spanish, including a new, never before published work.
Peel my love like an onion :
ISBN: 038549677X OCLC: A novel on a plucky flamenco dancer in Chicago. It follows her from her rise to fame despite a crippled leg from polio, to her descent as the polio returns, her two lovers abandon her and she is reduced to working in a sweatshop. But Carmen will recoup.
Psst-- I have something to tell you, mi amor :
ISBN: 0916727203 OCLC: San Antonio, Tex. : Wings Press, San Antonio, Tex. : 2005.
Sapogonia :
ISBN: 0385470800 OCLC: New York : Anchor Books, New York : 1994. Castillo focuses on the complex issue of the internal civil war faced by peoples of mixed blood as she caputres the struggle of Maximo Madrigal and his obsession for Pastore Ake, a woman he can never hope to control.
So far from God :
ISBN: 0393326934 OCLC: New York : W.W. Norton, New York : ©1993. Tome is a small, outwardly sleepy hamlet in central New Mexico. In Ana Castillo's hands, though, it stands wondrously revealed as a place of marvels, teeming with life and with all manner of collisions: the past with the present, the real with the supernatural, the comic with the horrific, the Native American with the Hispano with the Anglo, the women with the men. With the talkative, intimate voice and the stylistic and narrative freedom of a Southwestern Cervantes, the author relates the story of two crowded decades in the life of a Chicana family. The mother, Sofia, holds things together in the years following the disappearance of her husband Domingo (he of the Clark Gable mustache and the uncontrollable gambling habit). Then there are the daughters: Esperanza, Chicana campus radical turned career woman and television news reporter; Caridad, a nurse who dulls the pain of being jilted with nightly bouts of alcohol and anonymous sex. Fe, the prim and proper bank employee in constant quest for the good life; and la Loca, whose death and subsequent resurrection at age three have left her strange and saintly and attuned to higher spiritual frequencies. Ana Castillo's triumph in So Far from God is to weave the mundane and the miraculous, the modern and the archaic, and the tragic and the humorous into one rich novelistic fabric. Hers is a homegrown magical realism, leavened with sly commentary. Controlled anger, and a distinct feminist point of view of the world and the cosmos. Of all the marvels in this book, and there are many, the greatest is the achievement of its creator.
The Guardians :
ISBN: 9780812975710 OCLC: New York : Random House Trade Paperbacks, New York : 2008, c2007. From American Book Award-winning author Ana Castillo comes a suspenseful, moving novel about a sensuous, smart, and fiercely independent woman. Eking out a living as a teacher's aide in a small New Mexican border town, Tía Regina is also raising her teenage nephew, Gabo, a hardworking boy who has entered the country illegally and aspires to the priesthood. When Gabo's father, Rafa, disappears while crossing over from Mexico, Regina fears the worst. After several days of waiting and with an ominous phone call from a woman who may be connected to a smuggling ring, Regina and Gabo resolve to find Rafa. Help arrives in the form of Miguel, an amorous, recently divorced history teacher; Miguel's gregarious abuelo Milton; a couple of Gabo's gangbanger classmates; and a priest of wayward faith. Though their journey is rife with challenges and danger, it will serve as a remarkable testament to family bonds, cultural pride, and the human experience --Back cover.
The Mixquiahuala letters
ISBN: 9780385420136 OCLC: Focusing on the relationship between two strong and fiercely independent women-Teresa, a writer, and Alicia, an artist-this epistolary novel, written as a tribute to Julio Cortazar's Hopscotch, examines Mexican and Latina forms of love, gender conflict, and female friendship--Cover.
Watercolor women, opaque men :
ISBN: 1931896208 OCLC: Willimantic, CT : Curbstone Press, Willimantic, CT : 2005. Urged on by the gods of the ancients, the heroine, known only as Ella or She, narrates stories that illustrate what it means to be a marginalized brown woman or man at the threshold of the 21st century. Ella's life interweaves with those of others whose existences are often neglected, even denied, by society's status quo. --Back cover. A novel in verse.
Women are not roses /
ISBN: 093477028X OCLC: