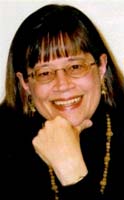 Scotti Cohn
Born:
1950 in Springfield, Illinois
Pen Name:
Scotti McAuliff Cohn, Scotti Kent
Connection to Illinois
: Cohn was born in Springfield and lived in Bloomington for ten years.
Biography
: Cohn is a freelance writer and editor. She is a member of the Society of Children's Book Writers and Illustrators, and the author of five nonfiction books published by The Globe Pequot Press, with a sixth book scheduled for publication by Globe in 2009. Her short stories have appeared in numerous magazines for young people, and her poems about animals have appeared in ''Highlights for Children'' and ''Zootles'' magazines.
---
Awards
:
Primary Audience(s):
Adult readers; Children; Young adult readers
Email:
sm_cohn@hotmail.com
Website:
http://www.scotticohn.com/
Scotti Cohn on WorldCat :
http://www.worldcat.org/search?q=scotti+cohn
---
Selected Titles
Beyond their years :
ISBN: 9781493017577 OCLC: 908714263 Sometimes a war's greatest heroes are its survivors, those who manage to forge new lives despite the tragedy they have experienced. For the sixteen unsung heroes profiled in Beyond Their Years, surviving also meant surrendering their childhood. These children found themselves on the edge of the fray - both in combat and in the throes of daily life - helping, or simply enduring, as best their interrupted youths allowed. Their behind-the-scenes stories illustrate what it was really like for children during the Civil War. Meet Ransom Powell, a thirteen-year-old drummer boy who survived grueling Confederate prison camps; writer and patriot Maggie Campbell, only eight years old when the war ended; Ulysses S. Grant's son Jesse, who rode proudly alongside Abraham Lincoln's son Tad and Ella Sheppard, daughter of a slave mother and a freed father, who lived through the backlash of slave rebellions. Each of these young survivors' lives represent an amazing contribution to the war effort and to postbellum life. Learn the inspiring stories of these American children who displayed courage, devotion, and wisdom beyond their years.
Beyond their years :
ISBN: 0762710276 OCLC: 49902158 TwoDot, Guilford, Conn. : ©2003. The events, struggles, hardships, and conflicts of the Civil War are seen through the eyes of sixteen children--male and female, white and black, Union and Confederate--between the ages of three and seventeen.
Big cat, little kitty
ISBN: 9781607181446 OCLC: 728670353 Sylvan Dell Pub., Mt. Pleasant, SC : ©2011. Introduces children to the days of the week as they travel to seven different world habitats to meet the big cats, and then back to compare and contrast the domestic cat's behavior to that of its relative--Front flap.
Chicago curiosities :
ISBN: 0762759844 OCLC: 841494483 Globe Pequot Press, Guilford, Conn. : ©2010. Your round-trip ticket to the wildest, wackiest, most outrageous people, places, and things the Windy City has to offer! Whether you & rsquo;re a born-and-raised Chicagoan, a recent transplant, or just passing through, Chicago Curiosities will have you laughing out loud as Scotti Cohn takes you on a rollicking tour of the strangest sides of the Windy City. Watch Daedalus and Icarus fly across the fa & ccedil;ade of the Savings of America Building & mdash;and wonder if the mural & rsquo;s location might carry a message for the financial industry. ... A baboon with wings? A predatory grasshopper? Figure out for yourself just what Picasso & rsquo;s & ldquo;gift to Chicago & rdquo; & mdash;a sculpture unveiled in 1967 & mdash;represents. Want to stand out? You can do so at the Ledge at Skydeck Chicago, an all-glass architectural wonder attached to the 103rd floor of the Willis Tower (formerly the Sears Tower). Meet the man who travels the world impersonating President Obama.
Disasters and heroic rescues of North Carolina /
ISBN: 0762737042 OCLC: 59147753 Insiders' Guide, Guilford, Conn. : ©2005. North Carolina has had more than its share of disasters during the course of its history. Twenty of these dramatic incidents come to life under the pen of veteran history writer Scotti Cohn. Spanning the early nineteenth century through contemporary times, these incredible stories tell of people facing all kinds of catastrophic events, from hurricanes and fires to train wrecks and airplane crashes, including: The Great Fire of 1831 in Fayetteville, which was the most destructive fire in all of U.S. history, destroying 600 homes, 125 businesses, and the State House. The Great Hurricane of 1899, during which Rasmus Midgett of the Gull Shoal Life-Saving Station single-handedly rescued ten people from a cargo vessel that was driven ashore. A seven-year-old's eyewitness account of the 1925 Coal Glen Mining Disaster in Sanford, in which fifty-three men were killed, leaving forty women without a husband and seventy-five children fatherless.
Illinois, mapping the prairie state through history :
ISBN: 0762760117 OCLC: 601045217 Maps of Illinois throughout history.
It happened in Chicago /
ISBN: 0762750561 OCLC: 841504757 Globe Pequot Press, Guilford, Conn. : ©2009. Thirty-six episodes from the Windy City's history, including legendary events such as the great fire and the St. Valentine's Day Massacre, as well as lesser-known tales.
It happened in North Carolina :
ISBN: 9780762761708 OCLC: 841504769 Globe Pequot Press, Guilford, Conn. : ©2010. A fascinating collection of thirty compelling stories about events that shaped the Tar Heel State, It Happened in North Carolina describes everything from one of the first incidences of American resistance against British rule to a & nbsp;courageous & nbsp;milestone in the & nbsp;civil rights movement.
Liberty's children :
ISBN: 0762727349 OCLC: 55510122 Two Dot, Guilford, Conn : ©2004.
More than petticoats.
ISBN: 9780762764457 OCLC: 853622040 Globe Pequot Press, Guilford, Conn. : ©2012. More than Petticoats: Remarkable North Carolina Women, 2nd Edition celebrates the women who shaped the Tar Heel State. Short, illuminating biographies and archival photographs and paintings tell the stories of women from across the state who served as teachers, writers, entrepreneurs, and artists.
On the move :
ISBN: 9781607189787 OCLC: 933557064 Arbordale Publishing : [United States] : 2013. Imagine seeing hundreds of the same type of animal gathered at the same place at the same time! Right here in North America, many animals gather in huge numbers at predictable times and locations. Not all migrations are tied to seasonal food changes-some are tied to life cycles. Certain birds, reptiles, mammals, amphibians, fish, and even insects migrate during spring, summer, fall, or winter. Travel along with them as you learn about what puts these animals On the Move.
On the move :
ISBN: 1607186284 OCLC: 815756972 Learn which animals migrate due to seasonal food changes and which animals migrate according to their life cycles.
One wolf howls
ISBN: 9781607186090 OCLC: 805047222 Pelican Pub Co Inc, Mt. Pleasant, S.C. : 2012. Have you ever wondered what it would be like to be a wolf? What would you do in the cold winter months? Where would you sleep? What would you eat? Spend a year in the world of wolves in One Wolf Howls. This adventurous children's book uses the months of the year and the numbers 1 through 12 to introduce children to the behavior of wolves in natural settings.
One wolf howls /
ISBN: 1607180375 OCLC: 277205597 Sylvan Dell Pub., Mt. Pleasant, SC : ©2009. The months of the year and the numbers 1 through 12 are used in rhyming text to introduce children to the behavior of wolves in natural settings. Includes "For Creative Minds" educational section.