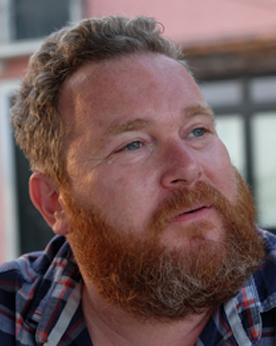 Dmitry Samarov
Born:
1970 in Moscow, USSR
Pen Name:
None
Connection to Illinois
: Dmitry lives and works in Chicago.
Biography
: Born in the Soviet Union, Samarov moved to the United States in 1978. He studied painting and printmaking at the School of the Art Institute of Chicago and has shown his work with the Chicago Tourism Center, the Bowery Gallery and Brandeis University. Samarov began blogging about his experiences as a cab driver in 2007, posting his prints and prose at chicagohack.com, an effort that culminated in the release of, Hack: Stories From a Chicago Cab. Samarov is now the author and illustrator of several books.
---
Awards
:
Primary Literary Genre(s):
Non-Fiction
Primary Audience(s):
Adult readers
E-Mail:
dmitrysamarov@gmail.com
IMDB:
https://www.imdb.com/name/nm7347855/
Web:
https://www.dmitrysamarov.com/
Web:
https://www.dom.edu/directory/dmitry-samarov
---
Selected Titles
Hack stories from a Chicago cab /
ISBN: 0226734730 OCLC: 707628355 University of Chicago Press, Chicago ; ©2011. Cabdrivers and their yellow taxis are as much a part of the cityscape as the high-rise buildings and the subway. Undoubtedly, taxi drivers have stories to tell--of farcical local politics, of colorful passengers, of changing neighborhoods, and clandestine shortcuts. From behind the wheel of his taxi, Samarov has seen more of Chicago than most Chicagoans will hope to experience in a lifetime.
Music to My Eyes
ISBN: 1948954036 OCLC: Tortoise Books 2019 Author and artist Dmitry Samarov has written for the Chicago Tribune, the Reader, and more; here he turns his eye and pen towards the musical stage, sketching and describing a host of independent musicians he's seen, crossed paths with, offered sofa space to, and taken out to breakfast over the course of the past few decades. From well-known names like Nick Cave and Mission of Burma to lesser-known greats like Bill MacKay and Condo Fucks, Samarov draws haunting portraits of artistry at the fringes of (and off the edges of) the mainstream, while also offering poignant and memorable essays not only about their work, but about musicianship and art, creativity and commerce―the perils of selling out, and the dangers of never doing so, and above all else, the thrill of creating something new. A love song and a lifer's lament, Music to My Eyes is an exquisite tribute to the trials and triumphs of independent music.
Soviet Stamps
ISBN: 0578574373 OCLC: Pictures & Blather Pictures & Blather A collection of stories with the author's illustrations.
Where To?: A Hack Memoir
ISBN: 1940430224 OCLC: Curbside Splendor Publishing 2014 Dmitry Samarov's illustrated memoir captures encounters with drunken passengers, overbearing cops, unreasonable city bureaucracy, his fellow cabdrivers, a few potholes, and other unexpectedly beautiful moments. Accompanied by dozens of Samarov's original artworks—composed during traffic jams, waits at the airport, and lulls in his shifts—the stories in Where To? provide a street-level view of America from the perspective of an immigrant painter driving a cab for money.