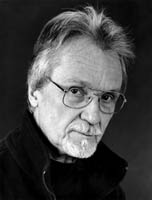 Robert Hellenga
Born:
1941 in Milwaukee, Wisconsin
Died:
July 18, 2020 in Galesburg, Illinois
Pen Name:
None
Connection to Illinois
: Hellenga lived in Galesburg. He was the George Appleton Lawrence Distinguished Service Professor Emeritus of English and Distinguished Writer-in-Residence at Knox College.
Biography
: Robert Hellenga was educated at the University of Michigan and Princeton University. He was a highly regarded novelist, essayist and professor and short story writer. He grew up in Milwaukee, Wisconsin, where he spent his summers, and in Three Oaks, Michigan. He graduated with honors from the University of Michigan, where he married Virginia Hellenga, and did graduate work at the Queen's University of Belfast, the University of North Carolina and Princeton University, where he earned his Ph.D. In 1973 and 1974, he co-directed the Associated Colleges of the Midwest Seminar in the Humanities at Chicago's Newberry Library. In 1982 and 1983 he spent 13 months in Florence, Italy, where he directed the Associated Colleges of the Midwest Florence programs. Italy became a recurring setting in his books.
---
Awards
:
"""The Sixteen Pleasures"""
-- Society of Midland Authors Award for Fiction, 1995
"""Fall of the Sparrow"""
-- Best Fiction of 1998, Los Angeles Times
-- Best '98 Books, Publishers Weekly
"""Blues Lessons"""
-- Finalist for Fiction, Midland Authors Book Award, 2002
"""Philosophy Made Simple"""
Starred Review, Booklist
"""Snakewoman"""
-- Best Novels of 2010, Washington Post
-- Top 25: 2010 Best Fiction, Kirkus
-- Audie Award - read by Coleen Marlo, Tantor Media, 2011
-- Starred Review, Kirkus
"""The Confessions of Francis Godwin"""
-- Society of Midland Authors Award for Fiction, 2015
-- Starred Review, Booklist
"""Love, Death & Rare Books"""
-- Starred Review, Booklist, 2020
Primary Literary Genre(s):
Fiction
Primary Audience(s):
Adult readers
Twitter:
https://twitter.com/roberthellenga
Website:
http://roberthellenga.com
Website:
https://www.pw.org/directory/writers/robert_hellenga
Wikipedia:
https://en.wikipedia.org/wiki/Robert_Hellenga
---
Selected Titles
Blues lessons :
ISBN: 0743225465 OCLC: 51308465 Scribner, New York : ©2002. "Growing up on his family's orchards in Appleton, Michigan, in the 1950s, Martin Dijksterhuis finds everything he needs in his extended family and in the land itself - in the reassuring routines of growing and harvesting, spraying and pruning. Although his mother wants him to get out of Appleton, which she finds impossibly provincial, and attend a great university - the University of Chicago, her alma mater - he has no desire to leave."
Love, death & rare books :
ISBN: 1883285852 OCLC: 1138603768 "Chas. Johnson & Sons, a venerated rare bookstore in urban Chicago, has been a family operation for three generations--grandfather, father and son. But when it comes time for Gabe Johnson to take the reins of the business, the world of books has changed, and the combination of the internet and inner city rents forces the store to close. But instead of folding his hand, Gabe decides to risk everything he has and reopen the shop--and, in a sense restart his life--in a small town on the shores of Lake Michigan. Haunted his entire life by an obsession with a former lover, he finds her again only to be faced with yet another even more difficult challenge that threatens the well-being of the revival of the bookstore as well as the fate of his rekindled relationship."--Provided by publisher.
Philosophy made simple :
ISBN: 0316058262 OCLC: 59360267 Little, Brown, New York : 2006. Widower Rudy Harrington, a father of three grown daughters, leaves his Chicago home for a new life at an avocado grove in Texas, where he takes up philosophy, presides over his daughter's Hindu wedding, and falls for his son-in-law's mother.
Snakewoman of Little Egypt :
ISBN: 1608193225 OCLC: 859184232 A middle-aged anthropology professor contemplating his future becomes romantically involved with a woman released from jail after shooting her husband, the pastor of a snake-handling church.
The confessions of Frances Godwin :
ISBN: 1620405490 OCLC: 864676500 "The Confessions of Frances Godwin is the fictional memoir of a retired high school Latin teacher looking back on a life of trying to do her best amidst transgressions--starting with her affair with Paul, whom she later marries. Now that Paul is dead and she's retired, Frances Godwin thinks her story is over--but of course the rest of her life is full of surprises, including the truly shocking turn of events that occurs when she takes matters into her own hands after her daughter Stella's husband grows increasingly abusive. And though she is not a particularly pious person, in the aftermath of her actions, God begins speaking to her. Theirs is a deliciously antagonistic relationship that will compel both believers and nonbelievers alike. From a small town in the Midwest to the Piazza Santa Maria in Trastevere in Rome, The Confessions of Frances Godwin touches on the great questions of human existence: Is there something "out there" that takes an interest in us? Or is the universe ultimately indifferent?"--
The fall of a sparrow.
ISBN: 0140277048 OCLC: 59406031 Penguin, London : 2000.
The Italian lover :
ISBN: 0316117633 OCLC: 85892255 Little, Brown, New York : 2007. Twenty-five years after stumbling upon a priceless work of Renaissance erotica in Florence, a discovery that led her into a misguided love affair, Margot Harrington joins forces with her lover, Woody, to write a screenplay based on her experiences.
The sixteen pleasures
ISBN: 9781616955809 OCLC: 29387198 Soho, New York : ©1994. The adventure of Margot Harrington, an American book conservator saving treasures in the 1966 flood in Florence. She is asked by the mother superior of a convent to help secretly sell a banned book to raise money for the convent. It's the only copy of The Sixteen Pleasures, a volume of sonnets and erotic drawings, ordered destroyed by the Vatican when it was published in 1523.
The truth about death :
ISBN: 1632862913 OCLC: 907966111 "The Truth About Death, the title novella of this virtuosic collection, is a masterpiece of sardonic humor that confronts Death head on and emerges bloody but unbowed. Simon, an undertaker, embalms his father and is facing his own death. Louisa, Simon's mother, makes peace with her husband over his dead body in a cooler in the basement of the funeral home. Simon contemplates the mystery of death over a plate of spaghetti cacio e pepe in Rome with an Italian undertaker. The dog, Maya who works as a greeter at the funeral home where she comforts those who are grieving hardest eventually makes the truth about death known to Elizabeth, Simon's wife. New Yorker cartoons keep the family laughing during the most difficult months, so Simon decides to submit his own (included here), leading Elizabeth to seek further clarification in a meeting with the New Yorker cartoon editor, Bob Mankoff, at his office. The serious issues cleverly addressed in The Truth About Death are touched with warmth, humor, and deep feeling in the eight "Other Stories," not by invoking comforting fairy tales but by accepting the fact that death and grief are part of the natural order of things. As Maya explains to Elizabeth, "It's just the way things are.""--