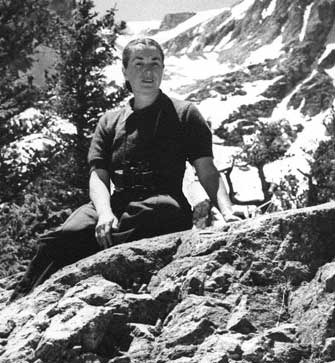 Virginia S. Eifert
Born:
January 23, 1911 in Springfield, Illinois
Died:
June 16, 1966 in Springfield, Illinois
Connection to Illinois
: Eifert lived in Springfield, throughout her life.
Biography
:
Virginia S. Eifert was one of the most well-known nature writers in Illinois history, and she wrote various historical works as well. The child of Ernest and Felicie Snider, she was raised near Springfield's beautiful and historic Washington Park, and even as a child, she had an enormous love for wild creatures. During her high school years, her main interests were nature study, writing, and art. But during her senior year, she contracted an illness (probably rheumatic fever) that prevented her from finishing school. At age 19 she started writing a nature column for the Illinois State Journal, and she also published her own weekly mimeographed paper, called Nature News. She was associated with the Springfield Nature League, and in 1936 she married a local resident, Herman Eifert. They lived a few blocks from Washington Park and had one son.
In 1939 Virginia started editing a short, nature-focused monthly publication, The Living Museum, for Springfield's Illinois State Museum. Her descriptive nature essays made it very successful. Those soon led to several paperback nature guidebooks, such as Birds in Your Backyard (1941) and Illinois Mammals (1943), as well as a brief account of the state's history, The Story of Illinois (1943). She also wrote articles for national periodicals, such as Audubon Magazine, Natural History, and Nature Magazine—often illustrating them with her own photographs and art works. In the 1950s she wrote five popular, fictionalized books about Lincoln's life for young readers (1953-1959), as well as two volumes about the Mississippi River: an historical work, Mississippi Calling (1957), and a nature account, River World (1959). She then wrote Delta Queen: The Story of a Steamboat (1960). Eifert soon wrote two broadly focused historical and nature volumes about rivers, Wonders of the Rivers (1962) and Of Men and Rivers (1966). By the 1960s she had a national reputation, and she produced two biographical volumes, Louis Jolliet, Explorer of Rivers (1961), and George Shannon, Young Explorer with Lewis and Clark (1963). She also wrote about writers and artists who explored the natural world, in Men, Birds, and Adventure (1962) and Tall Trees and Far Horizons (1965). Two of her best books grew out of her personal contact with the natural world in Wisconsin. Eifert family vacations led to Land of the Snowshoe Hare (1960), and her teaching of nature classes at The Clearing in Door County led to Journeys in Green Places (1963).
Virginia Eifert suddenly died on June 16, 1966 from a defective heart valve related to her teenage illness. The Illinois State Museum then published a collection of her best short nature writings for The Living Museum, titled Essays on Nature (1967). An illustrated account of her life, "The Achievement of Virginia S. Eifert," by John E. Hallwas, appeared in the May, 1978, issue of the Journal of the Illinois State Historical Society. Her books, manuscripts, letters, scrapbooks, and nature art works are at the Archives and Special Collections unit of Western Illinois University library.
---
Awards
:
The Buffalo Trace (1955), a fictional account of Lincoln's grandfather, won the New York Herald Tribune Award in 1955 and the Thomas A. Edison Award in 1956.
Out of the Wilderness (1956), another Lincoln novel, won the Boys Club of America Award.
Eifert also received honors from various organizations for her overall achievement as an author.
Primary Literary Genre(s):
Fiction; Non-Fiction
Primary Audience(s):
Adult readers; Young adult readers
WorldCat::
http://www.worldcat.org/search?q=virginia+eifert
---
Selected Titles
Birds in Your Backyard
ISBN: 0897920317 OCLC: Springfield : Illinois State Museum, Springfield : 1986.
Exploring For Mushrooms
ISBN: B003VZ7644 OCLC: Illinois State Museum 1970
Flowers That Bloom in the Spring
ISBN: 0897920457 OCLC: [Place of publication not identified] : Illinois State Museum [Place of publication not identified] : 1970
ILLINOIS MAMMALS
ISBN: B003TK49RI OCLC: Illinois State Musuem 1945
Illinois wild flowers /
ISBN: 0897920708 OCLC: Springfield : Illinois State Museum, Springfield : 1978.
Invitation to birds.
ISBN: 0897920066 OCLC: [Place of publication not identified] : Illinois State Museum, [Place of publication not identified] : 1953.
Journeys in green places: The Shores and Woods of Wisconsin's Door Peninsula
ISBN: 0940473127 OCLC: Sister Bay, Wisc. ; Wm. Caxton, Sister Bay, Wisc. ; ©1989.
Louis Jolliet: Explorer of Rivers
ISBN: 9780616634271 OCLC: Toronto : CNIB, Toronto : 2011. A portrait of a man who, with Father Jacques Marquette in 1673, travelled down the Wisconsin River and found the Mississippi River. 1961.
Men, Birds, and Adventure: The Thrilling Story of the Discovery of American Birds
ISBN: B000TTFUE8 OCLC: Dodd, Mead 1962
Mississippi Calling - In Search of a Great River's History
ISBN: 1179299663 OCLC: Vail-Ballou Press 1957
Native Ferns
ISBN: B000Y1FV1I OCLC: Canadian Nature Magazine
New Birth Of Freedom Abraham Lincoln In The White House
ISBN: 135572211X OCLC: Palala Press 2016
Of Men and Rivers
ISBN: B0007DQVKS OCLC: Dodd, Mead 1966
Out of the Wilderness
ISBN: B000JCVJQI OCLC: Dodd, Mead 1956
River World: Wildlife of the Mississippi
ISBN: B0007DXGFQ OCLC: Dodd, Mead 1959
Story of Illinois: Indian and Pioneer
ISBN: 0897920392 OCLC: Springfield, Ill. : Illinois State Museum Springfield, Ill. : 1979
Tall trees and far horizons;
ISBN: 0836926862 OCLC: Freeport, N.Y., Books for Libraries Press Freeport, N.Y., [1972, ©1965]
The Buffalo Trace
ISBN: 9997482891 OCLC: [Place of publication not identified] : Dodd, Mead [Place of publication not identified] : 1975.