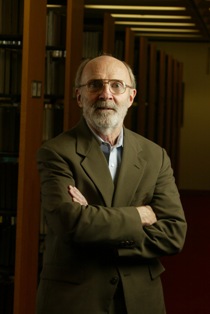 Carl Volkmann
Born:
October 23, 1933 in Streator, Illinois
Died:
October 11, 2013 in Springfield, Illinois
Pen Name:
None
Connection to Illinois
: Volkmann was born in Streator, Illinois. He received his masterís degree from the University of Illinois in Urbana. Carl lived in Springfield, Illinois from 1960 until the time of his passing.
Biography
: Carl Volkmann held a Bachelor of Arts degree from Wartburg College, a Master of Divinity degree from Wartburg Seminary, and a Master of Library Science degree from the University of Illinois at Urbana. After his retirement from Lincoln Library, the public library of Springfield, where he served as director from 1981 to 1993, he devoted his time to freelance writing and community volunteering. In his writing, Volkmann has combined his passion for history and research with his interest in photography to create in-depth studies of Illinois art works of historical significance. Volkmannís published works include ''Springfieldís Sculptures, Monuments, and Plaques'', co-authored with his wife Roberta and published by Arcadia Publishing, and ''Lincoln in Sculpture'', published by the Illinois State Historical Society.
---
Awards
:
Primary Literary Genre(s):
Non-Fiction
Primary Audience(s):
Adult readers
Website:
http://www.springfieldsculptures.net/
Carl Volkmann on WorldCat :
http://www.worldcat.org/search?q=carl+volkmann
---
Selected Titles
Springfield's sculptures, monuments, and plaques
ISBN: 1439635099 OCLC: 649683344 Arcadia Pub., Charleston, S.C. : ©2008. Springfield is the capital of Illinois and the home of Abraham Lincoln and Vachel Lindsay. The city is filled with history, and that fact is reflected in the many sculptures, monuments, and plaques that have been commissioned to commemorate this history. The city contains more than 14 statues and busts of Abraham Lincoln. Famous sculptors have created 17 statues inside the state capitol alone, and 13 more statues and sculptures are located on the capitol grounds. The state's Capital Development Board sponsors the Art-in-Architecture program and provides funding for newly commissioned sculptures in state-funded public buildings. Several major American sculptors are represented in the many works, including Leonard Volk, Leonard Crunelle, Larkin Mead, Fred Torrey, and James Earl Fraser. Works of contemporary artists such as Michael Dunbar, Richard Hunt, and Preston Jackson are also present. Oak Ridge Cemetery contains four war memorials and Abraham Lincoln's tomb. Each of the sculptures, monuments, and plaques has a story to tell and helps to make Springfield's history come alive.
Springfield's sculptures, monuments, and plaques /
ISBN: 0738551651 OCLC: 177000654 Arcadia Pub., Charleston, SC : ©2008.