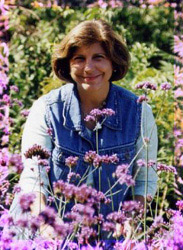 Barbara Santucci
Born:
1948 in Chicago, Illinois
Pen Name:
None
Connection to Illinois
: Santucci was born in Chicago and currently resides in Rockford, Illinois. She graduated from Loyola University and has also studied art at Rockford College and Northern Illinois University.
Biography
: Barbara Santucci is an author and illustrator. She has taught elementary and preschool and also worked as a librarian. She divides her time between writing, teaching, speaking at schools, painting and exhibiting her work. In 2002 she was honored with the Leader in the Arts Award in Rockford, Illinois. She was chosen as one of fifty women Illinois artists to represent Illinois in the Traveling Millennium Show.
---
Awards
:
-- Emily Award for ''Anna's Corn''
-- IRA/CBC Children's Choices for ''Abby's Chairs''
-- Bank Street College Best Children's Book for ''Loon Summer'' and ''Abby's Chairs''
Primary Audience(s):
Children; Children
Email:
barbara@barbarasantucci.com
Facebook:
https://www.facebook.com/barbara.santucci.90
Website:
http://www.barbarasantucci.com
Barbara Santucci on WorldCat :
http://www.worldcat.org/search?q=barbara+santucci
---
Selected Titles
A reliable wife :
ISBN: 0802853897 OCLC: 244420368 Algonquin Books of Chapel Hill, Chapel Hill : 2009. Set in rural Wisconsin in 1909, Ralph Truitt stands alone on a train platform waiting for the woman who answered his newspaper advertisement for "a reliable wife." But when Catherine Land steps off the train from Chicago, she's not the "simple, honest woman" that Ralph is expecting.
Abby's chairs /
ISBN: 080285205X OCLC: 50919835 Eerdmans Books for Young Readers, Grand Rapids, Mich. : 2004. No matter what changes she makes, Abby's old chairs just don't look right in her new home until some friendly townspeople show her the value of a fresh perspective.
Anna's corn /
ISBN: 0802851193 OCLC: 36059988 Eerdmans Books for Young Readers, Grand Rapids, Mich. : 2002. Anna is reluctant to plant the kernels of corn her grandpa has left her upon his death, until she realizes that the act will help her remember the times they listened to the music of the corn together.