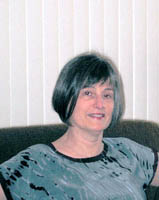 Barbara Gregorich
Born:
1943 in Sharon, Pennsylvania
Pen Name:
None
Connection to Illinois
: Barbara lives in Chicago.
Biography
: Gregorich writes fiction, nonfiction, and poetry, for adults and also for children. In 2014 she was an Illinois Humanities Council Road Scholar for her presentation on women who played baseball — ''Margaret, Nellie, and Rose: The Story of Women in Baseball''. She also teaches various courses on writing and on self-publishing. Barbara earned her B.A. in literature and history from Kent State University; her M.A. in literature from the University of Wisconsin; and she completed postgraduate courses in American Studies at Harvard University. A former English instructor at Kent State University and Cuyahoga Community College, she also worked as a typesetter for the Boston Globe and Chicago Tribune and a letter carrier for the US Postal Service. She is a member of the Authors Guild, the Mystery Writers of America, Private Eye Writers of America, and the Society for American Baseball Research. She is married to Phil Passen, hammered dulcimer musician.
---
Awards
:
"""Sue Likes Blue"""
-- Chicago Women in Publishing Award for Children's Books, 1984
"""Women at Play"""
-- SABR-MacMillan Baseball Research Award, 1993
-- Inaugural Alumni Hall of Fame Inductee, Brookfield High School (Ohio), 2019
Primary Literary Genre(s):
Fiction; Non-Fiction
Primary Audience(s):
Adult readers; Children
Website:
http://www.barbaragregorich.com
---
Selected Titles
Adventures in Self-Publishing: and Other Escapades
ISBN: B0857BGQBV OCLC:
Charlie Chan's poppa :
ISBN: 1983943452 OCLC: 1027963754 "Barbara Gregorich was sixteen years old when she discovered the Charlie Chan novels of Earl Derr Biggers on the "local authors" shelf of the Warren Public Library. She fell in love with the wisdom, humor, and perceptiveness of the amiable Chinese-Hawaiian police detective, and she admired the author who created him. Although seldom given credit for it, Biggers waas one of the first writers to help create mystery's Golden Age on the American side of the Atlantic ocean. His six Chan novels were serialized in The Saturday Evening Post, published by Bobbs-Merrill, and sought by Hollywood, and he received fan mail from thousands. Wanting to know more about Earl Derr Biggers and how he came to write his Chan mysteries, Gregorich researched the Bobbs-Merrill Archives at the Lilly Library, Indiana University, Bloomington. There she read all the correspondence between Biggers and his editor - correspondence which brings to life the author's struggles to satisfy the Chan-hungry public." -- Back cover.
Cookie the Cockatoo: Everthing Changes
ISBN: B086Y7DS8M OCLC: Back in 1934 nobody knew that Cookie, a young Major Mitchell's cockatoo from Australia, would live into the next century. Nobody knew that Cookie would become a celebrity bird. Nobody knew what profound and rapid changes the world would experience. Sitting in his cage, and sometimes flying around a locked room, Cookie lived through changes of all kinds —Superman, TV, Adidas, kidney machines, space travel, mass prisons, iPhones, climate change, heroic deeds, and more.
Crossing the skyway :
ISBN: 9781481209984 OCLC: 830533517 Philbar Books, Chicago, IL : ©2013.
Dirty proof :
ISBN: 1463585705 OCLC: 747112545 Philbar Books, Chicago, IL : [2011], ©1988. "Ralph Blasingame was a rising executive at the Chicago Truth-Examiner until he fell into the presses late one night and came out as bad news. Now his former lover, Suzanne Quering, is suspected of giving him a helping hand into the spinning wheel of death. She hires private eye Frank Dragovic to prove she didn't do it. Trouble is, on the night of Blasingame's death, Suzanne Quering was working late at the Truth-Examiner. Worse still, a silk scarf was found in the presses with Blasingame's body. She had such a scarf. Trouble is, she can't find it anywhere. In taking on the case, Dragovic encounters numerous suspects. He also encounters police lieutenant Dragan Brdar, who grew up with him in Chicago's South Side Croatian neighborhood. Brdar informs Frank that Quering isn't as innocent as she sounds: not so long ago, she had threatened to kill Blasingame. With the police eager to prove murder, can Frank clear his stubborn red-headed client--or will the memory of her flaming hair haunt him long after she's locked away?"--Publisher.
Guide to writing the mystery novel :
ISBN: 1500714488 OCLC: 904147931
Jack and Larry :
ISBN: 1467958018 OCLC: 778852959 Philbar Books, Chicago, IL : ©2012. Jack and Larry is the heartwarming story of a man, a dog, and a baseball team. Leadoff batter for the Cleveland American League team from 1912-22, Jack Graney was loved for many reasons, not least among them the fact that he owned Larry, bull terrier mascot of the woebegone, 102-losses, 48-games-out team that struggled to prove itself worthy.Larry, too, was loved, not only by the Cleveland fans, but by porters, bellhops, ship captains and trolly car conductors in all American League cities and in Canada. Loyal, sensitive, intelligent, Larry was more than a mascot — he was part of the team.Jack and Larry is a story about the eventual triumph of the underdog . . . about sports mascots . . . 1910's baseball . . . bull terriers . . . and overcoming hardships. This gripping tale of the pursuit of the pennant is a story of devotion, commitment, and persistence, illustrating what it means to be major league.You will laugh, you will cry. You will wish you had been there to see it.For all ages, 10 to adult.
Research notes for Women at play :
ISBN: 1491023597 OCLC: 700943141 CreateSpace Books, [United States] : 2010- Companion to Women at Play.
She's on first
ISBN: 9781449573072 OCLC: 758909556 Philbar Books, [Chicago, IL] : [2011], ©1987. A woman playing the big leagues? From the long-ago moment when fearsome hitter Big Al Mowerinski scouted her Little League team, he knew Linda Sunshine was special. But when Big Al buys the Chicago Eagles and signs Linda as shortstop, no one can believe he doesn't have an ulterior motive. The season is more than half gone and the pennant race is blistering by the time Linda and the rest of the team learn what Al's motives were.
Sound proof
ISBN: 9781456533267 OCLC: 758906449 Philbar Books, Chicago, IL : ©2011. Chicago private eye Frank Dragovic is working undercover at Midwest Music Madness, a folk festival targeted by a thief and soon the theft of musical instruments crescendos to murder. Surrounded by musicians, can he find the thief?
The F Words
ISBN: 9781952536267 OCLC: Sophomore Cole Renner knows teamwork inside and out from running cross-country at his multi-ethnic Chicago public school. He knows about braving the elements and not getting passed in the chute. What Cole doesn't know is how much he'll need all of his mental and physical skills when the heavy doors of Cook County Jail slam shut on his father, a community activist; when his English teacher catches Cole tagging the school with the F word and sentences him to write two poems a week, each on a word that starts with F; when his best friend Felipe Ramirez runs for class president against the girl who dumped him; and when the school bully prowls the halls looking for Cole and the principal seems more interested in punishing Cole than the bully. As much as Cole wants to win meets, what he wants even more is justice—for his father, for himself, for Felipe, and for his fellow students. Cole learns that actions matter, but so do words. He takes his write words (in both Spanish and English) and turns them into the right words to fight for justice.
Waltur buys a pig in a poke and other stories /
ISBN: 0618473068 OCLC: 56413206 Houghton Mifflin, Boston : 2006. Two bears, Waltur and Darwin, learn from their friend Matilda such lessons as "do not buy a pig in a poke" and "you can lead a horse to water, but you can't make him drink."
Waltur paints himself into a corner :
ISBN: 0618747966 OCLC: 77708465 Houghton Mifflin, Boston : 2007. Walter the bear learns more lessons from his friend Matilda, such as "don't put the cart before the horse" and "let sleeping dogs lie."
Women at play :
ISBN: 0156982978 OCLC: 27430189 Harcourt Brace & Co., San Diego : ©1993. Girls and women have played baseball (hardball: the real thing) from the beginning. Soon after professional baseball started up in 1869, women formed "base ball clubs" and - wearing heavy stockings and striped, shortened dresses - challenged men's teams across the country. One star pitcher, Maud Nelson, often struck out four or five men in the first few innings of a game. After World War I, these "Bloomer Girl" teams, such as the Philadelphia Bobbies and the Chicago All-Star Ranger Girls, proliferated. During the 1930s women such as Jackie Mitchell pitched against major leaguers; in one memorable exhibition game, Mitchell struck out Babe Ruth and Lou Gehrig.