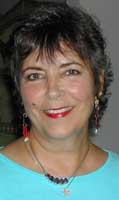 Charlene Ann Baumbich
Born:
1943
Pen Name:
None
Connection to Illinois
: Charlene Ann Baumbich lives in Glen Ellyn, Illinois.
Biography
: Charlene Ann Baumbich is a popular speaker,award-winning journalist, and author. Her stories, essays, and columns have appeared in numerous magazines and newspapers, including the ''Chicago Tribune'', ''Chicago Sun-Times'', and ''Today's Christian Woman''. In addition to her ''Dearest Dorothy'' series, she has written nonfiction books of humor and inspiration.
---
Awards
:
Primary Literary Genre(s):
Fiction & Non-Fiction
Primary Audience(s):
Adult readers
Email:
charlene@dontmissyourlife.com
Charlene Ann Baumbich on Twinklegram :
http://www.twinklegram.com/index.html=charlene+ann+baumbich
Website:
http://www.dontmissyourlife.com
Charlene Ann Baumbich on WorldCat :
http://www.worldcat.org/search?q=charlene+ann+baumbich
---
Selected Titles
365 ways to connect with your kids :
ISBN: 1564144801 OCLC: 45136708 Career Press, Franklin Lakes, NJ : ©2001. "Through a series of mini stories about connectedness in action-as well as a few examples of what being disconnected looks like-365 Ways to Connect with Your Kids will help you connect with your children in a hands-on, positive, fun, thought-provoking, warm and rewarding way for both of you. No matter what the age of your child or yourself, it is never too late to try something new or re-nourish something old and meaningful."--The publisher.
Are we there yet? /
ISBN: 0786249773 OCLC: 52304800 Thorndike Press, Waterville, Me. : 2003, ©2002.
Dearest Dorothy, are we there yet?
ISBN: 9781449885694 OCLC: 744538315 Recorded Books ; Prince Frederick, Md. : 2011, ℗2003. In Partonville, a tiny southern Illinois farming town, 87-year-old Dorothy Jean Wetstrs is the self-proclaimed town matriarch. She'sa regular in the main street cafe, where she helps herself to doughnuts and gossip. And she's a Wild Musketeer on the senior citizens' softball team. Aware of her own limitations, she often asks the Big Guy in heaven for help with the town's problems: Dear Lord, DO SOMETHING!
Dearest Dorothy, help! I've lost myself! /
ISBN: 0143034286 OCLC: 55744853 Penguin Books, New York : 2004. Feisty eighty-seven-year-old former bandleader Dorothy Jean Wetstra returns as her small Midwestern town of Partonville makes plans for the celebration of its 130th anniversary, while the acting mayor comes up with a scheme to transform a key section of the town square and newcomer Katie finds herself unexpectedly drawn to the town and its quirky inhabitants. Original.
Dearest Dorothy, if not now, when? /
ISBN: 0143112570 OCLC: 80918121 Penguin Books, New York : 2007. When her attorney son Jacob announces plans to move back to Partonville, Dorothy hopes that he can aid Katie Durbin with more than legal matters, and the mayoral race heats up when incumbent Gladys McKern is challenged by Sam Vitner.
Dearest Dorothy, slow down, you're wearing us out /
ISBN: 0786255595 OCLC: 52216181 Thorndike Press, Waterville, Me. : 2003. With a whole new life to contemplate, eighty-seven-year-old Dorothy has a chance to become a whole new person. She does some serious praying and planning--God has never let her down before!
Dearest Dorothy, who would have ever thought?! /
ISBN: 014303619X OCLC: 60375647 Penguin Books, New York : 2005. In the fourth volume in the series featuring the irrepressible inhabitants of Partonville, as residents are preparing for a festive Thanksgiving dinner at the local church, everyone works to ignore bossy acting mayor Gladys McKern, Jessica Joy deals with an unexpected crisis, Katie Durbin weighs another real-estate project, and Dearest Dorothy provides loving advice to all. Original.
Divine appointments
ISBN: 9780616805442 OCLC: 1012107994 CNIB, Toronto : 2014. A successful consultant, 47-year-old Josie Brooks follows the money, calls her own shots, and never needs to compromise. But her buttoned-down world begins to unravel when the compassion and loyalty she observes at one faltering company pierces her protective armour and touches her heart. As hot flashes and loneliness sweep over her, Josie wonders if her solitary existence has been as fulfilling as she'd like to believe. And then her encounter with a mysterious snowglobe takes her on a life-changing journey she'll never forget. Sequel to Stray affections, followed by Finding our way home. 2010.
Divine appointments :
ISBN: 0307444724 OCLC: 503042094 "Josie Brooks, at the age forty-seven, thought she was leading an enviable single life. A successful consultant, she calls her own shots, goes where the money is, and never needs to compromise. But her precisely managed world begins to falter during a Chicago contract when an economic downturn, a bleeding-heart boss, and the loyalty and kindness between endangered employees ding her coat of armor. Throw in hot flashes, a dose of loneliness, a peculiar longing for intimacy, and unquenchable thirst--not to mention a mysterious snowglobe with a serene landscape, complete with a flowing river and lush greenery that seems to beckon her in--and Josie's buttoned-up life is on the verge of coming completely undone. Maybe her solitary existence isn't as fulfilling as she has convinced herself to believe. It will take a few new friends, a mystical encounter, and an unexpected journey to set Josie on her own path to 'right-sizing' and making the life changes that really matter. Filled with laugh-out-loud moments and a gentle dash of inspiration, Divine Appointments is another heartwarming charmer from a master storyteller"--Page 4 of cover.
Don't miss your kids :
ISBN: 0830813314 OCLC: 22952949 InterVarsity Press, Downers Grove, Ill. : ©1991.
Don't miss your kids!.
ISBN: 0830816410 OCLC: 795287992 Intervarsity Press, [Place of publication not identified] : 1994.
Don't miss your life! :
ISBN: 9781439164914 OCLC: 893133049 Howard Books, New York : 2014. The award-winning author of the dearest dorothy novels, called by Guideposts one of today's most popular and bestloved Christian humorists, motivates readers to laugh, play, and relish the good things in life. Charlene Ann Baumbich has always spoken and written about the layers of life just as she sees them'slightly off-center, mostly dead-on, and always through the lens of grace. With Don't Miss Your Life! Charlene Ann Baumbich's creative pedal is to the floor, her cranky gallbladder has been left behind, and her storytelling is in full swing. Fasten your seatbelts! With her signature warmth and candor, Charlene offers readers insight on how to become their own best storytellers of what God is doing in their lives. She does far more than show why it is so important to slow down, enjoy our blessings, and not take things so seriously. She encourages everyone to build a memory portfolio of special life moments, and in doing so to grow in wisdom, learning how to see God's hand in our daily lives is the key to a rich and fulfilling life.
Don't miss your life! :
ISBN: 1416562990 OCLC: 276138951 Howard Books, West Monroe, La. : 2009. Provides advice for readers on regaining the joy in life through God, explaining how to gain wisdom by building positive "memory portfolios" of special life moments.
Finding our way home :
ISBN: 9780307459459 OCLC: 733231797 After ballet dancer Sasha Davis suffers a severe injury and returns home to Minnesota to recover and deal with her mother's death, she forms an unexpected bond with her live-in aide, Evelyn, who helps Sasha face life with a renewed purpose.
How to eat humble pie & not get indigestion /
ISBN: 0830816283 OCLC: 27383229 InterVarsity Press, Downers Grove, Ill. : ©1993.
Mama said there'd be days like this :
ISBN: 089283918X OCLC: 32012495 Vine Books/Servant Publications, Ann Arbor, Mich. : ©1995.
Stray affections
ISBN: 9781456113667 OCLC: 744534557 Recorded Books ; Prince Frederick, MD : 2011, ℗2010. In this charming tale of second chances, renewed faith, and forgiveness, a captivating heirloom triggers inexplicable changes.
Stray affections :
ISBN: 0307444716 OCLC: 297147898 Mesmerized by a snow globe containing a little girl with hair the color of her own, Cassandra Higgins recalls memories of her beloved Grandpa Wonky, the stray she rescued as a child, and her relationship with her mother.
The 12 dazes of Christmas & one holy night /
ISBN: 0830819614 OCLC: 34583952 InterVarsity Press, Downers Grove, Ill. : ©1996.
The book of duh /
ISBN: 0877880603 OCLC: 36900896 Harold Shaw Publishers, Wheaton, Ill. : ©1997.
Whipcrackers eat humble pie too :
ISBN: 0646170740 OCLC: 38352044 N. Cutler, Milawa, Vic : ©1994.