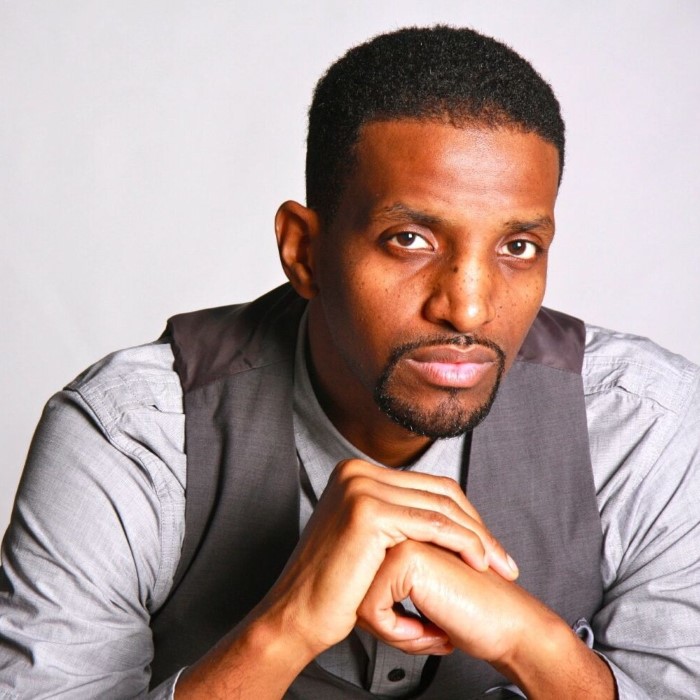 James Ivy Richardson II
Born:
1976 in Chicago, Illinois
Pen Name:
J. Ivy
Connection to Illinois
: Richardson was born in Chicago and grew up on Chicago's South side until the age of 14 before moving to the South suburbs, where he attended Rich Central High School. After attending Illinois State University in Normal, he returned to Chicago.
Biography
: James Ivy Richardson II is the hip-hop poet, musician, actor, and speaker known as J. Ivy. He received a Peabody Award for his performance on Russell Simmons's Def Poetry, as well as a Grammy Award for his contribution with Jay-Z on Kanye West's ''The College Dropout'' album. Richardson has also collaborated with John Legend, RZA, The Last Poets, The Roots, Common, Mos Def, The Black Crowes, Bob Dylan, and many more. He supports his community through his ''Write to Live Academy'' and the ''Dear Father Initiative'', which encourages young people to explore careers in the arts. His book ''Dear Father: Breaking the Cycle of Pain'', is his inspirational memoir about the pain of losing his father while growing up in the neighborhoods of Chicago's South Side. The cycle of pain was transformed into self-empowerment through poetry, music and forgiveness.
---
Awards
:
The Poet Who Sat by the Door. Inaugural Winner of the Grammy for Best Spoken Word Poetry Album
Primary Literary Genre(s):
Non-Fiction; Poetry
Primary Audience(s):
Adult readers
Blog:
http://www.j-ivy.com/blog
E-Mail:
ivyousEnt@gmail.com
Facebook:
https://www.facebook.com/J.IvyPoet/
Instagram:
https://www.instagram.com/j_ivy/
Twitter:
https://twitter.com/J_Ivy
Web:
http://www.j-ivy.com
Web:
http://dearfatherletters.com/welcome/
YouTube:
https://www.youtube.com/channel/UCgO2TvHa7hD7j5taSTUrI5g
---
Selected Titles
Dear Father: Breaking the Cycle of Pain
ISBN: 1582705089 OCLC: 890080192 Hip-hop's favorite poet and Grammy Award–winning artist J. Ivy bares his soul in this inspirational memoir of pain transformed into healing and empowerment.J. Ivy is a true pioneer and trendsetter who's bridged the worlds of hip-hop and poetry through his appearances on HBO's Def Poetry and his collaborations with Kanye West and Jay-Z. But throughout his success, he carried with him the pain of being abandoned by his father and growing up in the tough neighborhoods of Chicago's South Side.So, he sat down with pen and paper and processed his pain the only way he knew how—through poetry. The resulting poem, Dear Father, became his vehicle of forgiveness and healing. It is a pivotal poem that has touched and inspired the lives of millions.Fused with his signature raw lyricism and street consciousness, J. Ivy's memoir shows what it takes to deal with your emotions before your emotions deal with you. His story is personal yet universal and will inspire others to channel whatever pain they have experienced into their own powerful gift of expression.
Here I Am: Then & Now
ISBN: 0615543065 OCLC: 1011957932 Time has shown that history repeats itself and poetry is the written and spoken beginning of Hip Hop... A starved musical world waited patiently on the making and release of the poetry & musical album experience of J. Ivy s HERE I AM and, in that time, it proved to be worth the wait. Now the album experience of HERE I AM is extended into the transcribed format and philosophical journey titled HERE I AM: THEN & NOW, which deals with the connectivity of all races, genders and religion. HERE I AM: THEN & NOW also speaks to unifying the universal human race in the content and substance of living in the Now. The context of this experience uses past events to create a world that can do better because it knows better. It challenges the historical meanings of past struggles and the effects of it on our world today. Surely the inspiration of the album now matches the beautifully extended meanings of the album's song lyrics and additional poetry, giving it further emotional depth to the powerful messages and truths revealed in the poetry and its music. It will uplift and inspire the spirit of the reader from whatever place they are standing in. An unlikely weapon to combat negativity would be poetry in everyday domestic wars, but at its best it is the most lethal and courageous weapon to choose. The musical form of this book has been given the Moniker as a 2010 2011 Independent Classic that the truest of poetry and music critics have said is one of best albums ever made by a Poet/Hip Hop artist. Hip Hop s Favorite Poet, J. Ivy transformed his epic poetic musical gifts into life lessons that can be read and absorbed authentically in its literal form. It is sure to re bridge Poetry, Hip Hop and The Art of Reading.