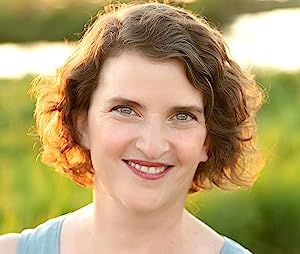 Elizabeth Blackwell
Born:
Washington D.C.
Pen Name:
None
Connection to Illinois
: Blackwell graduated from Northwestern University in Evanston and Columbia University's Graduate School of Journalism. She currently resides in Skokie.
Biography
: As the daughter of a U.S. Foreign Service officer, Elizabeth Blackwell grew up in Washington, D.C., interspersed with stints in Africa, the Middle East and Europe. She majored in history at Northwestern University and received her master's in journalism from Columbia University, which led to a career as an editor and writer for a number of publications. She now writes fiction from her home office in the Chicago suburbs. Her hobbies include reading, sleeping and road trips to places with lakes and tall trees. She lives outside Chicago with her family and piles of books she is absolutely, positively going to read someday.
---
Awards
:
While Beauty Slept 2015 ILLINOIS READS Book
Primary Literary Genre(s):
Fiction
Primary Audience(s):
Adult readers
Facebook:
https://www.facebook.com/elizabethblackwellbooks
Twitter:
https://twitter.com/i/flow/login?redirect_after_login=%2Feblackwellbooks
Web:
http://www.elizabethblackwellbooks.com
---
Selected Titles
In the Shadow of Lakecrest
ISBN: 1503941841 OCLC: Lake Union Publishing 2017 The year is 1928. Kate Moore is looking for a way out of the poverty and violence of her childhood. When a chance encounter on a transatlantic ocean liner brings her face-to-face with the handsome heir to a Chicago fortune, she thinks she may have found her escape―as long as she can keep her past concealed.After exchanging wedding vows, Kate quickly discovers that something isn't quite right with her husband―or her new family. As Mrs. Matthew Lemont, she must contend with her husband's disturbing past, his domineering mother, and his overly close sister. Isolated at Lakecrest, the sprawling, secluded Lemont estate, she searches desperately for clues to Matthew's terrors, which she suspects stem from the mysterious disappearance of his aunt years before. As Kate stumbles deeper into a maze of family secrets, she begins to question everyone's sanity―especially her own. But just how far will she go to break free of this family's twisted past?
On a Cold Dark Sea
ISBN: 1477808906 OCLC: Lake Union Publishing 2018 On April 15, 1912, three women climbed into Lifeboat 21 and watched in horror as the Titanic sank into the icy depths. They were strangers then…Con artist Charlotte Digby lied her way through London and onto the Titanic. The disaster could be her chance at a new life―if she hides the truth about her past. Esme Harper, a wealthy American, mourns the end of a passionate affair and fears that everything beautiful is slipping from her grasp. And Anna Halversson, a Swedish farm girl in search of a fresh start in America, is tormented by the screams that ring out from the water. Is one of them calling her name?Twenty years later, a sudden death brings the three women back together, forcing them to face the impossible choices they made, the inconceivable loss, and the secrets they have kept for far too long.
Red Mistress: A Novel
ISBN: 1542006511 OCLC: Lake Union Publishing 2020 In the wake of the Russian Revolution, a determined young woman breaks with her past to become a spy in 1920s Paris, where shadowy intrigues and a dangerous romance put her loyalty to the test.In the spring of 1914, Nadia Shulkina, the daughter of Russian aristocrats, looks toward a bright future. She has no premonitions of war, let alone the revolution that is about to destroy her comfortable world.Her once-noble family is stripped of every possession, and more terrible losses soon follow. To save what's left of her family and future, Nadia marries a zealous Bolshevik in an act of calculated reinvention.It won't be her last.When she agrees to work undercover for the Soviets in 1920s Paris, Nadia is drawn into a beautiful yet treacherous world of secrets and deceit. Beset by conflicting loyalties and tested by a forbidden love affair, she becomes embroiled in a conspiracy that ends with a shocking murder. What chances will she take to determine her own fate?
The house of secrets /
ISBN: 0373715595 OCLC: 318064067 Harlequin, Toronto ; ©2009. The house is special. Alissa Franklin knows this from the moment she walks into the run-down structure. Aided by carpenter Danny Pierce, she launches a restoration project to turn this place into her home. As each layer of decoration is stripped away, they grow closer. They also uncover the century-old mystery surrounding the original owners and a private love affair.
While beauty slept /
ISBN: 0399166238 OCLC: 849719046 Elise Dalriss hears her great-granddaughter recount a minstrel's tale about a beautiful princess asleep in a tower. It pushes open a door to the past, a door Elise has long kept locked. For Elise was the companion to the real princess who slumbered, and she is the only one left who knows what actually happened so many years ago. Her story unveils a labyrinth where secrets connect to an inconceivable evil. As only Elise understands all too well, the truth is no fairy tale.