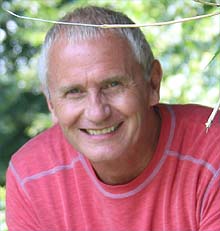 Don Olund
Born:
1958 in Chicago, IL
Pen Name:
Don Olund
Connection to Illinois
: Olund was born in Chicago and raised in Roseland, Illinois until he was twelve years old when he relocated to the southside of Chicago. A graduate of Governors State University with a Masters Degree in Marriage & Family Counseling, he currently owns a private counseling practice in Hinsdale.
Biography
: I am a native Chicagoan and remember when the Prudential Building was the tallest skyscraper in the city! Residing in the city and surrounding suburbs my entire life gives me a unique perspective of the "windy city" culture. Growing up fourth in a family of five children, I knew at an early age I wanted to help people connect. As the fourth of five children, I knew that to get along I had to be caring, flexible and respectful.My youngest brother, Tom, was born with disabilities that required special attention. In order to connect with my brother, I had to adapt to his way of communicating. My siblings and I had to focus, slow-down and listen and in some cases we had to ask more questions to really get the heart of what he was trying to say. Supported, safe, connected.Making an effort to listen and understand others is an essential aspect of successful relationships.Caring for Tom created strong and meaningful relationships in our family. We took on the responsibility of care and made personal sacrifices to meet his needs. Compassion, sacrifice, accommodation, and understanding were some of the things I learned in caring for my brother. I carried these core elements into my professional career.For twenty-five years I served in pastoral ministry combining relational and spiritual gifts to provide solid leadership from a compassionate heart. As a speaker, I was highly regarded for my ability to make historical biblical themes relevant to current life challenges. People enjoyed my relational style and often commented that they felt I understood what they were going through.At age 40, I returned to school to complete a Masters Degree in Marriage & Family Counseling. I was selected by the faculty as student speaker for the commencement service. A few years later, I was invited on the faculty of Governors State University as a lecturer.Over the past decade, I have dedicated myself to further development as a relational specialist. In 2012, I completed an advanced program and became a board-certified executive coach. Recently, I completed a year long program and was awarded a fellowship in advanced psychodynamic theory at the University of Chicago.Today, I work in private practice in Hinsdale, IL with a team of seven licensed professional counselors and social workers who serve the community.I know what it means to run a business and balance family life and relationships.I am happily married to my wife Marian for fourteen years. I have three adult children from a previous marriage and four grandchildren.In 2013, I published my first book, "Bringing Respect Back: Communicating Without the Conflict". My second book is forthcoming: "Bringing Intimacy Back: Restoring Romance in Your Relationship."I am a frequent speaker in churches, retreats and workshops while serving as a guest lecturer in the Graduate School at Governors State University.
---
Awards
:
Primary Literary Genre(s):
Non-Fiction
Primary Audience(s):
Adult readers
Email:
don@donolund.com
Website:
http://www.donolund.com
Don Olund on WorldCat :
http://www.worldcat.org/search?q=don+olund
---
Selected Titles
Bringing respect back :
ISBN: 1494286319 OCLC: 907242146 [publisher not identified], [Place of publication not identified] : ©2013.