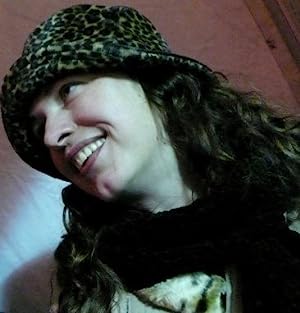 Kathie Bergquist
Born:
in Minneapolis, Minnesota
Pen Name:
None
Connection to Illinois
: Bergquist moved to Chicago in 1989.
Biography
: Kathie Bergquist is is a Lambda Emerging Writer fellow and the editor of Windy City Queer: LGBTQ Dispatches from the Third Coast, co-author (with Robert McDonald) of The Field Guide to Gay and Lesbian Chicago, and author of photo-filled biographies of pop stars for teenagers. For nine years, she was the City Editor of the Not For Tourist's Guide to Chicago. Her writing has appeared in the Chicago Reader, The Advocate, Curve mag, among other magazines, newspapers, journals and anthologies, and she has performed her work in Chicago, Minneapolis, New York City, and Prague, Czech Republic. She teaches writing at Columbia College Chicago and SAIC and worked at Women & Children First from 1989-1995 and 2005-2012.
---
Awards
:
Primary Literary Genre(s):
Non-Fiction; Poetry
Primary Audience(s):
Adult readers; Young adult readers
LinkedIn:
https://www.linkedin.com/in/kathie-bergquist-0182a1235
---
Selected Titles
'N Sync: The Illustrated Story
ISBN: 0823083586 OCLC: New York, N.Y. : Billboard Books New York, N.Y. : 2000
A Field Guide to Gay and Lesbian Chicago
ISBN: 1893121038 OCLC: Lake Claremont Press 2006
Backstreet Boys: Larger than Life
ISBN: 0823078566 OCLC: New York : Billboard Books New York : 2000 Profiles the five members of the rock group, discussing their accomplishments, personal lives, and family tragedies, and traces the group's history.
NFT, Not For Tourists guide to Chicago, 2009.
ISBN: 0981488749 OCLC: 225873985 Not For Tourists, [New York] : ©2008.
Ricky Martin, The Unofficial Book
ISBN: 0823084078 OCLC: New York : Billboard Books New York : 1999 Traces the life of the popular singer from his early career with Menudo, to his acting success on "General Hospital," to his rise to international stardom as one of the world's best-selling Latin artists
Windy City Queer: LGBTQ Dispatches from the Third Coast
ISBN: 0299284042 OCLC: 779881495 University of Wisconsin Press, Madison : ©2011. The contributions of the Midwest and, specifically, Chicago to LGBTQ literature have been invaluable yet largely uncelebrated over the last century. This anthology charts a map of queer Chicago and showcases its thriving urban arts community, which boasts a unique history, legacy, and sensibility deeply rooted in the urban Midwest. Here is a first-rate collection of queer voices from Chicago's literary landscape. Celebrated writers Edmund White, Achy Obejas, Sharon Bridgforth, Brian Bouldrey, E. Patrick Johnson, Carol Anshaw, David Trinidad, and Mark Zubro are joined by emerging voices from the queer literary scene. These pieces span all literary genres, from fiction and poetry to memoir and essays, and portray a full gamut of gay Chicago lives from the everyday to the quirky, from public spectacles to quiet intimacies, from family life to nightlife, from dating to marriage, from loving to mourning. The writing that comprises this volume, which seeks to claim a queer space on the literary continuum, is surprising, smart, hilarious, and heart wrenching.