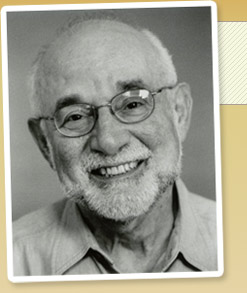 Syd Lieberman
Born:
1944 in Chicago
Died:
May 12, 2015
Pen Name:
None
Connection to Illinois
: Lieberman was a Chicago native. He grew up in the Albany Park neighborhood and graduated from Roosevelt High School in 1962. After graduating from college, he taught English at New Trier High School for two years and Evanston High School for 30 years.
Biography
: Syd Lieberman was an internationally acclaimed storyteller and an award-winning teacher and author. He published two books and produced 15 CD's, receiving awards from the American Library Association, Parents' Choice, and Storytelling World. A teacher for over 30 years, Lieberman was awarded the prestigious Golden Apple Award by the Chicago's Golden Apple Foundation for Excellence in Teaching. In 2013, he was given a lifetime achievement award for his work as a storyteller the National Storytelling Network.
---
Awards
:
-- Lifetime Achievement Award from the National Storytelling Network, 2013
-- ''Joseph the Tailor'' was selected to be sent to every elementary school in the nation as part of IBM and Good Housekeeping's ''Tell-Me-a-Tale Celebration''.
-- Seven Notable Childre
Primary Literary Genre(s):
Fiction
Website:
http://www.sydlieberman.com
Syd Lieberman on WorldCat :
http://www.worldcat.org/search?q=syd+lieberman
---
Selected Titles
Streets and alleys :
ISBN: 0874834244 OCLC: 32859348 August House Publishers, Little Rock, Ark. : 1995.
The wise shoemaker of Studena /
ISBN: 0827605099 OCLC: 29517500 Jewish Publication Society, Philadelphia : 1994. When Yossi, a shoemaker respected for the wisdom of his advice, is invited to the wedding of the richest merchant in Budapest and then turned away because of his clothes, Yossi finds a way to teach the merchant a lesson.