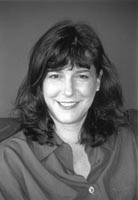 Carolyn Crimi
Born:
December 28, 1959 in Long Island, New York
Pen Name:
None
Connection to Illinois
: Crimi resides in Evanston.
Biography
: Carolyn Crimi grew up on Long Island. received her B.A. from Lake Forest College in Art History and MFA from Vermont College in Writing for Children. In addition to writing books, Crimi also teaches adult education courses on writing for children, visits schools for ''Author Talks'', and writes stories and articles for children's textbooks and magazines.
---
Awards
:
"""Lifetime Achievement Awards"""
-- Prairie State Award for Excellence in Writing for Children, Illinois Reading Council, 2012
"""Henry and the Buccaneer Bunnies"""
-- Arkansas Diamond Primary Book Award
-- Armadillo Reader's Choice Award
-- ILLINOIS READS Book Selection, Illinois Reading Council, 2013
"""Pugs in a Bug"""
-- ILLINOIS READS Book Selection, Illinois Reading Council,
2015
"""Weird Little Robots"""
-- ILLINOIS READS Book Selection, Illinois Reading Council, 2020
Primary Literary Genre(s):
Fiction
Primary Audience(s):
Children
E-Mail:
crims@aol.com
Twitter:
https://twitter.com/crims10?lang=en
Website:
https://www.carolyncrimi.com/
Website:
https://www.encyclopedia.com/arts/educational-magazines/crimi-carolyn-1959
---
Selected Titles
Boris and Bella
ISBN: 9781442076976 OCLC: 52091901 Harcourt, Orlando : ©2004. Bella Legrossi and Boris Kleanitoff, the messiest and cleanest monsters in Booville respectively, do nothing but argue until the night of Harry Beastie's Halloween party.
Dear Tabby /
ISBN: 006114245X OCLC: 182662451 Harper, New York : ©2011. A feline advice columnist assists other animals with their problems, such as a parrot whose owners complain that he talks too much, a groundhog who feels the pressure of predicting the weather, and a cat who objects to being pampered.
Don't need friends /
ISBN: 0440415322 OCLC: 39368492 After his best friend moves away, Rat rudely rebuffs the efforts of the other residents of the junkyard to be friendly, until he and a grouchy old dog decide that they need each other.
Get busy, Beaver! /
ISBN: 0439548667 OCLC: 53331605 Orchard Books, New York : 2004. While the other beavers in his family furiously flip-flap their tails and chomp-chomp their teeth to make a new dam, young Thelonious takes a moment to smell the flowers.
Henry & the Buccaneer Bunnies /
ISBN: 0763624497 OCLC: 57366058 Candlewick Press, Cambridge, Mass. : 2005. Captain Barnacle Black Ear, baddest of the Buccaneer Bunnies, is ashamed of his book-loving son, Henry, until the day a great storm approaches.
Henry & the crazed chicken pirates /
ISBN: 0763636010 OCLC: 237199030 Candlewick Press, Somerville, Mass. : 2009. When the Buccaneer Bunnies receive a note from an unknown enemy, Henry researches and writes a book called "Plan for Impending Danger from the Unknown Enemy Who Wrote the Scary Note," which helps him when the enemy finally arrives.
Kidding around Chicago :
ISBN: 1562615874 OCLC: 43795378 J. Muir Publications, Emeryville, Calif. : ©2000. Provides historical and cultural information as well as a guide to the sights of Chicago and its suburbs.
Outside, inside /
ISBN: 0671886886 OCLC: 29601004 Simon & Schuster Books for Young Readers, New York : 1995. During a storm, Molly notices different things outside her window and inside her house.
Principal Fred won't go to bed /
ISBN: 0761457097 OCLC: 430736488 Marshall Cavendish Children, Tarrytown, NY : ©2010. At bedtime, Principal Fred's wife, son, and dog help him search for his missing teddy bear so that he can go to sleep.
Pugs in a Bug /
ISBN: 0803733208 OCLC: 717291708 Dial Books for Young Readers, New York : ©2012. Pugs from one to six drive in a VW Beetle through the countryside to join huskies pulling sleds, bulldogs driving cabs, poodles on skateboards, and more in the Pooch Parade.
Rock 'n' roll Mole /
ISBN: 0803731663 OCLC: 650210803 Dial Books for Young Readers, New York : ©2011. Mole has a "rock-and-roll soul" and the groupies to prove it, but when his friend Pig organizes a talent show, Mole's stage fright may prevent him from performing.
Secondhand dogs /
ISBN: 0062989189 OCLC: 1199127817 When a new dog named Decker arrives in Miss Lottie's home and convinces Moon Pie to embark on an impossible journey, Gus, the insecure pack leader, must gather his courage to bring Moon Pie home.
Tessa's tip-tapping toes /
ISBN: 0439317681 OCLC: 46884270 Scholastic Inc., New York : 2002. Inspired by the rhythm of the rain, a mouse that loves to dance and a cat with a penchant for singing find that they can no longer control their impulses.
The Louds move in! :
ISBN: 0761452214 OCLC: 57613485 Marshall Cavendish, New York : ©2006. When the Loud family moves into the neighborhood alongside Mr. Pitterpatter, Miss Shushermush, and Miss Meekerton, things begin to change.
There might be lobsters /
ISBN: 0763675423 OCLC: 956957493 A little dog's paralyzing anxiety gives way to bravery when someone smaller arrives in need during a whooshy, splashy, overwhelming day at the beach.
WEIRD LITTLE ROBOTS.
ISBN: 0763694932 OCLC: 1082458856
Where's my mummy? /
ISBN: 0763631965 OCLC: 166388049 Candlewick Press, Cambridge, Mass. : 2008. One deep, dark night, as all of the monsters are preparing for bed, Little Baby Mummy bravely searches for his mother until he sees a truly terrifying creature.