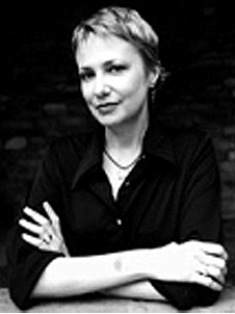 Sharon Mesmer
Born:
1960 in Chicago, Illinois
Pen Name:
None
Connection to Illinois
: Mesmer was born in Chicago and graduated from Columbia College, Chicago.
Biography
: Sharon Mesmer is a literacy tutor for CAMBA, a nonprofit support group. She was a teacher at New School in New York in 1995.She is a columnist for the French periodical ''Le Purple Journal'' and is contributor to other periodicals.
---
Awards
:
Primary Literary Genre(s):
Fiction; Poetry
Email:
shardav@verizon.net
Sharon Mesmer on WorldCat :
http://www.worldcat.org/search?q=sharon+mesmer
---
Selected Titles
Annoying diabetic bitch /
ISBN: 0972888039 OCLC: 225820736
Half angel, half lunch /
ISBN: 1889097225 OCLC: 40814895 Hard Press, West Stockbridge, MA : 1998.
In ordinary time /
ISBN: 1931236488 OCLC: 57001687 Hanging Loose Press, Brooklyn, N.Y. : ©2005.
Ma vie à Yonago :
ISBN: 2012357164 OCLC: 470366154 Hachette littératures, [Paris] : impr. 2005 En s'inspirant de sa vie, l'auteure raconte la vie d'un personnage qui change d'identité, de sexe et de continent. Il entreprend un périple de New York à Tokyo, de Chicago à Athènes et de Philadelphie à Amiens. Au gré des changements de lieu et d'identité, le ton se fait grave, sarcastique, brutal ou humoristique.
The empty quarter :
ISBN: 1882413660 OCLC: 42649753 Hanging Loose Press, Brooklyn, New York : ©2000.
The virgin formica
ISBN: 9781931236911 OCLC: 181730622 Hanging Loose Press, Brooklyn, N.Y. : ©2008.