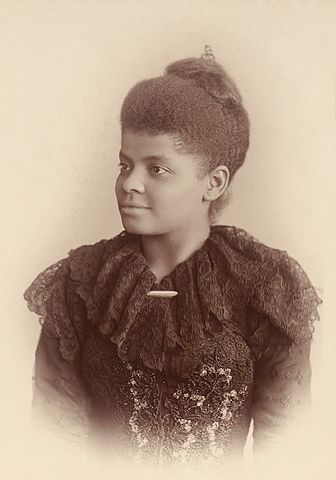 Ida B Wells
Born:
July 16, 1862 Holly Springs, Mississippi
Died:
March 25, 1931 Chicago
Pen Name:
Ida B. Wells-Barnett, Ida Wells, Ida Wells-Barnett, Ida Bell Wells, Ida Bell Wells-Barnett
Connection to Illinois
: Wells moved to Chicago in 1892 where she lived until her death.
Biography
: Ida B. Wells was a journalist, newspaper editor and, with her husband, newspaper owner Ferdinand L. Barnett, an early leader in the civil rights movement. Her career began as a schoolteacher, and she was offered a position on the editorial staff of the Evening Star. Wells spent the last thirty years of her life in Chicago raising her family and working on urban reform to improve conditions for its rapidly growing African American population. She established several civil rights organizations. She established several civil rights organizations. In 1896, she formed the National Association of Colored Women and is considered a founding member of the NAACP which formed after brutal assaults on the African American community in Springfield, Illinois, in 1908. After her retirement, Wells started writing her autobiography, ''Crusade for Justice''. She never finished it, the book ends in the middle of a sentence, in the middle of a word. Wells died of kidney failure in Chicago on March 25, 1931, at the age of sixty-eight.
---
Awards
:
Chicago Literary Hall of Fame, 2011
Primary Literary Genre(s):
History; Non-Fiction
Primary Audience(s):
Adult readers
Web:
https://www.nps.gov/people/idabwells.htm
Wikipedia:
https://en.wikipedia.org/wiki/Ida_B._Wells
---
Selected Titles
Crusade for Justice: The Autobiography of Ida B. Wells, Second Edition (Negro American Biographies and Autobiographies)
ISBN: 022669142X OCLC: University of Chicago Press 2020 Ida B. Wells (1862-1931) is now a Chicago icon and a shining example of fearless grit and truth-telling. Born into slavery, she lost both parents at the age of sixteen and supported five siblings by teaching school. As perhaps the first investigative journalist, she crusaded against lynching and for women's suffrage. She worked with Frederick Douglass and Susan B. Anthony; she co-founded the NAACP and started the Alpha Suffrage Club here in Chicago; she is the first African American woman to have a street named after her in Chicago. This autobiography, edited by Ida B.'s daughter, Afreda Duster, was first published 1970 in a series edited by John Hope Franklin. Alfreda's daughter, Michelle Duster, who has spent years championing her grandmother's memory, has provided a new afterword. We are bringing out the second edition to mark the centennial (June, 2020) of Illinois ratifying the 19th amendment, giving women the vote. Wells was active in the suffrage movement. The new edition has been re-designed and includes four new halftones and a new foreword by Eve Ewing --
Southern Horrors and Mob Rule in New Orleans
ISBN: B08BFP9XDX OCLC: Independently Published 2020 "The way to right wrongs is to turn the light of truth upon them." In the books In the books Southern Horrors and Mob Rule in New Orleans, Ida documents the alarmingly high rates of lynching in the United States (which was at a peak from 1880 to 1930) and Robert Charles and his fight to death. Ida B. Wells (1862-1931) was a prominent American educator, journalist and an early leader in the civil rights movement. She was one of the founders of the National Association for the Advancement of Colored People (NAACP) and dedicated most of her life to combating violence and prejudice.
Southern Horrors and Other Writings; The Anti-Lynching Campaign of Ida B. Wells, 1892-1900
ISBN: 0312116950 OCLC: This brief volume introduces readers to the prominent reformer and journalist Ida B. Wells and her late-nineteenth-century crusade to abolish lynching. Built around three crucial documents - Well's pamphlet Southern Horrors (1892), her essay A Red Record (1895), and her case study Mob Rule in New Orleans (1900) - the volume shows how Wells defined lynching for an international audience as an issue deserving public concern and action. The editor's introduction places lynching in its historical context and provides important background information on Well's life and career. Also included are illustrations, a chronology, questions for consideration, a bibliography, and an index. --Jacket of hardcover book.
The Light of Truth: Writings of an Anti-Lynching Crusader
ISBN: 0143106821 OCLC: The broadest and most comprehensive collection of writings available by an early civil and women's rights pioneer . Seventy-one years before Rosa Parks's courageous act of resistance, police dragged a young Black journalist named Ida B. Wells off a train for refusing to give up her seat. The experience shaped Wells's career, and--when hate crimes touched her life personally--she mounted what was to become her life's work: an anti-lynching crusade that captured international attention. This volume covers the entire scope of Wells's remarkable career, collecting her early writings, articles exposing the horrors of lynching, essays from her travels abroad, and her later journalism. The Light of Truth is both an invaluable resource for study and a testament to Wells' long career as a civil rights activist --
The Memphis Diary of Ida B. Wells (BLACK WOMEN WRITER SERIES)
ISBN: 0807070645 OCLC: Boston : Beacon Press, Boston : ©1995. A complete edition of her diary tracks the life of a young schoolteacher and journalist who became a fearless crusader against lynching in the late nineteenth century while struggling with growing violence against blacks in the post-Reconstruction South.