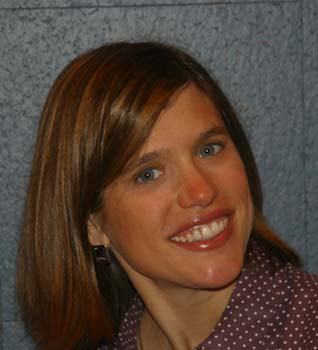 Margot Toppen
Born:
1973 in Toledo, Ohio
Pen Name:
None
Connection to Illinois
: Margot Toppen moved to Illinois in the early '90s to attend Northwestern University and graduated with a BSJ in Journalism from Medill School of Journalism and a minor in dance. She has been actively employed in Chicago as both an editor and dance educator since 1995. As a dancer, her specialties are swing and ballroom dance and she has toured to schools as a Teaching Artist and assembly presenter for more than 15 years. In 2006, Margot founded [http://www. dancingwithclass. org Dancing with Class™], a youth outreach organization that teaches swing, ballroom and Latin dance to Chicago-area elementary kids. In her classes, it is common for the girls to be taller than the boys. She tells the story of real-life 1930s Lindy Hop dancers George Snowden ('Shorty George') and Beatrice Gay ('Big Bea') as a way of coaching students through this awkwardness. Her frequent telling of how George and Bea used their height difference to advantage to win contests is what inspired her children's book, ''JITTER BUGS!'' Now that her book is published, she is excited to share the story with children everywhere, especially in her home state of Illinois.
Biography
: Margot Toppen is a dance administrator and educator with many years of experience working in public schools. A graduate of Northwestern University, Margot uses dance as a medium to build teamwork and communication skills, as well as personal character and self-esteem. In partnership with May I Have This Dance, Margot developed the ''Dancing with Class'' curriculum as well as ''Dance Around the World''. Her focus on building tiered partnerships that actively involve teachers, administrators, parents, and students has been key to creating a successful and sustainable program.Early in her career, Margot worked simultaneously as a teaching artist and a digital media editorial professional. She quickly moved into a managerial position at the Chicago Tribune/Metromix.com and later AOL, but dance always remained her true passion. Eventually she realized that the leadership skills gained from her work in the corporate world could be applied to the field of arts education. In 2006, she made a full career transition, motivated by the opportunity to extend her work as a teaching artist to a much broader community by training other aspiring dance teachers and consulting with schools to develop dance curriculum and programs that support their goals. She has participated in extensive professional development in the field of Arts Education and has served as adjunct faculty at Northwestern University, a guest trainer for Joffrey Ballet Middle School Dance Program teaching artists; and a presenter at the annual IAHPERD conference for physical education professionals.As a dancer, Margot has also enjoyed an extensive performing career. She has danced live on stage with Wynton Marsalis and the Lincoln Center Jazz Orchestra, was a spotlight dancer in the 2007 World Boxing Championship Opening Ceremonies at the Chicago Theatre, and is a featured instructor as part of the City of Chicago's SummerDance series. Her choreography has been featured in ''Dance Chicago'' and she has a number of screen credits including ''The Road to Perdition.''In 2014, Margot was invited to serve as a guest presenter at the National Dance Educators Organization (NDEO) Conference. She also celebrated the publication of her first children's book – ''JITTERBUGS!'' – now available through [http://jitterbugsbook.com jitterbugsbook.com].
---
Awards
:
Primary Literary Genre(s):
Fiction; History; Non-Fiction
Primary Audience(s):
Children
Email:
margot@jitterbugsbook.com
Website:
http://www.jitterbugsbook.com
Margot Toppen on WorldCat :
http://www.worldcat.org/search?q=margot+toppen
---
Selected Titles