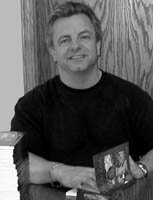 Kevin Franz
Born:
in West Allis, Wisconsin
Pen Name:
None
Connection to Illinois
: Franz has lived in Illinois since 1984. He has worked in Naperville and lives in Plainfield.
Biography
: Kevin Franz is the author of the successful children's fantasy series, the ''Castle Rose Adventures'', published by Starbell Books in Plainfield, Illinois. Franz is also an accomplished speaker, and teacher. He regularly presents his Creative Writing Workshops to young audiences throughout Illinois and Wisconsin.
---
Awards
:
Primary Audience(s):
Children
Email:
StarbellBooks@comcast.com
Kevin Franz on WorldCat :
http://www.worldcat.org/search?q=kevin+franz
---
Selected Titles
A Castle Rose Christmas /
ISBN: 0974777455 OCLC: 190825735 Starbell Books, Plainfield, IL. : ©2007.
Into the hidden lands :
ISBN: 0974777404 OCLC: 318997447 "It started as a simple ride through the woods for Rachel and Lisa Vanderstorm, the Princess sisters of the Castle Rose. But things got interesting when they were suddenly transported to the mysterious Hidden Lands. There, armed only with their courage and good sense, the girls must help their new friend Elzabeth recover the stolen (and magical) burning-blossom seeds from the camp of the dangerous Archer"--Publisher's description.
The affaire at the faire /
ISBN: 0974777420 OCLC: 58606089 Starbell Books, Plainfield, IL. : 2005.
The mysterious museum
ISBN: 0974777447 OCLC: 86084868 Starbell Books, Plainfield, IL. : ©2007.
The princess sisters and the underwater city /
ISBN: 0974777412 OCLC: 64696902 "High on the shelves of the Castle Rose library sits the key to uncovering a long lost treasure. And with the help of some new friends, Princess Rachel and Princess Lisa must unravel the mystery and complete a wild quest through the amazing Underwater City! The Princess Sisters and the Underwater City is the second book in the highly successful Castle Rose Adventure series."--Google Books.