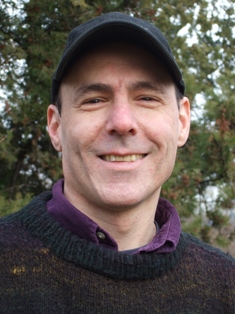 Keith McGowan
Born:
1968 in Brooklyn, New York
Pen Name:
None
Connection to Illinois
: McGown lived and worked in Chicago.
Biography
: Keith McGowan has worked most of his life as an educator. He helped run an elementary afterschool program and day camp, taught mathematics and science, volunteered for a year as a teacher in Haiti, developed curricula for a non-profit in Chicago that helps students go to college, and tutored students who were unable to attend school full-time. Nowadays he writes fiction full-time.In 2010, Keith was awarded the Thurber House residency, given to one children's book author each year in honor of American author and humorist James Thurber. His first book for children, ''The Witch's Guide to Cooking with Children'', was named a 2010 ALA Notable Children's Recording and a 2011 Texas Bluebonnet book. McGowen currently resides with his family in Vienna, Austria.
---
Awards
:
'''''The Witch's Guide to Cooking with Children'''''
-- ALA Notable Children's Recording, 2010
-- Texas Bluebonnet book, 2011
Primary Literary Genre(s):
Childrens Fiction
Primary Audience(s):
Children; Young adult readers
Email:
Readers@KeithBooks.com
Facebook:
https://www.facebook.com/keith.mcgowan.526
Website:
http://www.keithbooks.com/
Keith McGowan on WorldCat :
http://www.worldcat.org/search?q=keith+mcgowan
---
Selected Titles
The witch's curse /
ISBN: 0805093249 OCLC: 795175004 "A shadowy witch, a cursed hunter--it's tricky business for Sol and Connie as they face off against this awful pair"--
The witch's guide to cooking with children /
ISBN: 0805086684 OCLC: 283802590 Henry Holt and Co., New York : 2009. Eleven-year-old inventor Sol must recover his self-confidence if he and his eight-year-old sister, Connie, are to escape the clutches of Hansel and Gretel's witch, to whom they have been led by their new stepmother and the man they believe to be their father.